Former Legal Professional Sues Jiang Zemin for Wrongful Imprisonment
June 18, 2015 | By a Minghui correspondent in Gansu Province
(Minghui.org) Ms. Jin Yijun, a 41-year-old legal professional from Lanzhou, mailed her criminal complaint against former Chinese Communist Party head Jiang Zemin on June 1, 2015. This is one more case in the wave of lawsuits against Jiang.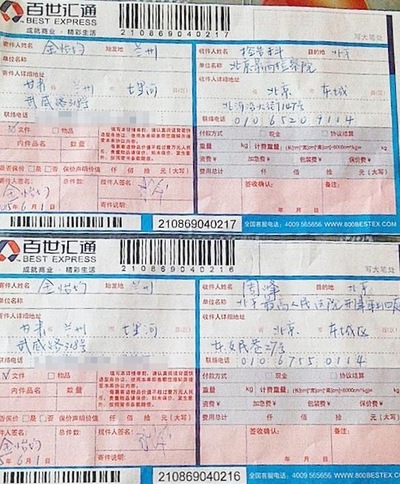 Mail receipt for Ms. Jin Yijun's complaint
Ms. Jin was arrested after she went to Lanzhou Prison in December 2011 to pick up another Falun Gong practitioner, who had been released after eight years in prison.
In her filing Ms. Jin said, "I was taken to a room in the police department, where my hands and my feet were cuffed to an iron chair. Four police officers took turns interrogating me throughout the night. One of them hit me on the head while the others were away. He told me that he got a 300-yuan bonus for interrogating me for one night."
The police continued trying to extract information from Ms. Jin after she was sent to Lanzhou No. 1 Detention Center. She was interrogated five times in one month.
Ms. Jin wrote in her lawsuit, "While I was detained at the detention center, the police ordered criminal inmates to beat me, hoping that I would reveal the names of other Falun Gong practitioners."
On January 6, 2012, the day after Ms. Jin's lawyer tried and failed to meet with her, authorities secretly sent her to Gansu Women's Forced Labor Camp for a year. The prison police there tried to force her into renouncing her belief in Falun Gong.
Ms. Jin listed the extreme emotional stress that her imprisonment had caused for her family. "My daughter was nine years old. She did not speak to anyone for an entire year, not to her teacher, her classmates, or my family. She only cried."
Ms. Jin could not return to work upon her release from the forced labor camp, because the Lanzhou Justice Bureau refused to renew her license to practice law unless she renounced her belief in Falun Gong.
Background
In 1999, Jiang Zemin, as head of the Chinese Communist Party, overrode other Politburo standing committee members and launched the violent suppression of Falun Gong.
The persecution has led to the deaths of many Falun Gong practitioners during the past 16 years. More have been tortured for their belief and even killed for their organs. Jiang Zemin is directly responsible for the inception and continuation of the brutal persecution.
Under his personal direction, the Chinese Communist Party established an extralegal security organ, the 610 Office, on June 10, 1999. The organization overrides police forces and the judicial system in carrying out Jiang's directive regarding Falun Gong: Ruin their reputations, cut off their financial resources, and destroy them physically.
Chinese law allows for citizens to be plaintiffs in criminal cases, and many practitioners are now exercising that right to file criminal complaints against the former dictator.
Related Articles:Law Professional Jin Yijun Sent to a Forced Labor CampLaw Professional Jin Yijun Appeals Forced Labor SentenceLegal Professional Ms. Jin Yijun from Lanzhou City Files Case Against Her Forced Labor SentenceAttorney Enters a Not-Guilty Plea in the Appeal Case of Ms. Jin Yijun from Lanzhou City