Court Schedules Trial for Two Ill Women
May 09, 2015 | By Minghui correspondent in Liaoning Province, China
(Minghui.org) A court in Anshan City, Liaoning Province, had to cancel a recently scheduled a trial for two women arrested in July 2014 for practicing Falun Gong, a spiritual practice the Chinese Communist regime has persecuted since 1999.
Ms. Sun Jinjun, who had a mental breakdown, was taken to the Tiexi District Court from the detention center on the morning of April 13, 2015. Her attorney condemned the court for trying someone mentally ill, in violation of the law.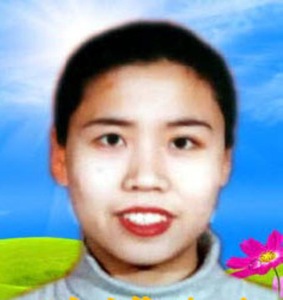 Ms. Sun Jinjun
The police could not find Ms. Meng Yanli. She was released from detention because she developed severe anemia during a hunger strike.
The trial was canceled.
Lawyer Demands Ms. Sun's Release Due to Her Serious Mental Disorder
Ms. Sun Jinjun developed schizophrenia while she was held in a forced labor camp for her belief in Falun Gong 14 years ago. She recovered after her release, but suffered a relapse because of her latest arrest.
Local police prosecuted Ms. Sun despite her serious condition, claiming that she was mentally stable on the day of her arrest.
Ms. Sun's attorney said Ms. Sun exhibited signs of mental illness when he visited her at the Anshan City Women's Detention Center. He said Ms. Sun couldn't recognize him.
Given that Ms. Sun has been detained far beyond the time frame allowed by law and suffers from mental illness, her attorney has petitioned the Tiexie District Court for her release.
Local Police Attempt to Imprison Ms. Meng, Take Her Personal Property
Ms. Meng and Ms. Sun were arrested with Ms. Meng's 72-year-old mother Ms. Zhou Gaiqing and brother Mr. Meng Xiangjun in July 2014.
Ms. Meng Yanli was released 12 days after her arrest because of severe anemia. She demanded that the local police return her family's belongings and over 100,000 in cash they had confiscated. Ms. Meng has left home to avoid further persecution.
Ms. Meng's mother and brother were each sentenced to three-and-a-half years in prison on March 7, 2015.
Parties involved in the persecution of the above practitioners:
Li Jun (李君), director of the Tiexi District Court: +86-412-2983555 (Work), +86-13898078777 (Cell)Wen Qiang (温强), deputy director of the Tiexi District Court: +86-412-2983506 (Office), +86-412-6355680 (Home), +86-13604910767 (Cell)Guan Tiehua (关铁华), presiding judge of the criminal court, Tiexi District Court: +86-412-2983536 (Work), +86-412-6343222 (Home), +86-136042006780 (Cell)Tong Shouhui(佟守辉), judge, Tiexi District Court: +86-412-2983556 (Office), +86-1394122919 (Cell)