Brazil: The Art of Zhen Shan Ren Exhibition a Resounding Success
(Minghui.org) The Art of Zhen Shan Ren Exhibition was held for the week of May 16 through May 23 at Shopping Market Place in São Paulo, Brazil. The exhibition consisted of 22 works of art, most of them in oil, that depict the persecution of Falun Gong in China.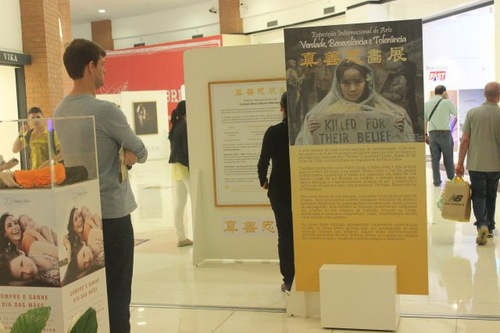 Visitors taking in the Art of Zhen Shan Ren Exhibition at Shopping Market Place in São Paulo, Brazil.
Falun Gong, also known as Falun Dafa, is a cultivation practice of the Buddha School based on the highest principles of the universe – Zhen-Shan-Ren (Truthfulness-Compassion-Forbearance). Since 1999 this peaceful practice has been banned and persecuted in China by the Chinese Communist Party (CCP).
Visitors to the exhibition were impressed with the wonderful realism of the paintings, despite the fact that the subject matter focused on the persecution, which is not widely known about in Brazil.
"The works drew my attention to the seriousness of what is going on in China. The quality is extremely good," said Ivana Andrade, 54, an architect.

"I did not know that this was happening in China, nor did I even know about Falun Dafa, which really interests me. As absurd as the persecution is, I was glad to know that there are people who are trying to do something about it. I think that more people in Brazil need to know about it," said Alessandra Alexandre Gonçalves, 43, who works in advertising.
Ms. Gonçalves said that she would tell others about what she had seen at the exhibition so they will also be aware of it.
"I found it a very enlightening exhibition, and I was glad to find out what Falun Dafa is and to learn about the persecution and that it is still going on. The exhibition helps people understand what is happening elsewhere in the world and it speaks about the injustice in China," declared Marisa Melo, 33, an engineer.
The exhibition coincides with a special day for all Falun Gong practitioners around the world, World Falun Dafa Day. May 13, 2015, was the 23rd anniversary of Falun Dafa's introduction in China.