Lawyer Refutes Charges Against Practitioner Ms. Diao Yuqin
May 19, 2015 | By a Minghui correspondent in Heilongjiang Province, China
(Minghui.org) Ms. Diao Yuqin was tried on April 17, 2015, in Harbin City. Her lawyer put in a plea of not-guilty, and refuted every charge brought against her in the indictment.
Ms. Diao, 62, a retired park worker, was arrested on August 20, 2014, for distributing Falun Gong informational materials.
The prosecutor accused Ms. Diao of having committed many crimes, including being a member of a "cult." These were all denied by her lawyer Zhang.
Zhang informed the court that Falun Gong was not a cult under existing Chinese law, and that it was Ms. Diao's constitutional right to practice Falun Gong and tell people about the practice.
The prosecutor accused Ms. Diao of distributing DVDs and information about organ harvesting from living Falun Gong practitioners. Zhang said that this was at best a criticism of the Chinese Communist Party, and does not constitute a crime.
The prosecutor stated that Ms. Diao had previously been held in a forced labor camp. Zhang argued that this information cannot be used as evidence, and does not constitute a crime. He also pointed out that the forced labor system had been abolished.
Zhang argued that the authorities had violated the law in handling Ms. Diao's case, including:• Illegal detention of Ms. Diao, for eight months• Illegal ransacking of her home when she was not present. The prosecutor claimed that they confiscated 400 DVDs, but did not present this evidence during the trial.• Illegally searching Ms. Diao
Zhang concluded that Ms. Diao was innocent and should be released immediately. The court was adjourned without a verdict.
Ms. Diao has been detained five times for her belief. She was tortured in Wanjia Forced Labor Camp, were she was hung by her handcuffed wrists for long periods of time. As a result, one of her arms is permanently disabled.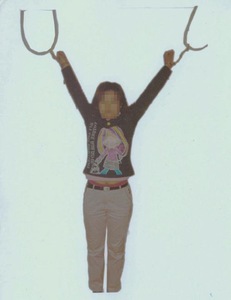 Torture illustration: Hanging by handcuffs