A Strong Energy Field at the Calgary Health Show
April 03, 2015 | By a practitioner from Calgary, Canada
(Minghui.org) A special energy was in the air when Falun Gong practitioners from Calgary, Canada, participated in the Calgary Health Show at Spruce Meadows Center on March 28-29, 2015. More than 100 enterprises and organizations displayed their products, ranging from cuisine demonstrations, natural therapy, health food and medicine, and fitness equipment.
Falun Gong practitioners demonstrated the exercises and introduced the basic teachings and principles of cultivation to the Health Show visitors.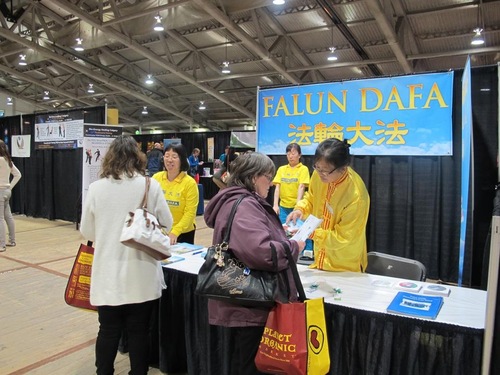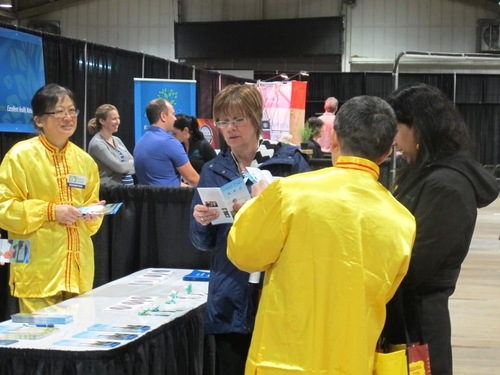 Introducing Falun Gong to visitors at the Calgary Health Show
When Royston Frederick stepped into the hall, he felt a strong energy field – different from the energy radiated from other booths. Mr. Frederick, one of the exhibitors at the Health Show, has studied the energy of the human body for years. Out of curiosity, he wandered around, looking for the source of the energy.
Finally, he stopped at the Falun Gong booth. He sat from a distance and watched the practitioners quietly for almost an hour. He then approached them, and asked them for details about Falun Gong. The principles and the exercises impressed him. Royston told practitioners that Falun Gong is special, and he wanted to study it in depth.
Royston is not the only person who sensed the strong energy field from the Falun Gong booth. Two gentlemen were also amazed by the energy when they entered the hall, and wanted to learn more about Falun Gong from practitioners. One of the attendees was eager to introduce Falun Gong to the members of his organization. He invited practitioners to one of their events and offered them a free booth for three days.
One woman took a Falun Gong flyer for her son. The next day, she told practitioners that her son's history professor had introduced Falun Gong in class, and told the students about the persecution of Falun Gong in China. Both she and her son were interested in learning more about Falun Gong.
A middle-aged gentleman told practitioners that he has already read the book Zhuan Falun, and showed practitioners the exercise movements he had learned from the instruction video. He looked forward to joining practitioners at the local exercise site to fine tune his movements.