Los Angeles, California: "Quitting the Chinese Communist Party Is Important for All of Us"
April 23, 2015 | By a Falun Gong practitioner in Los Angeles
(Minghui.org) According to the Epoch Times newspaper, as of April 14, 2015, 200 million people have publicly renounced their membership in the Chinese Communist Party (CCP) and its two youth organizations. The Global Center for Quitting the CCP in Los Angeles organized a rally on April 18 to celebrate this milestone, calling on more Chinese to take a stance on this important matter. Several guests gave speeches at the rally.
Helen Li, who volunteers at the center, explained the significance of the event. "Many people have decided to quit the CCP because they are no longer willing to side with the Party and harm innocent people. Instead they are hopeful for a new future. Two hundred million is an impressive number. It serves as a testimony, indicating that in the war between good and evil, goodness will prevail."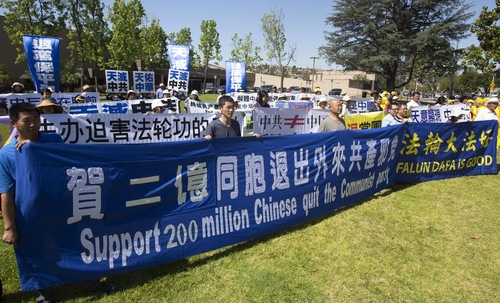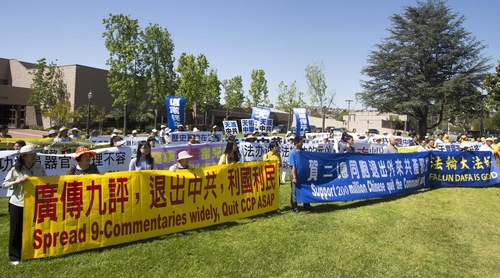 Rally in Los Angeles on April 18, 2015, celebrating the 200 million people who have quit the CCP
Near the Monterey Park City Hall, where the event was held, many people attending the annual cherry blossom festival were attracted by the rally. They stopped to listen and take pictures. Local resident Mr. Sun said that he had not joined any CCP organizations because he was never interested in the Party's activities. "But I support this quitting the CCP movement. The CCP needs to be phased out of history and quitting this organization is the way to go," he said.
Helen Li from the Global Center for Quitting the CCP in Los Angeles
Russia as a Predecessor
Wu Fan, chief editor for China Affairs, an overseas Chinese language magazine, was one of the guest speakers at the rally. "Quitting Chinese Communism is important for all of us," he affirmed.
After the dissolution of the Soviet Union in 1991, Wu visited Russia and talked with senior officials who used to be members of the Communist Party. Mr. Wu recalled, "They told me that they were happy that communism had ended in Russia. The Soviet Union was the first communist country ever established. Its collapse means that communism has no future. It has no future because it suppresses people."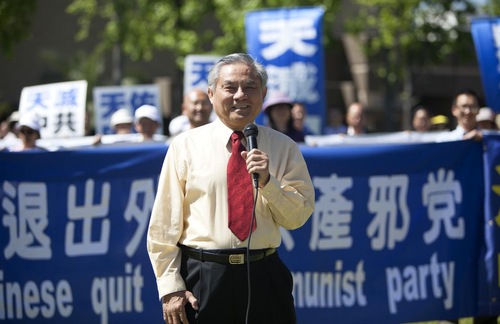 Wu Fan, chief editor for China Affairs
Wu hopes that the date will also come soon for Chinese people to enjoy a nation without communism. "We have now seen 200 million people renouncing the Party. This is very encouraging," he said. "Because many so Chinese people have been involved in the wrongdoings committed by the Party," explained Wu, "separating themselves from the organization will lead them toward a better future."
Mr. Wu said that he was very thankful for the Falun Gong practitioners who have taken the initiative to tell people what the CCP has done, exposing its brutal suppressions, including the 16-year persecution of Falun Gong. "I personally know an older woman who lives in Washington DC. Although she is retired, every day she spends lots of time making phone calls to China, giving people information that they cannot get in China and helping them quit the Party. I admire people like her."
"The CCP Is Doomed to Fall"
Liu Yinquan, chairman of the Chinese Social Democratic Party, said that the disintegration of the CCP was inevitable. "Whether you live in China or live here in California, regardless of which social class you belong to, most people have suffered from [the CCP's] previous political campaigns," he stated.
"And the tragedy continues." Liu gave examples of forced birth control in China, and Falun Gong practitioners being severely persecuted for their belief and even becoming victims of the CCP's systematic organ harvesting from Falun Gong practitioners and other prisoners of conscience.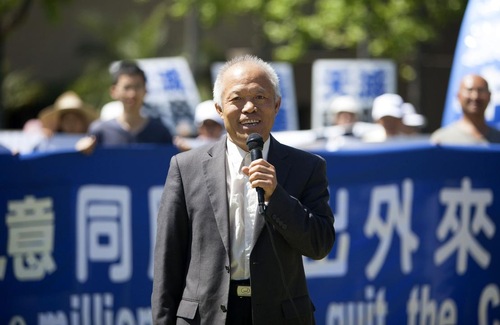 Liu Yinquan, chairman of the Chinese Social Democratic Party
"The Evil Nature of the CCP"
Feng Guojiang, a resident of Monterey Park, shared his own experience. Feng said that people need to discern propaganda from reality. "When I was a student at Tsinghua University in the 1950's, during a political campaign my classmates were forced to attack each other. As a result I was framed and expelled from the university." Several years later he became a victim again for defending his classmate, which led to 20 years of hard labor.
"As one of the few survivors," Feng continued, "I would like to warn you: please do not be fooled by the CCP's propaganda. Back in 1950 I already recognized the evil nature of the CCP. All the media in China are controlled by the party. We need to listen to Falun Gong practitioners and learn what's really going on. "
Banners at the event
"The CCP Is Collapsing Because of Its Bad Deeds"
Albert Roman from the Epoch Times said that quitting the CCP has become a global movement. "It sends a clear message, that we are not afraid of speaking the truth." He said that the CCP often misled people by linking the Party with China. "These are two different concepts. Without the Party, Chinese will be able to return to traditional values and act on their conscience."
Roman encouraged people to voice their opinions. "We have the right to follow our belief and hold on to our principles." he said.
Li Youfu, one of the rally organizers, agreed with Mr. Roman. "This is consistent with Chinese history as well as Western society. But the CCP has destroyed freedom of belief and brainwashed people with its theories of communism." He said that Falun Gong practitioners follow Truthfulness-Compassion-Forbearance, principles that lead to improvement of mind and body while benefiting society at large.
"But the CCP does not want people to have their own belief and attempts to take it away by force," Li said. "By doing so, the Party will have destroyed itself in the end."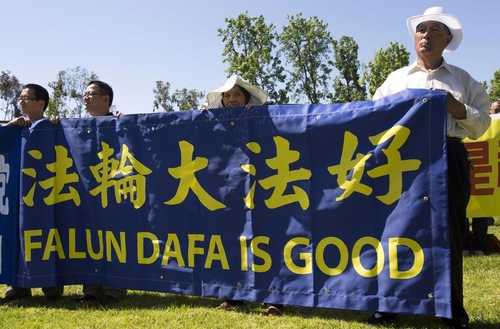 A banner at the event