Senior Citizen Brutalized by Police for Telling People about Falun Gong
April 19, 2015 | By a Minghui correspondent from Shandong Province, China
(Minghui.org) More than a dozen police officers surrounded a senior citizen as he was talking to a bus driver about Falun Gong, a spiritual practice being persecuted by the Chinese Communist Party.
The police had received a tip regarding Mr. You Yunsheng's activities in the Shouguang City Bus Station and went there to arrest him. Mr. You struggled to get away but was countered with excessive force.
The police knocked him down and dragged him, tearing his clothes. One officer put him in a choke hold, leaving him gasping for breath.
Mr. You was eventually taken to the district police station, where he was further brutalized. Guo Hongtang, deputy leader of the Domestic Security Office, punched the man in the face six or seven times. Mr. You got dizzy and had trouble standing.
Officer Guo yelled at Mr. You, "I'm going to destroy you! If you tell people again that Falun Gong is good, I will break your legs and cripple you! Just try it!"
Guo attempted twice to get Mr. You admitted to a local detention center, but was unsuccessful. A pre-admittance exam revealed that Mr. You had dangerously high blood pressure. Because the detention center refused to accept him due to his health, the police eventually released him.
Mr. You's wife, Ms. Li Suzhen, who tried to stop the police from taking her husband away, was arrested the same day and remains in Weifang Detention Center.
Prior to the senior couple's latest arrest on March 30, they had suffered before at the hands of Guo, who is notorious for persecuting local Falun Gong practitioners in Shouguang City, Shandong Province.
Guo arrested the couple, both close to 70 years of age, in the lead up to the Beijing Olympic Games in 2008, citing orders from his superiors "to maintain security for the Games."
Mr. You was confined to an iron chair for seven straight days, during which time he was beaten, shocked with electric batons, and deprived of sleep.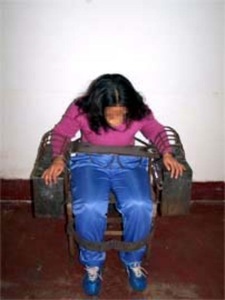 Torture instrument: Iron chair
During the couple's detention, Guo and his officers broke into their house and took a bank deposit book with more than 5,000 yuan, ID cards, their household registration booklet, the deed to their home, an electric bike, and their computer.
The local court sentenced Mr. You to six years, citing evidence fabricated by the police to find him guilty.