Mr. Zhang Jinku Tortured While Imprisoned—Can No Longer Speak
April 13, 2015 | By a Minghui correspondent from Heilongjiang Province, China
(Minghui.org) Falun Gong practitioner Mr. Zhang Jinku, was illegally sentenced to five years in prison for his belief in Falun Gong. He can no longer speak, due to being tortured at Hulan Prison in Heilongjiang Province.
Mr. Zhang's family visited him on March 20, 2015, but only his wife was allowed to see him. Inmates carried him into the visiting room. He wanted to communicate with his wife, but could only say "ah." Despite significant effort, he was unable to speak. All both could do was cry.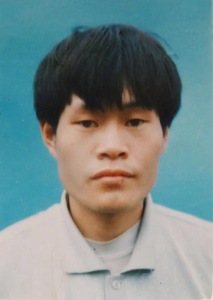 Mr. Zhang Jinku
When his family visited him in February, Mr. Zhang was also carried into the visiting room by inmates. He did not say a word during that visit. His family, obviously worried about his health, demanded that he be released on medical parole. But Du Peng from the prison 610 Office denied the request, claiming that he he did not meet the requirement for medical parole.
Mr. Zhang family visited Zhang Zhaoyun and Du Peng, directors of the prison's 610 Office. They also asked to see the director of the prison hospital, who admitted that Mr. Zhang was in poor health. He could not guarantee what would happen in the future. His family said that Mr. Zhang touched his head frequently during the visits, and thus believed that he had a headache. The former prison medical staff claimed that Mr. Zhang had mental issues, and the hospital director thought that this could be possible.
Background
Mr. Zhang was arrested on March 29, 2013, and was very healthy at that time. He was brutally beaten during interrogation, and was subjected to various forms of torture. As result, his teeth were knocked out and the left side of his rib cage was injured. His injuries caused an inflammation of the lungs, and he contracted tuberculosis.
Mr. Zhang refused to give up his belief in Falun Gong. Therefore, the guards ordered inmates to torture him, even when he couldn't care for himself.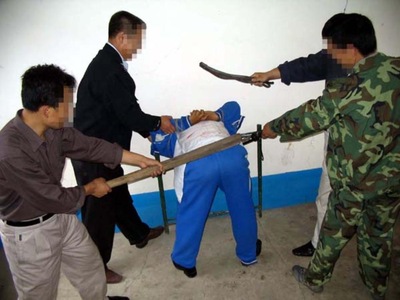 Torture reenactment: Beatings
Inmates Wang Hongbin and Song Yang knocked Mr. Zhang's head to the ground in May 2014. They beat his ears and tied him to a bed with four limbs affixed for two days. Song Yang threatened, "You have to eat your feces. This was ordered by the superiors. They should have let Tian Yushun beat you to death last time."
Mr. Zhang's health condition continued to deteriorate, and he was on the verge of death several times. His family has repeatedly asked that he be released on medical parole.
Wang Xiaochen, from the prison's 610 Office, prevented Zhang's family from visiting him several times. He threatened that family visits would be denied if Mr. Zhang refused to renounce his belief in Falun Gong.