Driven Insane during Imprisonment, Young Woman Recently Found Dead in Well
March 05, 2015 | By a Minghui correspondent from Shandong Province
(Minghui.org) On the morning of February 13, 2015, a villager and child made a grisly discovery in a village in Laiyang City, Shandong Province. While taking a morning walk, they found a body floating in a well.
The body was identified as Ms. Liu Zhimei, a woman in her mid-30s.
Once a bright student with big dreams, Ms. Liu never got a chance to finish college due to the Chinese Communist Party's persecution of Falun Gong. She was expelled from Tsinghua University at the age of 21 because she refused to give up her belief in the peaceful self-cultivation practice. She then suffered for six years in prison, where she was repeatedly drugged.
Three days before her release in 2008, she was given an unknown injection which her family suspected to be the direct cause of her subsequent long-lasting psychotic symptoms.
Whenever she was asked about her age, Ms. Liu either remained silent or answered "21." For her, time seemed to have stopped at age 21, as if she wanted to wipe out all the miserable memories from her imprisonment.
It is not known how Ms. Liu fell into the well.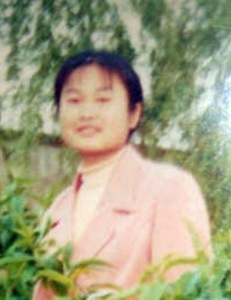 Ms. Liu Zhimei before persecution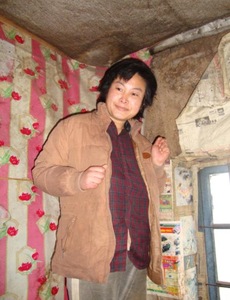 Photo taken in 2010: Ms. Liu Zhimei after suffering a mental collapse from the persecution, ran into a corner of her living quarters with clenched fists whenever someone tried to approach her.
Detention, Torture and Injected with Harmful Drugs
Ms. Liu was accepted into the prestigious Tsinghua University as the top student from Shandong Province, with the highest score on the entrance exam. She learned about Falun Gong through the practice site at Tsinghua University and took up the practice.
After the Chinese Communist regime launched its nationwide campaign against the practice of Falun Gong in 1999, Ms. Liu became actively involved in telling people about the persecution. Consequently she was arrested and briefly detained several times in early 2000. The university expelled her in March 2001.
For remaining steadfast in her beliefs, she was sentenced to 12 years of prison in November 2002. From late 2002 to 2008 during her time at Shandong Women's Prison, prison inmates injected Ms. Liu with 50 milliliters of an unknown drug three times a day. She began to display symptoms of abnormal behavior.
In November 2008, prison officials notified her family to take her home. On the train ride home, she told her father that three days before her release, she was given a physical examination. She was told she had a hole in her tooth and was given an injection.
On her third day home, she started to act strangely. She would talk nonsensically and wave her arms in the air as if she were running. She lost her memory and couldn't remember her age. At night, she would wet her bed and sleep on the urine-soaked bed.
Her condition got progressively worse.
Subsequent Arrest Led to Permanent Mental Collapse
When local Falun Gong practitioners learned about her situation, they rented a place and took turns to take care of her. Gradually her condition improved and it seemed that she would recover from her mental illness.
Unexpectedly, police officers from Laiyang Police Department broke into the rented place on April 16, 2010 and arrested Ms. Liu as well as all four practitioners who were taking care of her.
Ms. Liu was interrogated and released on the same day. However this latest arrest dealt a huge blow to her fragile condition and caused a relapse to her former mental state.
She passed urine and excrement on her bed and clothes. She even played with her feces and wiped them on the walls.
In winter 2011, her relatives went to see her. But all she could say was, "Did you bring me anything nice to eat?"
She had no interest in anything else and appeared even more unstable than before.