Beijing Couple Arrested Again After Decade of Harassment by Police
March 31, 2015 | By a Minghui correspondent from Beijing, China
(Minghui.org) Falun Gong practitioner Ms. Zhang Qiusha was arrested while dining out on the evening of March 14, 2015. At 11 p.m. the same night, six police officers broke into her home, arrested her husband Mr. Wei Xuejun, and ransacked the home until 1 a.m.
The arresting officers included Li Xuejun, deputy director of the Domestic Security Division of the Daxing Police Department, and Yang Wanqiu, an officer with the division dedicated to the persecution of Falun Gong.
While officers videotaped the ransacking, the couple's 19 year-old son shouted, "My mom practicing Falun Gong isn't hurting anyone. I want my mom back! I support my parents!"
Ms. Zhang Harassed by Police for Over a Decade
Ms. Zhang Qiusha, 46, is deputy manager of a property company. She started to practice Falun Gong in 1999. Since the Chinese communist regime started persecuting Falun Gong, she had been forced to change jobs several times when her employers were pressured by the government.
In 2000, police officers followed her son and broke into her home. They arrested Ms. Zhang and took her to a brainwashing center, from which she managed to escape three months later. After she filed a lawsuit against the police department and brainwashing center, officers began to harass her.
Her family and friends were also targeted. The officers even went to the school where she worked to harass her. The experience traumatized her 14-year-old son.
Officer Wang Jianmin from the Xingfeng Police Station in the Daxing District repeatedly came to Ms. Zhang's home. When her family refused to let him in, he would cut off their water or electricity to force Ms. Zhang or her husband to open the door. By making the arrest, Wang would earn credits for promotion.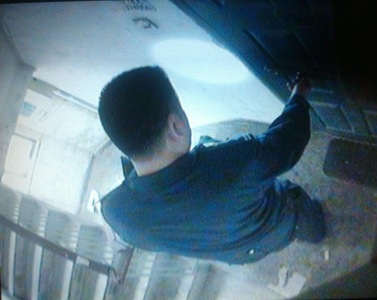 Officer Wang Jianmin outside Ms. Zhang's home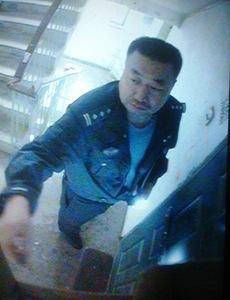 Officer Wang Jianmin outside Ms. Zhang's home
Perpetrators' Contact Information:Ma Chunyuan (马春元), head of the Daxing District 610 Office: +86-13716002418Daxing Police Department, Beijing: +86-010-69243071Address: West Main Street 175, Huang Village, Daxing District, BeijingLi Xuejun (李学军), deputy head of the Domestic Security Division: +86-13911836718Xingfeng Police Station in the Daxing District: +86-010-69242256Wang Shouhai (王守海), director of the police station: +86-13910262323Wang Jianmin (王建民), officer in charge of the residential area at the police station: +86-13611373322