"It's a Rainy Day, But You Are the Sunshine and Rainbow"
March 17, 2015 | By Minghui correspondent Zhang Ran in Vancouver
(Minghui.org) Vancouver, the third largest metropolitan area in Canada, held its annual St. Patrick's Day parade on March 15, 2015. More than 60 groups participated in this event in downtown Vancouver. Among them were the Divine Land Marching Band, a float, and a waist-drum team formed by Falun Gong practitioners.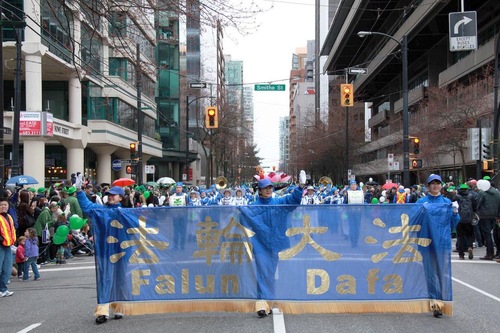 Falun Gong practitioners participated in the St. Patrick's Day parade in Vancouver on March 15, 2015.
Lizzie, who was watching the parade, waved to the Falun Gong practitioners as she called out, "This is awesome!" Turning to a practitioner next to her, she exclaimed, "The performances are beautiful and colorful. It's a rainy day, but you are the sunshine and rainbow."
Pointing to the float on which a giant lotus flower sat along with Falun Gong practitioners demonstrating the exercises, she said, "The flower is beautiful, and the meditation is beautiful, too."
Roy and Cherish Warwic, husband and wife, were excited to see the performance by the Divine Land Marching Band. "The parade today is very spiritual, and it represents an Irish tradition as well as our cultural diversity," Roy said with a smile.
He said he was impressed by the band's unique uniforms. "Every band member has a smile on their face—not some, but every one. They touched my heart and made me happy," said Roy.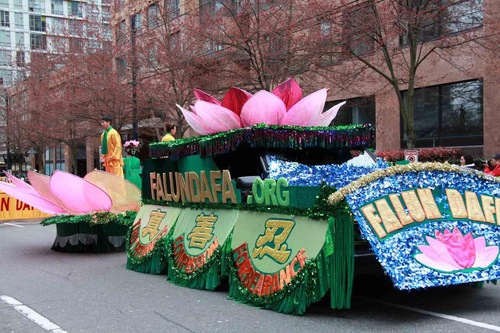 Float with Chinese characters for "Truthfulness," "Compassion," and "Forbearance"
Living in central Vancouver, this couple had seen Falun Gong practitioners in various community events. "I like their performances, like the beautiful float today. We're glad to see these and appreciate practitioners' efforts. We really do."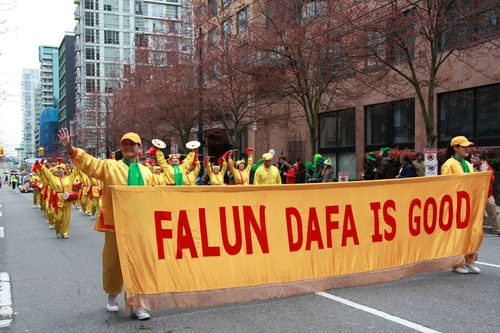 Waist-drum team in the parade
Laurie was impressed by the waist-drum team: "I can tell some of the team members are not young. But they all look very energetic, and that makes us feel so good," she said.
Yan from China also watched the parade. "I have a friend who practices Falun Gong, and he came here, too. To me, it's a great event today because it highlights the cultural diversity in Canada."
"I feel spring is coming soon," he added. Looking at the float marked with "Truthfulness, Compassion, Forbearance," he continued, "with these words, I'm sure this will be a great year."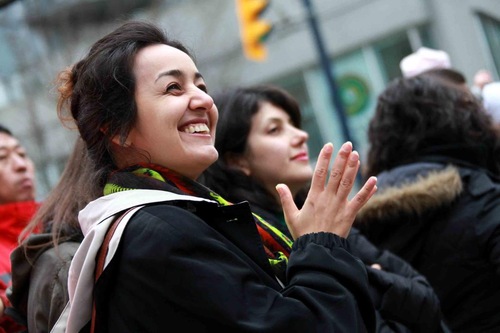 A parade watcher applauds the practitioners' performance.