Boston: Over 200 Chinese Renounce the Communist Party During New Year Celebration
March 12, 2015 | By Minghui correspondent Cheng De
(Minghui.org) The Falun Gong group was once again invited to a Chinese New Year celebration held in Quincy, a southern suburb of Boston. They demonstrated the exercises and displayed materials introducing the peaceful meditation.
Many Chinese participated in this event at Quincy High School on March 1, 2015. Appalled by the the Chinese Communist Party (CCP)'s atrocities in the persecution of Falun Gong, 205 Chinese attendees took a stance by renouncing their CCP memberships.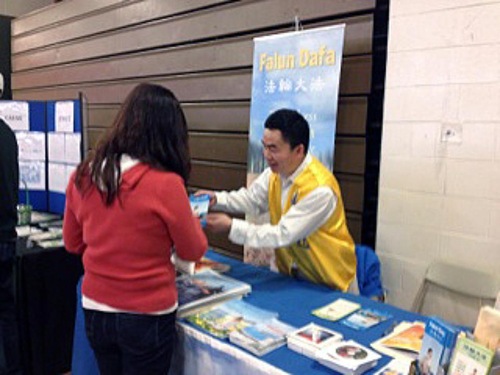 A Chinese woman stops to learn about Falun Gong
"One of my relatives was detained for many years for practicing Falun Gong. And my mother was forced to give up her belief after the suppression started," said a tourist who had come to the US just four days earlier.
"Now that I'm abroad, I will have a chance to learn more about Falun Gong," she said.
A Chinese visiting scholar at a local university stopped to take photos of the practitioners demonstrating the exercises. She was aware of the Party's brutality and said she was not an official Party member, but she had been member of the Youth League and Young Pioneers. When practitioners suggested that she renounce these CCP affiliates so as to sever all ties with the regime, she gladly agreed.
While talking with practitioners at the booth, another couple said they already knew that Falun Gong was being unjustly persecuted because one of their relatives was a practitioner, "You have our support. The organ harvesting [from Falun Gong prisoners of conscience] must stop!"