New York: Students of Nine-Day Falun Dafa Seminar Persevere Amidst Winter Storms
February 04, 2015 | By Minghui correspondent Shanguo in New York
(Minghui.org) Despite two potentially massive snowstorms in New York in the past two weeks, attendees of a nine-day Falun Dafa video-lecture seminar managed not to miss even one day.
The seminar, held at Tianti Books in Manhattan, was originally scheduled to begin on January 26, 2015. Unfortunately, the weather forecast predicted a possibly catastrophic blizzard in the Northeast U.S. that day. Flights and schools were canceled. Subways and trains were shut down. The New York governor issued a travel ban on the 26th, asking people to stay at home that night. The lecture seminar had to be postponed for two days.
Six days into the nine-day seminar, a similar super snowstorm was about to hit again. Students who had been attending the class were facing the dilemma of whether to attend the class.
Diana, seven months pregnant with twins, was one of them. She had learned about the video-lecture series a year ago, but hadn't found the time to attend. Knowing she would have even less time to spare once the babies arrived, she was determined to complete the seminar this time.
"If I weren't pregnant and so uneasy on my feet, this weather would not keep me away from the workshop," explained Diana. "The other day I slipped even getting out of a cab!"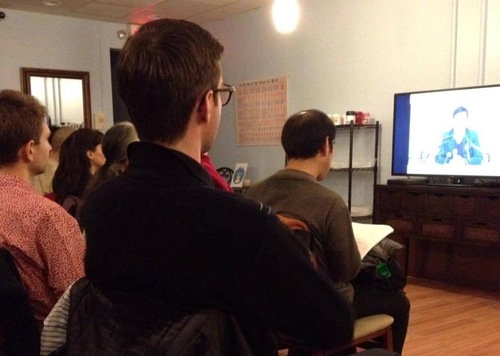 Students of the nine-day Falun Dafa seminar take in Master Li Hongzhi's lectures on video.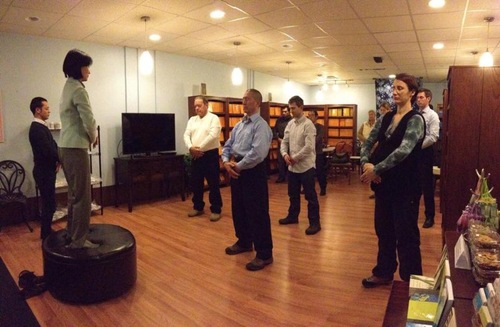 Students learn the Falun Dafa exercises.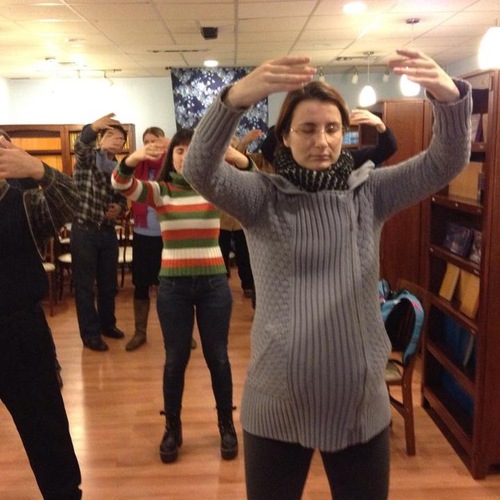 Diana, pregnant with twins, learns the Falun Dafa exercises.
A volunteer told Diana that it was totally understandable if she could not make it to the class on the sixth day and encouraged her to make it up later.
Those who came on time agreed to wait for those who were late because of the weather. It turned out that no one skipped class that day.
When Diana was climbing up the stairs, another student greeted her excitedly, "Welcome, the three of you!"
This class of students represented the spirit of New York City, a melting pot. They came from nine countries: the U.S., Canada, the U.K., Romania, China, Guatemala, Iran, Japan, and Argentina.