Hong Kong Practitioners Ring in Chinese New Year with Greetings to Master Li Hongzhi and Community Events
February 21, 2015 | By a Falun Gong practitioner in Hong Kong
(Minghui.org) As Hong Kong welcomes the Year of the Goat with various festivities, Falun Gong practitioners enjoyed their special celebration—sharing the beauty and joy of the mind and body cultivation practice of Falun Gong, and sending their thanks and New Year greetings to its founder Master Li Hongzhi.

Falun Gong practitioners gather at the plaza outside the Hong Kong City Hall to wish Master Li a Happy Chinese New Year.
At the Lunar New Year Fair at Victoria Park, the origami lotus flowers were a hit. Many young visitors stopped by to receive them. Some residents encouraged practitioners with a thumbs-up or a V sign, "Way to go!" "Remarkable!"
The theme of this year's Falun Gong booth was "Blessings Accompany Knowing the Truth," "Truth Guides the Way," and "Falun Dafa (another name for Falun Gong) Is Great."
In addition to obtaining the origami lotus flowers and Falun Gong New Year materials, some residents also bought Falun Gong books and inquired about group exercise sites and schedules.
According to practitioners at the fair, more people are able to discern lies in the communist propaganda and are more open to learning about Falun Gong. Practitioners in Hong Kong hope to help more Chinese tourists and locals to learn the truth behind the persecution and become supportive of Falun Gong in the New Year.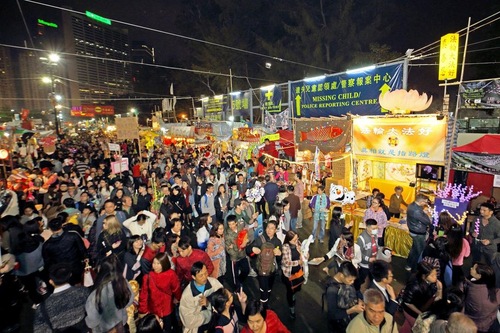 The Falun Gong booth at the Lunar New Year Fair at Victoria Park, Hong Kong.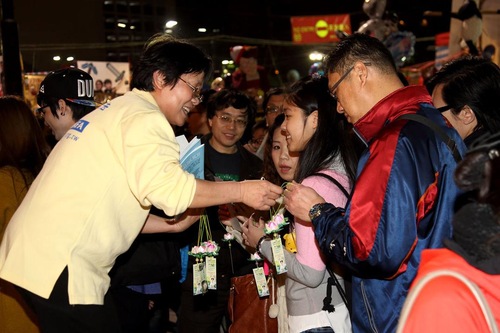 A family receives origami lotus flowers from a practitioner at the Lunar New Year Fair.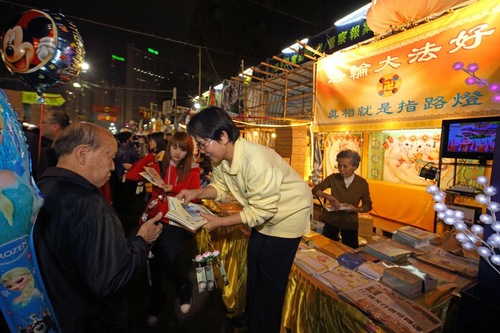 A practitioner offers informational materials to visitors at Victoria Park's Lunar New Year Fair.
Practitioners have opened many mobile informational sites in Hong Kong. Mr. Zhou, who manages a few such sites, has seen an increase in the distribution volume.
In a community where the subway system recently expanded, he distributed 1,300 copies of Minghui Weekly a month ago. The volume increased to 2,400 copies right before the Chinese New Year. During the past two weeks, the one mobile site in this community distributed over 15,000 copies every week (five days a week). Mr. Zhou has also seen more young people taking the informational materials.
Ms. Liao, who coordinates different distribution sites, mentioned that all the sites were open during the Chinese New Year holiday. Even though the volume of Chinese tourists was lower than usual on the first day of the New Year, it was still significant. According to her, in Causeway and Tsim Sha Tsui, two tourist hot spots, thousands of materials were taken in a few hours.
Chinese tourists sit by the mobile information sites and read Falun Gong materials.
A Chinese tourist reads Falun Gong materials in Tsim Sha Tsui.
In Tsim Sha Tsui, a Chinese tourist reads a newspaper about the Chinese Communist Party killing Falun Gong prisoners of conscience for their organs.