Three Falun Gong Practitioners Arrested for Giving People Calendars
February 16, 2015 | By a Minghui correspondent from Beijing, China
(Minghui.org) Three Beijing residents were arrested on January 7, 2015, for giving people calendars that contained information about Falun Gong.
The three, Ms. Jia Fengzhi, Mr. Ma Zhanquan and Mr. Wang Jianfu, were arrested by police from the Domestic Security Division of the Pinggu District Police Department and the Binhe Police station, and the Yuyang Police station.
The police ransacked their homes and confiscated many personal items. They took a calendar from Ms. Jia's home; a laptop, a desktop computer and a printer worth about 10,000 yuan from Mr. Ma's home; and three printers, three laptops and a DVD writer worth more than 10,000 yuan from Mr. Wang's home.
Falun Gong practitioners in China download the calendars from Minghui.org and print them to give to people as a new year's gift. The calendars have become a popular item since practitioners began giving them out a few years ago.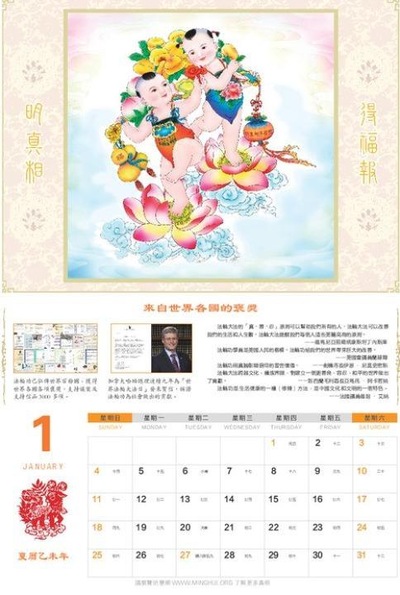 "Fortune Babies" wall calendar from Minghui.org
Previous Arrests and Persecution
Mr. Ma, from Pinggu Town in Beijing, was sentenced to two-and-a-half years of forced labor in 2002. A year after he was released from the forced labor camp, he was sentenced again to three years in prison. His wife was sentenced to two-and-a-half years of forced labor, and three years in prison. The police constantly harassed his parents, parents-in-law and his young child. Mr. Ma's grief-stricken mother passed away when he was in prison.
Mr. Wang, from Xigao Village, Donggaocun Town, was arrested in 2001 and sentenced to seven years in prison. His wife was also arrested, leaving their daughter alone at home to care for herself.
Ms. Jia Fengzhi, from Pinggu Town, had been sentenced to forced labor prior to her recent arrest.
According to Minghui.org, 81 Falun Gong practitioners have been persecuted by the Pinggu District authorities, where four have died as a result of the persecution.
Parties involved in the persecution:Political and Legal Affairs Committee (PLAC) of the CCP of Pinggu District: +86-10-69961927 (Office)Chi Baoyi, chief of the PLAC: +86-13911837783 (Cell), +86-10-69968255 (Office), +86-10-69933268 (Home)610 Office of Pinggu District: +86-10-69962902, +86-10-69966323 (Office)Cui Jinwang, chief of the Domestic Security Group of Pinggu District Police Department: +86-13501175820 (Cell), +86-10-69962623 (Office), +86-10-69966781 (Home)Tian Changfeng, chief of the Pinggu District Police Department: +86-13801116679 (Cell), +86-10-69965506 (Office)Lu, from the Binhe Police Station, Pinggu District (involved in arresting the practitioners): +86-13581797913 (Cell)Wang Hui, chief of Pinggu Detention Center: +86-13601371936 (Cell), +86-10-69979071 (Office), +86-10-69953989 (Home), +86-10-69962608 (Office)Zhang Li, chief of Pinggu Detention Center: +86-13501006911 (Cell), +86-10-89987272 (Office), +86-10-69979898 (Home), +86-10-69962608 (Office)
Related article:Calendars Bring New Year Blessings to Chinese in New York (Photos)