Shen Yun's Cultural Experience Impresses Audiences in Southern California
February 14, 2015 | By Minghui correspondent Meng Wenlan
(Minghui.org) Shen Yun Performing Arts finished the Southern California leg of its global tour with twenty-one sold-out performances in five cities from January 22 to February 8, 2015.
The authentic cultural experience captivated award-winning producers and actors with visual effects and spiritual enrichment.
Shen Yun was originally scheduled to perform seventeen shows in Southern California. Tickets for the shows in Costa Mesa, Thousand Oaks, and Northridge were sold out a month prior to performance dates. Local presenters added four shows to meet the demand.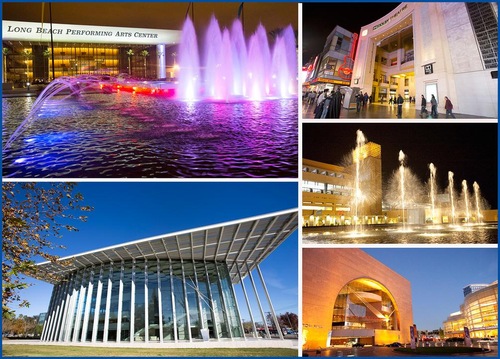 Shen Yun performed twenty one shows in five cities in southern California. The cities include: (clockwise from upper left) Long Beach, Hollywood, Thousand Oaks, Costa Mesa, and Long Beach.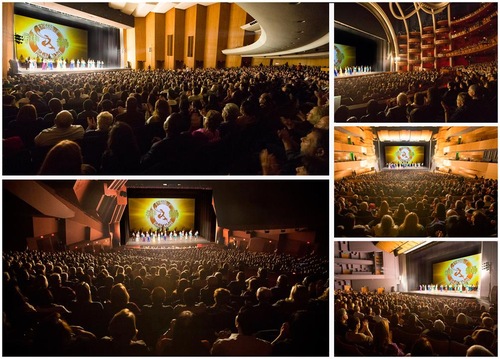 Theaters that Shen Yun performed at in southern California: (clockwise from upper left) Terrace Theater in Long Beach, Dolby Theatre in Los Angeles, Valley Performing Arts center in Northridge, The Fred Kavli Theatre in Thousand Oaks, and Segerstrom Center for the Arts in Costa Mesa.
Award-winning Actor: "Absolutely Beautiful"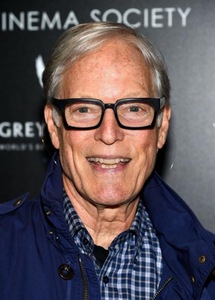 Screen and stage actor Richard Chamberlain
Award-winning veteran screen and stage actor Richard Chamberlain described his Shen Yun experience as "gorgeous" and "absolutely beautiful."
"It's wonderful, absolutely wonderful," Chamberlain said. "The dancers are terrific, the colors, the background… it's kind of a window into another culture that I find very interesting."
International Film Critic: "This One Is the Best"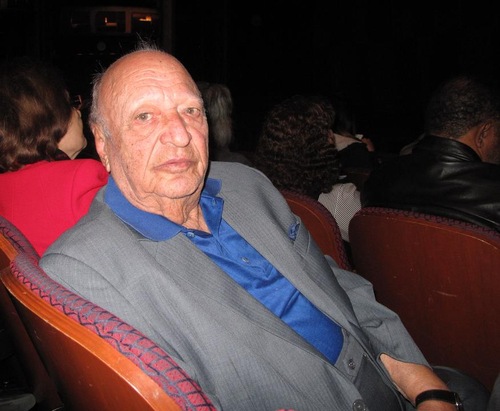 International film critic Mahfouz Doss
"I have seen several shows; this one is the best," said Mr. Mahfouz Doss, an international film critic and former president of the Hollywood Foreign Press Association.
"I am delighted," said Mr. Doss. "The dancing, the costumes, the clothes, the scenery." He said the entire performance was well put together.
He was particularly happy to watch the spiritual aspect of ancient Chinese culture. "Yes, this is what I like," he said, adding that the spirituality is both educational and informative.
Television Producer: "The Whole Show is a Visual Feast"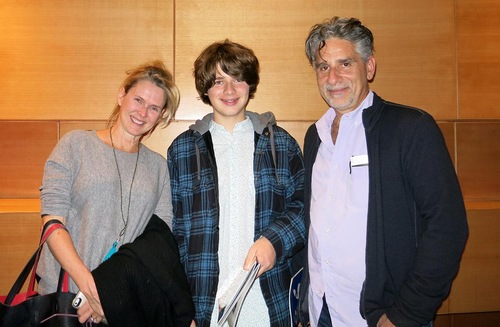 Television producer Deborah Spera
"The whole show is a visual feast," said Deborah Spera, former president of Mark Gordon Company TV.
As a producer, Mrs. Spera noticed the level of difficulty of the stage production. "The visual effects are amazing!" she said.
The show also impressed Mrs. Spera's husband, Robert Spera, who is a film and television director. "It's really exciting," described Mr. Spera.
"This pageantry, the size of the production, and the quality of the dancers," he said. "The costumes are all phenomenal."
The values presented in the show were very "helpful, warm, and encouraging," said Mr. Spera.
"It's very enlightening," said their son Joe, a student. "It uncovers a lot of things that you don't really know about Chinese history."
Actor: "An All-Around Experience"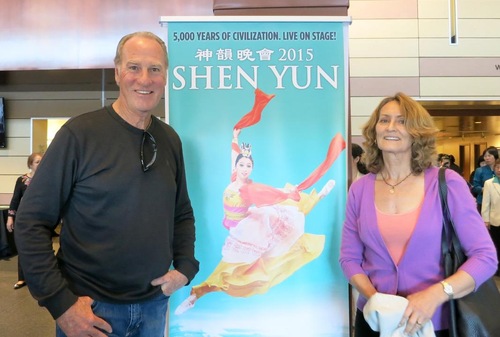 Emmy Award-winning actor Craig T. Nelson
"The professionalism of this group is just extraordinary," said Craig T. Nelson, Emmy Award-winning actor and producer after seeing the performance in Thousand Oaks on February 4.
"It's wonderful, amazing," said Mr. Nelson. "It was just an all-around experience."
Mr. Nelson was moved by Shen Yun's dancers. "Obviously they have worked so hard at what they do, and it shows. It just comes across as effortless, beautiful, elegant, very, very moving, down to the tiniest gesture. Just down to the tips of the fingers," he said.
"I love the people and I love the sound. I love the tradition of it. The traditionalism is very effecting," he added.
Screenwriter: Elevating and Inspiring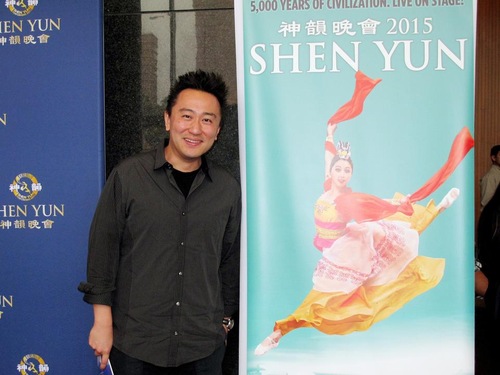 Award-winning screenwriter Weiko Lin
Award-winning Hollywood screenwriter Weiko Lin said after seeing the performance on February 7, "I felt very proud after seeing this. It gave me a lot of inspiration. It uses dance to express Chinese culture and history and a kind of spirit. The spirit is great."
He continued, "I have seen Chinese dance before. But this time, I had an entirely different experience. It's hard to be expressed in words. It was a kind of elevation. I didn't feel like I was watching the performance as an audience. I felt that I was [dancing] with them."
He also commented on the universality of the values in the performance. He said, "Westerners can connect with it; Chinese people can connect with it; the entire humankind can connect to it. So I think it's great."
Musician: Important and Heartwarming Messages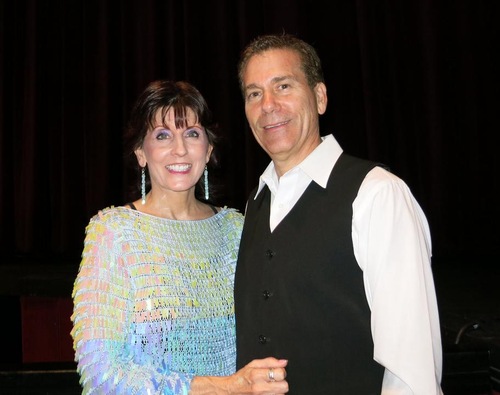 Musician Rich Callaci
Musician Rich Callaci described the music of Shen Yun as "great." "very well written," and "very well orchestrated."
Mr. Callaci was especially touched by the piece, The Power of Compassion, which depicted how a Falun Dafa practitioner in China helped and changed a police officer who had just persecuted her.
"[It] brought out a lot of feeling [with] their passion," he said, "when they were talking about the principles of compassion – it was heartwarming."
"It makes you feel the things that are important are the things that they talk about. (It) touched my heart," he added.
Mr. Callaci came with his girlfriend, Robin Freeland, who dances and is a fitness trainer. She said, "I think the dance is fantastic. I cannot believe how flexible, mobile, how talented they all are."
Professor: Spreading Universal Values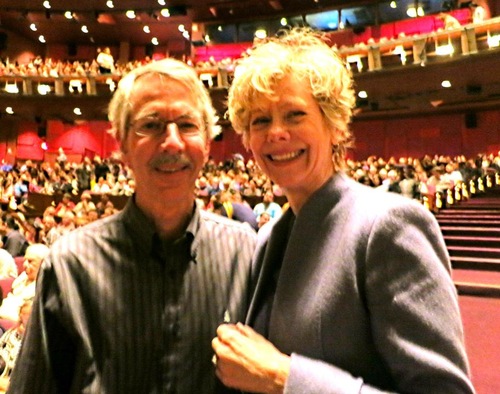 Economics professor Edward Leamer
Edward Leamer, an economics professor and director of the UCLA Anderson Forecast, admired Shen Yun's efforts of preserving ancient Chinese culture and its universal values.
"I think this is an important thing to do," he said. "I think that we all need to hold on to our traditions, and the Chinese have this wonderful, very long history that needs to be cherished."
He also felt strongly about the universal values presented in the show. He said, "I feel oneness with the Chinese people...I believe in much of the same things. Many of the messages here about compassion and treating people well—we all share that."
Qian Hui, a teacher from China, brought her son to the performance on February 7. She was brought to tears, "It impressed me a lot. I have never seen dances that are this traditional and excellent in China. I also like the costumes and the facial expressions of the dancers. I liked it a lot."
She continued, "Every dancer was smiling and they all looked very kind. Their movements were so lithe. It really felt like they were divine beings dancing."
Shen Yun will continue to perform in the United States in Minneapolis, MN on February 13–15, Grand Rapids, MI on February 14–15, and Phoenix, AZ on February 14–15. For more information on tickets and dates, please visit http://shenyun.com.