Judge Obstructs Falun Gong Practitioner's Lawyer During Trial
February 10, 2015 | By a Minghui correspondent in China
(Minghui.org) The presiding judge followed the Communist Party's hard line in suppressing Falun Gong by frequently obstructing the defense lawyer during the trial of practitioner Mr. Yang Xiaochuan on January 28, 2015. No verdict was announced at the end of the trial.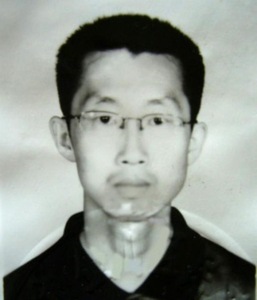 Mr. Yang Xiaochuan
Mr. Yang, a former employee of a smelting factory with the Jinchuan Group Company and a resident of Yongchang County, was forced to leave his home in 2007 to avoid persecution based on his identity as a Falun Gong practitioner. He was arrested in Dalian, Liaoning Province, on September 28, 2014, and transferred back to his hometown in Gansu Province in October 2014.
The trial lasted 90 minutes. Mr. Yang's defense lawyer said he was interrupted by judge Deng Yonghua many times and doubted the judge's impartiality. That same morning, a court representative had visited Mr. Yang in the detention center and attempted to force him to drop his Beijing lawyer.
Questions about Content of Falun Gong Book Disallowed
The prosecutor presented the articles found on Mr. Yang at the time of his arrest as evidence, including a copy of the main Falun Gong book Zhuan Falun, a laptop computer, and four cellphones.
When it was the defense lawyer's turn to question Mr. Yang, he asked about the content of the book.
The defendant said the book teaches people to be good by following the principles of Truthfulness-Compassion-Forbearance. The judge ordered the lawyer to stop asking questions about anything related to the book.
Prior Forced Labor Camp Detention Cited as Evidence
The prosecutor cited the fact that Mr. Yang "was sent to a forced labor camp in 2000" as evidence against him.
The defense lawyer stated that the labor camp system was in itself illegal and had been discontinued.
Judge Dodges Lawyer's Rebuttal Regarding "Evil Cult"
The prosecutor accused the defendant of being a member of an "evil cult," because he practiced Falun Gong. In response, the defense lawyer pointed out that no published Chinese law listed Falun Gong as an "evil cult."
Judge Deng Yonghua cut the defense off, but said that the lawyer would be allowed to re-explore the "evil cult" issue during the final statement after the lawyer protested.
However, during the final statement, as the defense lawyer restated that Falun Gong was not a cult, the judge conveniently "forgot" the prior agreement to re-explore this issue and refused to allow him to continue.
Responding to the allegation that his client "used a cult to undermine implementation of the law," the defense lawyer asked the prosecutor to tell the court what law was undermined. The prosecutor couldn't list any.
When the defense lawyer asked the court to strike out that particular charge, the judge stopped him again.
The trial was held in the Yongchang County Court.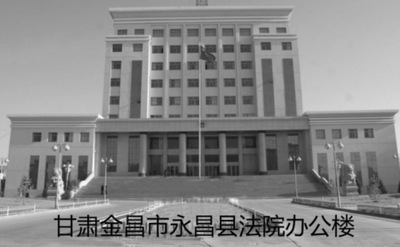 Courthouse, Yongchang County, Jinchang City, Gansu Province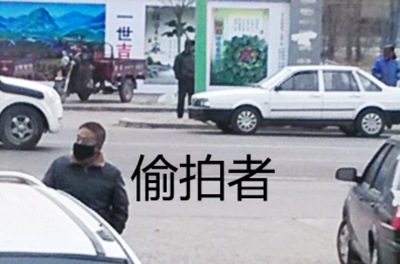 Police officers taking photos of pedestrians near the courthouse.