Ottawa, Canada: Press Conference on Parliament Hill Calling for an End to the Persecution of Falun Gong in China
December 14, 2015 | By Ying Zi in Ottawa Canada
(Minghui.org) A press conference inside the Parliament Buildings in Canada's capital city of Ottawa was held December 9, the day before World Human Rights Day. Organizers called on Members of Parliament and the public to help bring the 16-year-long persecution of Falun Gong to an end.
The press conference was hosted by MP and President of Friends of Falun Gong Mr. Peter Kent, former Minister of Justice Mr. Irwin Cotler and the Falun Dafa Association of Canada.
"My father was taken away from me in the year 2000 when I was 6 years old. [Chinese authorities] forced him to give up his belief by torture, beating, and injecting drugs to destroy his nervous system. But he didn't give up his pursuit of truth and being a compassionate and tolerant person," testified Ms. Hope Chen at the press conference. Ms. Chen is a student at the University of Toronto.
Chen's father, Yongbo Chen, was arrested in Xiantao City Hubei Province on November 11, 2015 for filing a criminal complaint against former Chinese dictator Jiang Zemin.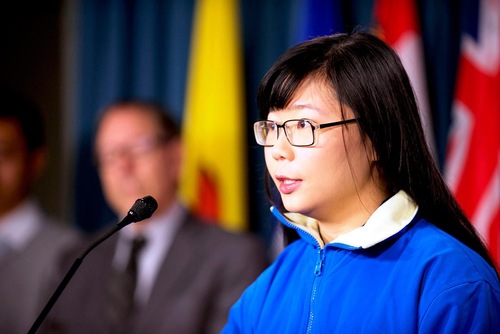 Hope Chen, a student at the University of Toronto.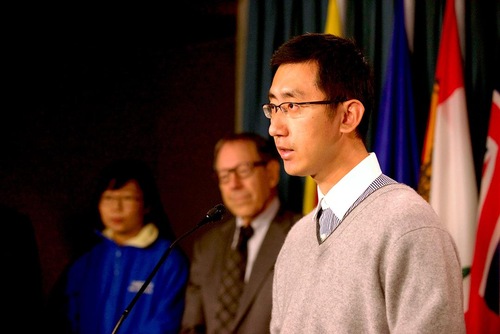 Paul Li, a resident of Toronto.
Hope Chen is not the only Canadian resident who has a relative illegally jailed in China. Paul Li, a Canadian citizen living in Toronto, testified that his father, Xiaobo Li, is now serving a second eight-year imprisonment for practicing Falun Gong.
Xiaobo Li was first jailed in Deyang Prison for 8 years in 2005. He had been subjected to many tortures, including being locked into a cold "water cell" in winter with no clothing. He was also forced to stand for days on end until his legs were too swollen to stand, and at other times was forced to run nearly 25 kilometers per day.
Due to the torture and harsh environment, he could barely see from his left eye by the time he was released.
Xiaobo was arrested and sentenced to a second 8 year prison term on April 21, 2015 for passing out fliers about Falun Gong. A member of the consular staff of the Canadian Consulate attempted to attend the court "trial", but court officials turned him away.
MP and President of Friends of Falun Gong Mr. Peter Kent said the Canadian new government should continue to support Falun Gong and the many efforts to counter the persecution that are underway.
He said that the persecution of Falun Gong continues even though some practitioners have been able to appeal their cases in certain courts in certain areas of China. He asks that the new Canadian government encourages the Chinese government to allow more such appeals and to follow the rule of law to bring those responsible for the persecution to justice.
He stated that the new Canadian government should continue to pressure the Chinese government to release all imprisoned Falun Gong practitioners and to stop torturing them.
Former MP and Minister of Justice Mr. Irwin Cotler praised Hope Chen and Paul Li for their courage to speak up against the Communist regime.
"To stand aside with those being persecuted, to let them know that they are not alone, this is a duty of a Member of Parliament and a citizen of Canada," said Mr. Cotler.
Mr. Joel Chipkar, spokesperson of the Falun Dafa Association of Canada, asked the new Canadian government and Members of Parliament to help end the 16 year long persecution of Falun Gong in China, and also to help the imprisoned relatives of 10 Canadians to regain their freedom.
Mr. Chipkar said that more than 300,000 Canadians had signed a petition urging the government to help stop the persecution and that he had presented more than 95,000 signatures to Canada's new Prime Minister Justin Trudeau that same day.
He said investigative reports showed that thousands of Falun Gong practitioners were murdered to have their organs harvested by organizations related to the Chinese Communist Party.
Falun Gong practitioners from Toronto, Montreal and Ottawa rallied outside the Parliament Buildings while the Press Conference proceeded inside.