Taiwan: November is a Time to be Thankful for Our Health and Happiness
November 27, 2015 | By Tang En
(Minghui.org) November's Thanksgiving holiday is one of the most important traditions celebrated in the United States. For hundreds of thousands of Falun Gong practitioners in Taiwan, November also marks the special occasions when Mr. Li Hongzhi, the founder of Falun Gong, visited Taiwan and gave lectures in November 1997.
Laiqin, from Ylan in Northeastern Taiwan, started practicing Falun Gong in June 1994. "I went to Master Li's lectures in Jinan, Shandong Province. Within several days many illnesses which had bothered me for more than two decades disappeared." She also recalled her experiences of going to the lectures in 1997.
The first Falun Gong practice site in Taiwan was established in April 1995. "By 1997, five years after Falun Gong was introduced in Mainland China, there were only about 35 such practice sites, and there were minimal connections between them," said another practitioner.
The number of practitioners surged after Master Li's visit. Nowadays there are over 1,000 group practice sites, covering almost every town in Taiwan, with hundreds of thousands of practitioners from all walks of life.
Lectures in Taipei and Taichung
Master Li gave a lecture at an elementary school in Taipei during his visit in 1997, and at a vocational school in Taichung, the third largest city on the island. The two lectures took about ten hours in total, with an attendance of around 2,000.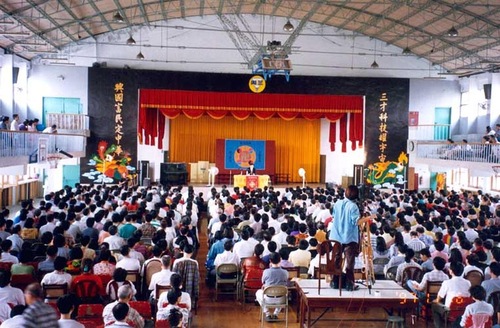 Master Li gave a lecture at an elementary school in Taipei on November 16, 1997.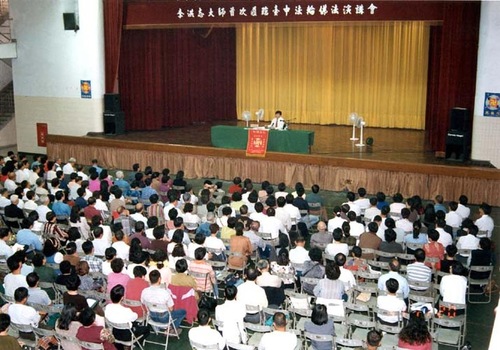 Master Li lectured at a vocational school in Taichung on November 20, 1997.
Qiu Tianxi, a retired teacher, said that more than half of the attendees were relatives or friends of practitioners. "After witnessing the positive changes of practitioners, and listening to lectures given by Master Li, they realized that Falun Gong was extraordinary. Most became practitioners afterwards," recalled Qiu.
Master Li stayed in Taiwan for about a week, and kept a low profile while he visited several cities in Taiwan, which included Taipei, Eastern Taiwan, and Southern Taiwan. "Only a few practitioners traveled with him. When local practitioners offered to pay for meals, lodging, or parking, Master Li always said no," said Qiu, "Through his lectures he taught us to be good and better people. In his daily life he also set a good example for us to follow."
Teacher's Compassion
Retired tailor Lin Fusheng started practicing Falun Gong in May 1997. "Shortly afterward, my joint pain, neck stiffness, and other discomfort disappeared." He quit smoking, and no longer needed medication that he had been taking for over 40 years. As his physical improvements continued, dark hair began growing on his bald head.
Impressed by these changes, Lin attended the lectures given by Master Li several months later. "What struck me the most was that Master Li's talk lasted about five hours without any break. Several times, Master Li was asked if he needed a break, and he always waved his hand saying no." Lin later realized it was because he was so compassionate and wanted attendees to benefit as much as possible. "I was deeply touched," said Lin.
Lin Chongqi, who works in a plastics factory, said she started practicing Falun Gong about six months before the lectures. "I remember Master Li's eyes were brimming with radiating energy. I was sitting in the back, but his eyes seemed to cover the entire auditorium, bathing us in brightness and compassion."
Character Formations
Falun Gong is now practiced in more than 100 nations by over 100 million practitioners. The main book of teachings, Zhuan Falun, has been translated into more than 30 languages, according to the falundafa.org website.
Practitioners of Falun Gong in Taiwan have not only improved their bodies and minds, but have also benefited society. Practitioners have become more responsible at work, and as a members of society. This has earned them high respect and countless rewards.
To express their gratitude towards Falun Gong, and help more people to benefit from this meditation system, practitioners have often performed large-scale group exercises and character formations during major events, such as at Falun Dafa Day celebrations and annual Experience-Sharing Conferences. Below are some examples.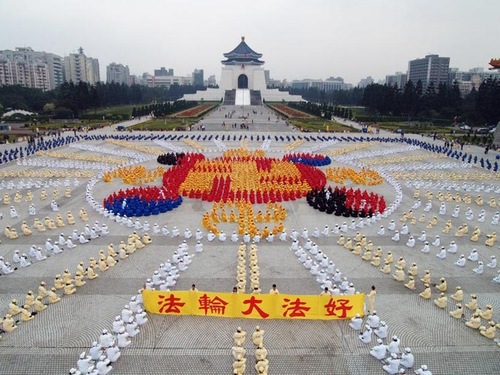 On December 25, 2005, about 4,000 Falun Gong practitioners formed the Falun Emblem.
Around 4,000 practitioners formed the words, "Falun Dafa is Good" in Nantou County in central Taiwan on December 1, 2007.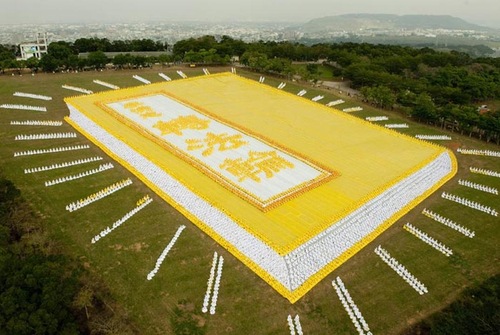 About 6,000 practitioners gathered at Taichung on November 21, 2009, to form the book cover of Zhuan Falun, Falun Gong's main teachings.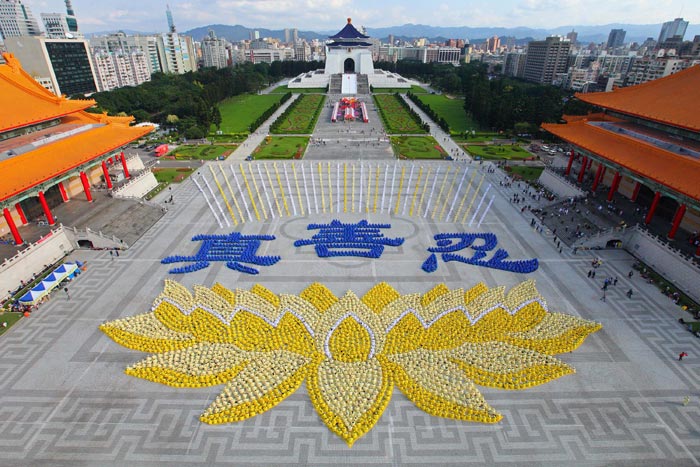 More than 5,000 practitioners gathered at Liberty Square in Taipei on November 27, 2010, arranged into a lotus flower and the words, "Truthfulness-Compassion-Forbearance."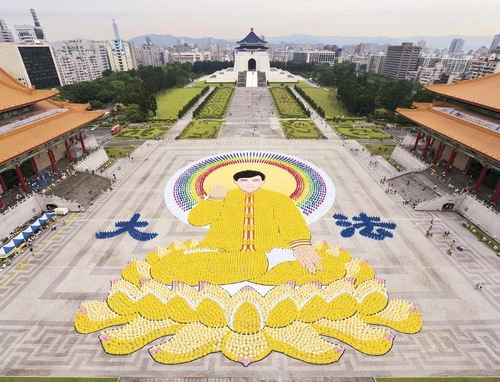 About 7,400 practitioners displayed the image of Master Li and the word "Dafa" at Liberty Square in Taipei on April 29, 2012.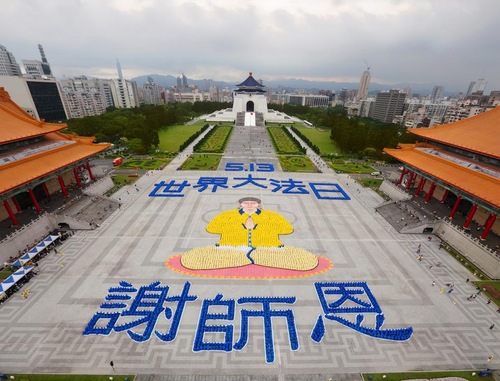 About 6,000 practitioners gathered outside of Chiang Kai-shek Memorial Hall on April 26, 2014, forming the words "World Falun Dafa Day on May 13" and "We Are Grateful to Master."
The annual experience-sharing conference this year will be held on November 29 at the National Taiwan University gym.