Paris, France: Joining Forces to End the Persecution of Falun Gong and Bring Jiang Zemin to Justice
(Minghui.org) "It is unjust that people are persecuted for their belief. We must fight against it," said Gilbert Léonian, a priest from the Armenian Evangelical Church of France, at a petition drive for Falun Gong in front of the Eiffel Tower on October 4.
The petition calls upon the Chinese regime to end the persecution of Falun Gong, and to bring China's former dictator Jiang Zemin to justice for his leading role in the persecution. Passersby who stopped to learn more were shocked by the brutality of the persecution in China, especially the state-sanctioned organ harvesting from living Falun Gong practitioners.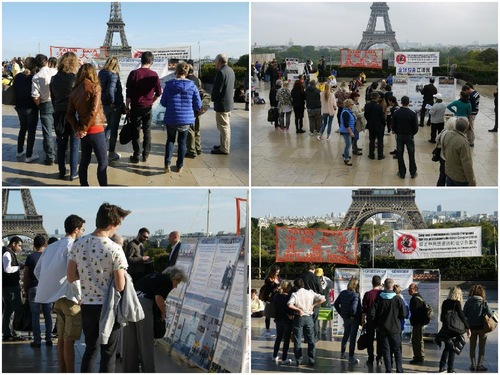 Falun Gong display boards attract attention at the Eiffel Tower.
After signing the petition, priest Gilbert Léonian said to the practitioners, "Everybody is different. There are differences in language, culture, history, and beliefs. If we don't want the world to explode one day, we must tolerate these differences. This is what I learned from the Bible, as a Christian."
He continued, "If we believe that God created free men, then He also created variations. I know that Falun Gong has been persecuted in China along with other groups, including Christians. Signing the petition is my way to stand with Falun Gong."
Another pedestrian, Dominique, was in disbelief that organ harvesting could be happening in this modern age. "It is not acceptable," she said. "I traveled in China a few years ago, and all they showed me was the bright side of the country. I thought that the China had improved in the last two decades since the Tiananmen Massacre in 1989, but I was wrong. It is so sad. I hope that our signatures will make a difference."
Clément, a French Catholic, nearly cried while viewing the pictures of the tortures suffered by Falun Gong practitioners in China. "No language can describe the brutality," he said. "I sincerely hope that the persecution will end soon. I hope that the former Chinese dictator will be prosecuted and brought to justice."
"The persecution is really horrifying," said Dahar Bensadoen, an automotive engineer who heard about the organ harvesting atrocities for the first time. After signing the petition, he said, "It is important to sign. To each of us individually, this is a small step, but if we join forces, hopefully we can make some changes. Jiang Zemin should be tried. This is important to the victims and their families."
Tourists from all over the world signed the petition as well, including many Chinese.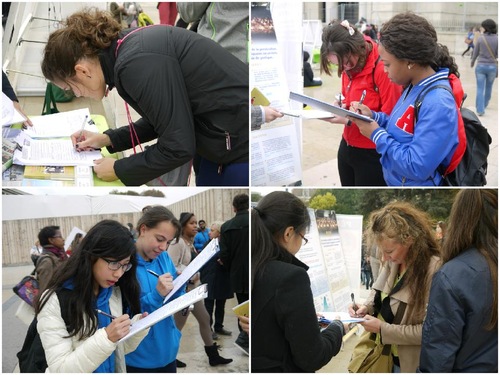 Tourists from all over the world and local residents sign the petition to condemn the persecution of Falun Gong in China.