Shen Yun Wows Creative Community in Eastern Canada
January 22, 2015 | By Minghui correspondents Ying Zi and Zhang Yun
(Minghui.org) As a part of its 2015 world tour, Shen Yun Performing Arts presented twelve shows on January 7-18, 2015, in the eastern Canada cities Ottawa, Montreal, and Mississauga. The icy coldness of the local winter didn't deter the enthusiasm of theatergoers.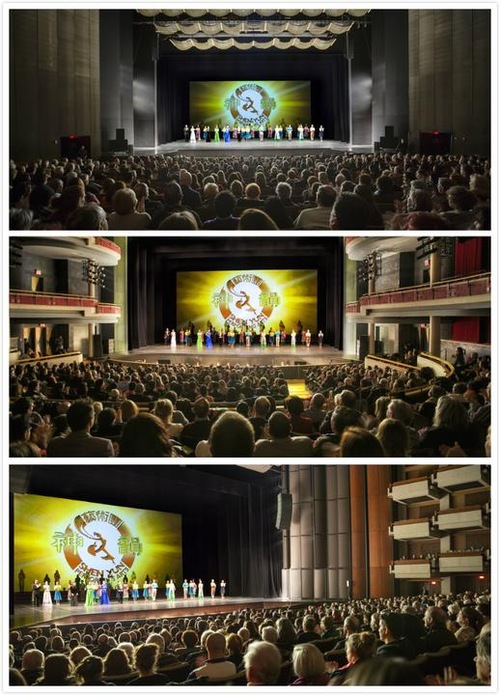 Shen Yun performed in Canada at (from top to bottom): Montreal's Place Des Arts-Salle Maisonneuve, Mississauga's Living Arts Centre Hammerson Hall, and Quebec's Grand Théâtre De Québec-Salle Louis-Fréchette.
Linebacker: "Message of Truth and Peace"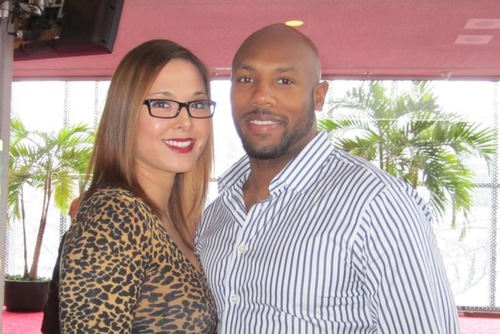 Kyries Hebert from the Canadian Football League attended the performance on January 11, with girlfriend Anneth.
Kyries Hebert, professional linebacker for the Montreal Alouettes, said after attending the performance on January 11:
"It's very impressive... It was a message of peace. I saw a message of forgiveness. I saw kindness... The message of truth and peace is something that stands out the most, when it comes to that, and it's something that translates across the globe, or at least I wish it would."
"I'm left feeling good, a feeling of positivity and excitement," he added.
Cellist: Skillful Blend of East and West
François Malo, cellist and bow crafter, acclaimed Shen Yun's orchestra, "The level of the orchestra is very high... The level of the musicians is first-class, the ensemble is very good, very tight—good sound."
"It works perfectly and it gives it a very, very interesting music," Mr. Malo said of the blend, adding that the sounds of the Chinese instruments were "absolutely beautiful."
"The composition is very well made, because they know how to make [music for] both types of instruments, traditional and the classical," he said. "Very well done all the way."
Violist: "Good for the Soul"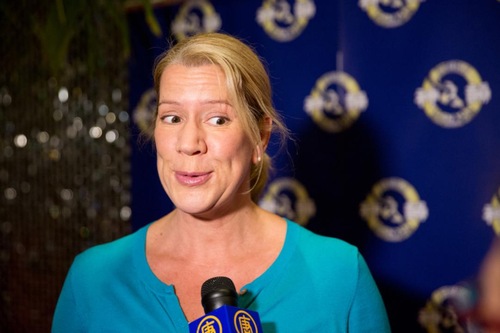 Véronique Potvin, principal violist with the National Ballet of Canada Orchestra, thought the music of Shen Yun is "good for the soul."
"I have no more stress in my life," enthused Véronique Potvin, principal violist with the National Ballet of Canada Orchestra, "Artistically it's just a good show for the soul, especially these days with everything happening on the planet."
"This is top quality," Ms. Potvin said, describing the orchestra, "The blend was beautiful. Acoustically it was not too loud, not too soft, it was actually perfect," she said.
"The melodies are beautiful," she said. "Very, very relaxing music actually. Very good for the soul. I play a lot of Beethoven and Tchaikovsky, so for me this is more relaxed music. So I can come to this show and just enjoy myself," she said.
Sculptor: "Grace and Harmony"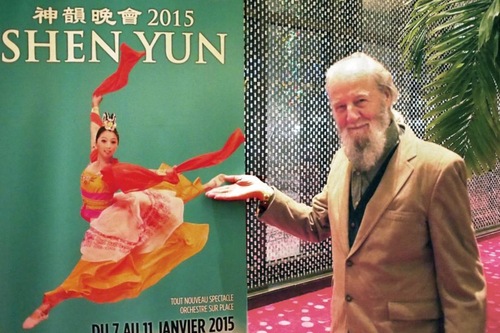 Renowned sculptor Jean-Jacques Chapdelaine was touched by the unity of the dancers.
"Grace—I had emotions of grace," Jean-Jacques Chapdelaine said of Shen Yun after seeing the show in Montreal on January 10. He is a renowned sculptor and a founder of the Council of Quebec Sculpture.
"We are used to hearing of the culture that always pushes the individual, and [with Shen Yun] it's not based on the individual, so it comes closer to something that transcends, that would be closer to divine beings," Mr. Chapdelaine described.
"It's unity, the whole night, I was touched by the unity, the unity of the group—females as well as males. It was harmonious, very harmonious. The colors were harmonious too."
He said he was completely captivated by and immersed in each dance, "I'm an observer, but I'm on the stage with them. I am with them, I am in their bodies," he said.
Former Classical Ballet Dancer: "Dancing from the Soul"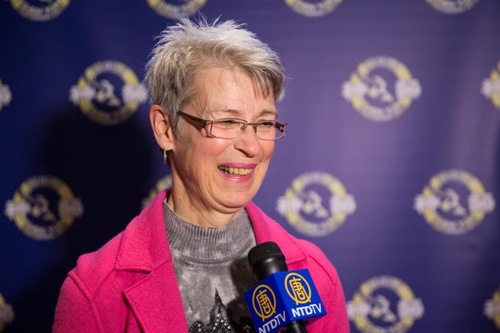 Former stage designer/producer Carole Hamelin, attended the performance at Place des Arts for her fourth time.
Carole Hamelin, former stage designer/producer and classical ballet dancer, attended the performance at Place des Arts, for her fourth time. " I like the harmony, the colors, the ensemble—everything. It's very beautiful," said Ms. Hamelin.
"There's something inside each dancer that we can feel when they dance. They really believe in [their mission]," said Ms. Hamelin. "It's very good to see them dance, because it's not just dancing, its dancing from the soul, and I love that."
"The root of Falun Dafa that we can feel from each one of the dancers—that's what I feel inside and I really connect with that," said Ms. Hamelin, who teaches mindfulness meditation to companies, groups, and individuals.
Ms. Hamelin appreciated the modern-day stories of human rights abuses in China, saying it was a timely and effective format to raise awareness.
"It's a good way to teach the world what's going on in the country," she said. "It's a good way to transcend [persecution] and to bring the world a new way of thinking, [through] the dance and the music, and culture.
Mayor of Mississauga: "Exceptional" and "Inspirational"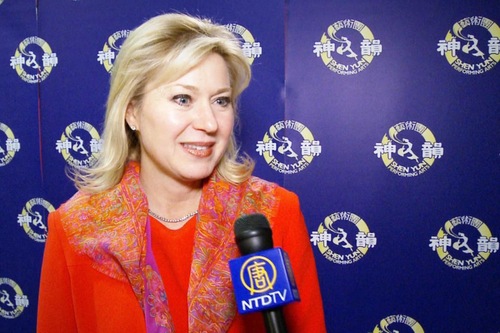 Mayor Bonnie Crombie called Shen Yun "exceptional" and "inspirational."
Bonnie Crombie, mayor of Mississauga, described the show, "It's just beautiful, so graceful, so elegant, and they are so talented, the dancers. Everyone's so beautiful too, I really enjoyed it," said Mayor Crombie.
"The performance is exceptional. It's precise, so well coordinated, as well as the beautiful colors," she said.
"It was just wonderful, just superb," said Ms. Crombie. "Spectacular and very, very moving too."
Ms. Crombie called Shen Yun "inspirational." She said Shen Yun had shown her a lot about Chinese culture, and she appreciated some of the deeper meanings in the performance. "A lot about tolerance, and peace and compassion, so it was beautiful," she said.
Shen Yun will finish its Canada leg of the tour with six performances at Sony Centre for the Performing Arts in Toronto on January 21-25. For more information on tickets and dates, please visit http://shenyun.com.