New Yorkers Inspired by Shen Yun's Exquisite Presentation of Authentic Chinese Culture
January 16, 2015 | By Minghui correspondent Cai Ju
(Minghui.org) Shen Yun Performing Arts returned to a full house at New York's Lincoln Center on January 9. The audience that night shared a sense of awe and amazement at both the artistic and spiritual values of the production. The performances will run until January 18.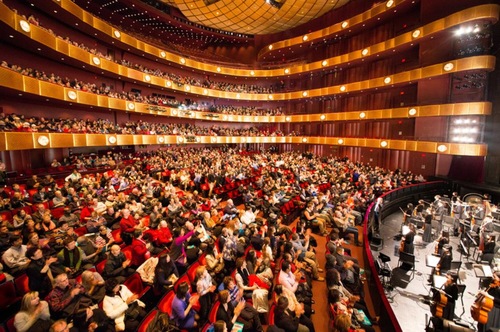 New Yorkers enjoy a night of Shen Yun Performing Arts
As in previous years, Shen Yun received greetings and best wishes from elected officials throughout New York. They welcomed Shen Yun back to the Lincoln Center and applauded their efforts to revive an almost lost culture. As U.S. Senator Chuck Schumer wrote, Shen Yun "preserves the true spirit of Chinese culture, while also breathing new life into it."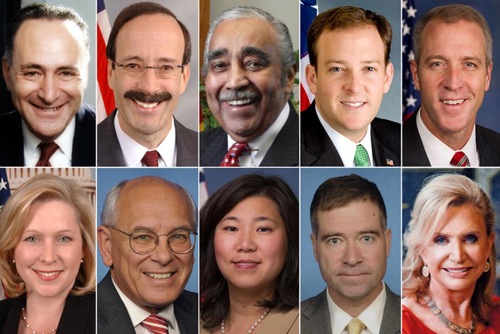 Partial list of elected officials who sent Shen Yun greetings. Top row, left to right: U.S. Sen. Charles E. Schumer, Rep. Eliot Engel, Rep. Charles Rangel, Rep. Lee Zeldin, and Rep. Sean Patrick Maloney. Bottom, left to right: U.S. Sen. Kirsten Gillibrand, Rep. Paul Tonko, Rep. Grace Meng, Rep. Chris Gibson, and Rep. Carolyn B. Maloney.
New York City Symphony Music Director: "Highly Recommended"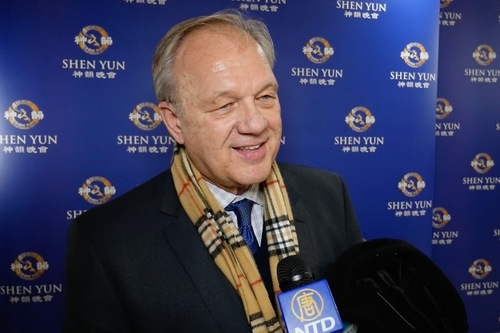 Mr. David Eaton is a composer and a conductor who has served as the music director of the New York City Symphony for 30 years. (Photo courtesy of New Tang Dynasty Television)
"It was very uplifting, very uplifting and inspiring, and at times—very deep," former New York City Symphony music director David Eaton said. "It's very well choreographed: The way the dance, the music and the drama all work together.
"I thought it was fabulous, especially the combinations of the old traditional dance with the modern technology... Amazing! Just amazing. Music was great. The orchestra was great... highly recommended!"
"I think the bringing together of the Eastern and Western elements is very effective. I enjoyed it so much," Mr. Eaton added.
"Best of the Best"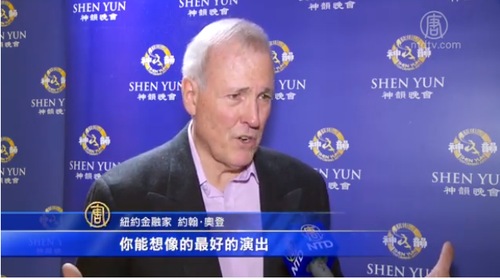 New York financier John Ogden (Photo courtesy of New Tang Dynasty Television)
New York financier John Ogden had high praise for the performance. "It's just the most beautiful, artistic, wonderful show you can imagine. It has great dance. It has incredible visuals, and incredible music."
He would like to recommend that everyone come see it. "It's a very unique presentation. I don't know anything like it anywhere in the world. It's the best of the best," said Mr. Ogden.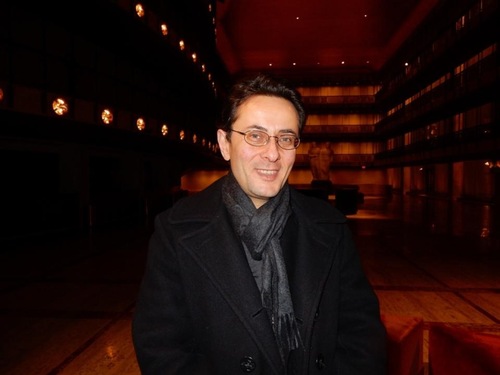 Publisher Michael Eskin believes that Shen Yun provides a great opportunity for learning Chinese culture.
"I've never heard some of the music before in my life," said Michael Eskin, publisher and cofounder of Upper West Side Philosophers. He was particularly struck by the erhu, a traditional Chinese stringed instrument.
Mr. Eskin also believed that Shen Yun provides a great opportunity for learning Chinese culture.
Proficient and Spectacular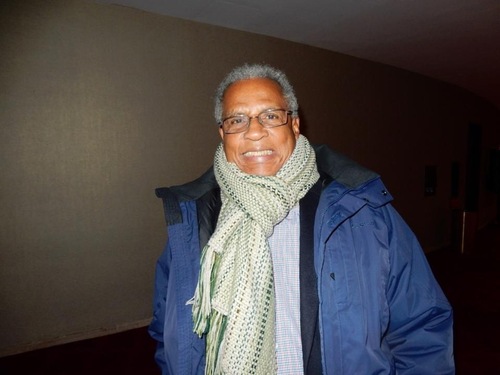 Economist Wendell Mottley enjoyed both the visual and spiritual presentation of Shen Yun.
Wendell Mottley, an economist, the former Finance Minister of Trinidad and Tobago, and an Olympic medalist, thought the show was "energetic and spectacular."
"Oh—come and see it!" Mr. Mottley would like to tell all his friends.
He found the technical aspects of the show "extremely proficient … very enjoyable."
"I felt that, especially with the classical dances, that this show was really an expression of that spirituality," Mr. Mottley said. "I could reach into it and cross the divides, and reach into that spirituality."
Skillful Presentation of Chinese Culture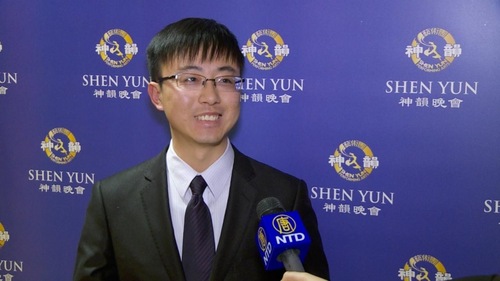 Engineer Zhang Zhicheng praised Shen Yun for bringing authentic Chinese culture on stage
Mr. Zhang Zhicheng, an engineer in New York, attended the performance on January 9. He exclaimed after the show, "The performance of Shen Yun is very, very nice. It was worth the trip!
"This performance shows traditional Chinese culture. All the programs chosen were very typical and great," he said. "This kind of performance can't be seen in mainland China now. So it feels great [to see it here]. It's worth the trip."
Zhang Rui, who works at a nonprofit organization in New York, brought her friends to watch Shen Yun. She said, "There is a story all through the show from the singing and the choreography of each dance. What is most interesting is that it put the four literary classics of China such as Journey to the West and Romance of the Three Kingdoms together and made them into dance."
Speaking of the various dance forms that Shen Yun brings on stage, Ms. Zhang said, "I think Shen Yun is rare in that it incorporates different ethnic folk dances into one show. The rich variety allows everyone to fully enjoy the show."
Shen Yun will continue to perform at the David H. Koch Theaterat Lincoln Center from January 16 to January 18. For more information on tickets and dates, please visit shenyun.com.