Danish Cultural Festival: "You Are Doing Things from Your Heart"
September 05, 2014 | By Shu Hui, a Minghui correspondent in Denmark
(Minghui.org) Falun Dafa practitioners in Denmark participated in the 10-day Aarhus Festival which started on August 29, 2014. This year's festival theme is "Same but Different," to commemorate the cultural festival's 50th anniversary. Many participants were delighted to see the practitioners' peaceful meditation as they walked among the booths.
This was the 14th year that Dafa practitioners participated in this annual festival in Aarhus, the second largest city in Denmark. With banners and posters bearing the words "Falun Dafa is good," practitioners spread the word about the practice and shared how it is associated with ancient Chinese culture. They explained that by doing the Falun Gong exercises and following the principles of Truthfulness-Compassion-Forbearance, practitioners are able to improve in both mind and body.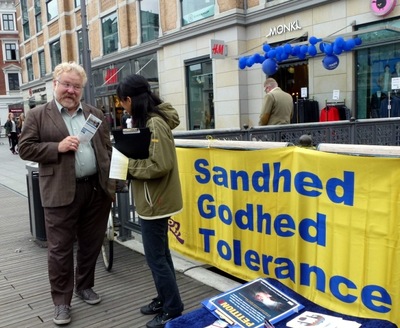 A practitioner introducing Falun Dafa to a festival visitor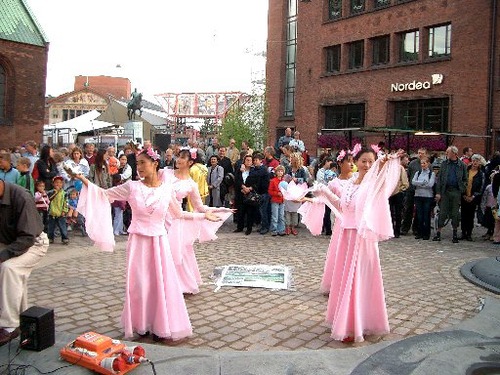 Young practitioners performing the Lotus Flower dance at the 2003 Aarhus Festival
A couple, Bodil and Michael stopped by the Falun Dafa booth. "I felt a strong energy here," Michael said, "What is it?" Upon learning about the beneficial effects of Falun Dafa, they were very interested.
After hearing about the persecution of Falun Dafa in China that has continued for 15 years, and the communist party's harvesting of organs from living practitioners, Bodil's eyes were moist. They thanked the practitioners for talking to them. Before leaving, Bodil said, "You are doing the right thing. We can tell you are doing this from your heart."
The couple said that they would visit Falun Dafa's website (falundafa.org) for more information and hoped to learn the exercises at a later time.
Quite a few local residents were interested in learning Falun Dafa and asked where the group exercise sites were. One of them had been practicing Taichi for the past year and was curious to learn the Falun Gong exercises.
A middle school student followed along with the practitioners' exercise movements. She then took some materials and said that she would share the information with her parents.
A Danish man who works in the book design and publishing business told a practitioner that he was very worried about people in contemporary society. "Many people have no belief or spiritual pursuit anymore. That is why they have depression and all kinds of problems in life," he said.
He was excited about the spiritual and physical benefits of Falun Gong said that he would look into learning it.