Numerous Arrests, Forced Labor, and Torture Befall Ms. Luo Zhihui for Exposing the Persecution
August 16, 2014 | By a Minghui correspondent in Hebei Province, China
(Minghui.org) People risk their lives to expose the persecution that the Chinese Communist Party wants to hide from the public. For a simple thing such as handing out flyers or talking to people, Falun Gong practitioners in China can be arrested, detained, and tortured.
Ms. Luo Zhihui, in her 60s, is one such person repeatedly persecuted. Over the last ten years, Ms. Luo has been arrested more than a dozen times, twice sentenced to forced labor camps, and once given a prison term.
Her latest arrest occurred on July 23, when she was taken by police from the Hongqi Street Police Station. She has been detained in the Shijiazhuang Detention Center. She refused to wear the detainee uniform to protest the illegal detention, and for that she was beaten.
Detention in Psychiatric Ward in 2000
In 2000 CCP officials feared that Ms. Luo would appeal for an end to the persecution during the National People's Congress and Chinese People's Political Consultative Conference. To head this off, local police and officials from the local residential committee arrested her and illegally sent her to the Psychiatric Department of the Beijing Air Force Hospital.
Ms. Luo refused a physical examination and protested her treatment with a hunger strike. The hospital tied her to a bed and brutally force-fed her many times.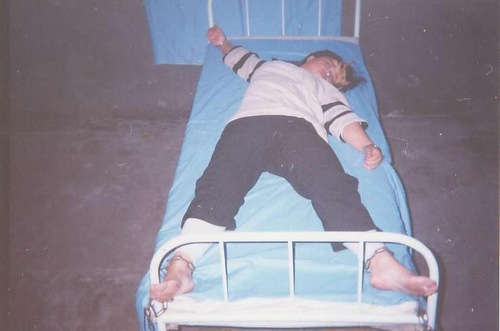 Torture Re-enactment: Cuffed to Bed
Labor Camp Sentence in 2001
In 2001 Ms. Luo appealed for justice for Falun Gong and was sentenced to three years of forced labor. She was detained in the Shijiazhuang Forced Labor Camp.
She refused to wear labor camp uniforms or renounce Falun Gong. The camp found two former practitioners, Wu Yuxia and Shang Zhendian, to monitor her around the clock. She was not allowed to use the restroom or talk to anyone.
Once the Chief of the 2nd Division, Zhao Zhijian, ordered her to approve an article that defamed Falun Gong. Instead, she tore it up. Zhao slapped her and hit her head against a wall repeatedly.
Ms. Luo was then handcuffed to a heating pipe and could not sleep. The torture caused the skin on her head to separate from her skull and she lost a lot of hair. Afterwards, her head felt heavy, as if filled with water. Her blood pressure rose to 200 (a normal range is below 120 over 80 (120/80)).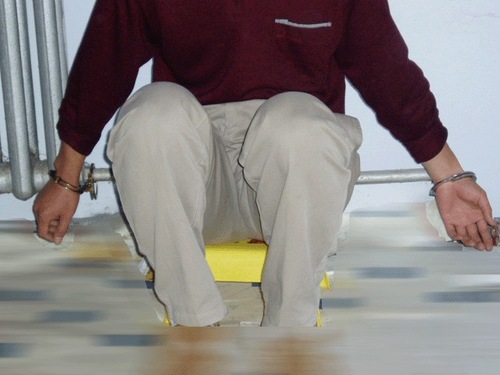 Torture Re-enactment: Handcuffed to Heating Pipe
To shirk their responsibility for Ms. Luo's treatment, camp officials released her at the end of 2001.
Second Labor Camp Detention in 2002
Ms. Luo was again sentenced to forced labor in 2002, again at the Shijiazhuang Forced Labor Camp. Camp guards made a concerted effort to make her renounce Falun Gong.
Several people who had renounced their belief in Falun Gong collaborated with the camp to monitor her. She was deprived of sleep and made to stand for long periods.
The guards ordered her watchers to drug her food without her knowledge. The drugs made her feel light-headed at times and at other times heavy-headed. She could not recall things well.
Section head Qiao Xiaoxia beat her. During the beating, Ms. Luo cried out, "Falun Dafa is good!" The beatings caused her to bleed from her mouth.
She was continually verbally abused. The long-term abuse from the guards and collaborators left her muddle-headed and thin.
Home Looted and Another Arrest in 2008
With four officers from the Hongqi Street Police Station under his supervision, Deputy Director Yang and officer Xie Hongbin broke into Ms. Luo's home on July 8, 2008. They ransacked her home and confiscated Falun Gong books, over 1,000 yuan with Falun Gong words written on them, a picture of Falun Gong's founder, a computer, printer, DVDs, and other Falun Gong materials.
Ms. Luo resisted arrest. Yang called for help to subdue a woman in her sixties. Once Yang completed the arrest, he tried to send her to the detention center. The detention center refused to accept her due to her health condition. They tried a second time and were again refused.
Ms. Luo was later sentenced to three and a half years in prison, but was released on parole because of her health condition.
Ms. Luo benefited greatly from Falun Gong since she began the practice in 1997. Many long-term illnesses disappeared and she became a healthy, happy, and unselfish person.
Summary of Key Persecution Facts:
Name: Luo Zhihui (罗智慧)Gender: FemaleAge: 60sAddress: Shijiazhuang, HebeiOccupation: Retiree from the Qiaoxi Grain Supply CenterDate of Most Recent Arrest: July 23, 2014Most Recent Place of Detention: Shijiazhuang Detention Center (石家庄拘留所)City: ShijiazhuangProvince: HebeiPersecution Suffered: Sleep deprivation, illegal sentencing, forced drug administration, beatings, torture, force-feedings, physical restraint, mental hospital, home ransacked, detention, denial of restroom useKey Persecutors: Wu Yuxia (吴玉霞), Shang Zhengdian (尚正典), Zhao Zhiqian (赵志谦) and Xie Hongbin (谢红宾)