Tortured to the Point of Disability, Outstanding Business Manager Mr. Zhang Huidong Repeatedly Persecuted for His Belief
August 16, 2014 | By a Minghui correspondent from Liaoning Province, China
(Minghui.org) Falun Gong practitioner Mr. Zhang Huidong is about 38 years old, and lives in Dalian City. After graduating from Dalian Maritime University, he served as the deputy general manager of a real estate company in Dalian City and made many significant contributions to the company's development.
This outstanding business manager was repeatedly persecuted by the Chinese Communist Party simply because he believes in Truthfulness-Compassion-Forbearance. He was tortured to the point of permanent disability. He also lost his parents due to the harsh persecution.
His mother, Ms. Chen Lihua, was illegally arrested many times and severely tortured for three years in the Dalian City Forced Labor Camp. She passed away in October 2012. His father couldn't withstand the extreme pressure from the long-term persecution and died in grief in 2005.
Persecuted to the Point of Disability
Mr. Zhang was arrested on August 7, 2001 when he was making truth-clarification materials at practitioner Mr. Xue Jun's house.
The police from the Xiuyue Street Police Station broke in and beat Mr. Zhang. They wrapped a rope around his neck and tightened it until he passed out. Afterwards, he was carried to the Xiuyue Street Police Station.
The police ransacked Mr. Xue's house, and took away three computers, one laptop, two printers, thousands of VCD disks and several amplifiers.
Mr. Zhang was transferred to the Zhongshan Police Department in Dalian City the following night. There, he was interrogated to tell police the source of the Falun Gong materials until the morning of August 9, 2001.
Mr. Zhang tried to escape after the interrogation, but a police officer found him. He had to jump from a fifth floor bathroom window to get out of the building. As a result, he sustained comminuted fractures in several parts of his body.
The police sent him to the Dalian Municipal Friendship Hospital. After learning from a doctor that Mr. Zhang was very likely to be permanently disabled, they left him at the emergency room door and hurried away after informing his father.
Although Mr. Zhang was in critical condition, the doctors did not operate for seven hours, until his father came and paid the medical fees.
As a result, Mr. Zhang has a lateral malleolus fracture, and bones in both his feet were shattered. His left heel bone and lumbar vertebrae were also shattered, and his brow and nasal bones were fractured.
Severely Tortured in a Brainwashing Center
Because Mr. Zhang refused to write a statement to guarantee not to practice Falun Gong, he was sent to a brainwashing center affiliated with the Drug Addiction Treatment Center of Dalian Municipal Bureau of Justice in July 2000.
While detained in the brainwashing center, the guards severely persecuted him using various torture methods. They had him sit still on a small desk for more than 10 hours a day, forced him to watch brainwashing videos that slandered Falun Gong, and made him stay in the "riding the airplane" position. The guards also beat him with electric batons and whips.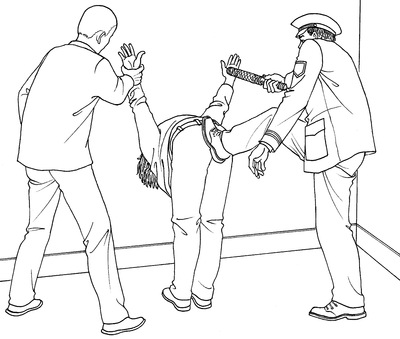 Torture illustration: "Riding the airplane"
Repeatedly Harassed and Home Ransacked
On February 21, 2001, two officers from the Heishijiao Police Department broke into Mr. Zhang's office at his workplace. They took him into custody and later ransacked his home.
Although Mr. Zhang was disabled later that year, officers from the Dalian City Police Department kept harassing and following him.
In April 2002, Gao Tiansheng from the Zhongshan Police Department called Mr. Zhang's father, threatening that Mr. Zhang had been sentenced and they would come to his house to check on him. At the time, Mr. Zhang was seriously disabled and could not even take care of himself.
In late October 2003, Zhang Keli and two other officers from the Shahekou District Police Department broke into Mr. Zhang's house and searched everywhere for Falun Gong materials. This violence traumatized his father, who was deeply terrified and could not get over it.
In August 2005, officers from the Dalian City Police Department went to his workplace to harass him. They searched his office and asked his colleagues for his whereabouts. In order to avoid further persecution, Mr. Zhang quit his job and had to leave his home.
In June 2013, Mr. Zhang traveled to Beijing for business. When he stayed in a hotel, the local officers checked his room every night at around 10:00 p.m. He returned home after a month, and found shoe prints on his floor.
Parents Both Passed Away Because of the CCP's Persecution
Even though Mr. Zhang's father, Mr. Zhang Hongming, didn't practice Falun Gong, he was dismissed from work because his wife and son practiced. The CCP's persecution made him live with fear every day. Unable to withstand the overwhelming pressure, he became ill and passed away in August 2005.
His mother Ms. Chen Lihua was arrested multiple times and was severely tortured for three years in the Dalian City Forced Labor Camp. She passed away in October 2012.
In June 2014, Mr. Zhang escaped from mainland China, and after many twists and turns he safely arrived abroad.