576 Falun Gong Practitioners Tried, 236 Sentenced in First Half of 2014
(Minghui.org) In the first half of 2014 alone, 576 Falun Gong practitioners were tried in the Chinese communist regime's courts, and 236 were sentenced to prison. A total of 345 attorneys helped indicted practitioners enter not-guilty pleas, but they were often met with various forms of interference from the authorities. Despite threats (such as revocation of their licenses), some lawyers still stood up to defend their clients' right to freedom of belief.
Overview of Prosecuted Falun Gong Cases
According to available statistics as reported by Minghui, in the first half of 2014, a total of 312 cases involving 576 Falun Gong practitioners were tried in 272 courts across the 24 provinces and 4 directly-controlled municipalities.
143 of the 312 cases are already closed with all involved practitioners sentenced. The remaining 169 cases concerning 340 practitioners are still pending.
Forty-one percent of the practitioners (236 out of 576) have been sentenced to an average of 4 years and 4 months in prison. Close to two-thirds of these (150 out of 236) have filed appeals against their illegal sentencing.
A total of 345 defense attorneys were hired to enter not-guilty pleas in 147 Falun Gong cases (representing 47% of the total 312 cases). However, the Chinese Communist Party (CCP) has resorted to underhanded tactics to make the lawyers' legal representation difficult. A staggering 76% (112 out of 147) of the cases were met with various forms of interference.
The following table shows the distribution of Falun Gong cases by province.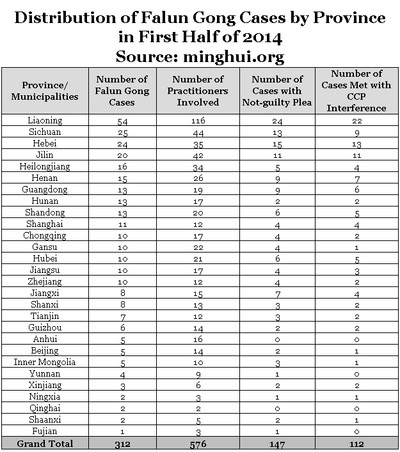 Liaoning Province leads the pack as the worst place for practitioners in each of four categories: number of cases, number of practitioners involved, number of cases with not-guilty plea and number of cases affected by CCP interference. Sichuan comes in as a distant second, with less than half of the prosecuted Falun Gong cases as compared to Liaoning.
15 provinces have prosecuted Falun Gong cases in double-digits, while the remaining provincial units were in single-digits. The number of affected practitioners ranged from a low of 2 (Qinghai Province) to a high of 116 (Liaoning Province).
The table also reveals a trend: the more Falun Gong cases with not-guilty pleas, the more interference from the communist regime.
CCP Interference
As indicated in the table above, Falun Gong practitioners from 24 provinces experienced interference by the CCP with their cases, with Liaoning Province being the worst, followed by Hebei, Jilin, and Sichuan.
According to reports submitted to Minghui, a total of 12 interference tactics have been used to try to stop Falun Gong practitioners' defense attorneys from entering not-guilty pleas. Some of the interference comes days or months before trial.
Out of the 112 cases affected by CCP interference, 19 cases (16.9%) saw interference before the trial, 52 cases (46.4%) encountered trouble during the trial, and 41 cases (36.6%) were met with roadblocks both before and during the trial.
The before-trial tactics fall into four categories: forcing Falun Gong practitioners' families to dismiss their attorneys; threatening attorneys not to defend Falun Gong practitioners; blocking defense attorneys' access to legal documents; and deliberate postponement or failure to notify defense attorneys of the trial date and time.
As chart 1 shows, denial of access to legal documents is the most commonly used tactic before the trial begins, affecting 52% of the cases. Without adequate knowledge of their clients' cases, defense attorneys are faced with severe challenges. (The percentages do not add up to 100% because many cases are subjected to more than one form of interference.)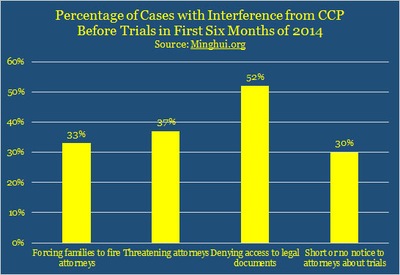 The during-trial interference tactics have come in eight forms: holding secret trials; imposing heavy security to restrict public entrance to courtrooms; setting a limit for the number of family members that can attend; dispatching agents to occupy courtroom seats; causing behind-the-scenes interference to block attorneys from attending the hearing; judges preventing attorneys from verifying the prosecutor's evidence; judges preventing attorneys from presenting their defense (for example, interrupting them or not allowing them to speak); and judges preventing practitioners from testifying.
Chart 2 shows the percentages of cases that have met with various forms of interference during the court proceedings. 59% of the cases saw family members given a limited number of seats during the trial. (Again, because of the multiple obstacles that can be thrown at one single case, the sum of percentages exceeds one hundred.)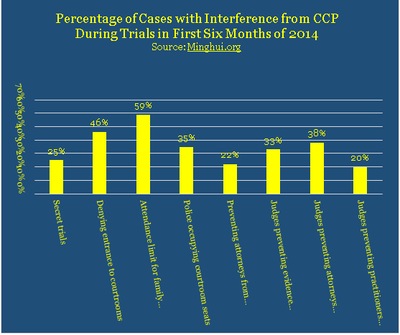 CCP Retaliation against Defense Lawyers
Some defense attorneys bravely broke through all of the CCP interference and successfully defended Falun Gong practitioners' rights. However, many of them experienced retaliation by the CCP after the trial. For example, attorneys Li Guobei and Zhang Keke were denied their license renewal by the Bureau of Justice in May 2014, after they defended Falun Gong practitioner Cui Hongwen and filed an appeal to the Supreme Court for being barred from meeting with their clients. They eventually got their licenses renewed after staging a hunger strike.
http://www.minghui.org/mh/articles/2014/7/18/2014上半年-非法审判与无罪辩护-294813.html
http://www.minghui.org/mh/articles/2014/7/19/2014上半年中共法庭阻止律师无罪辩护案例-294869.html