Jiangxi Province: 27 Incidents of Persecution in First Half of 2014
(Minghui.org) Twenty seven incidents of persecution of Falun Gong practitioners were reported in Jiangxi Province during the first half of 2014. According to incomplete statistics based on news from Minghui.org, about 60% of the persecution took place in Jiujiang and Yichun Cities.
Number of Incidents in Various Cities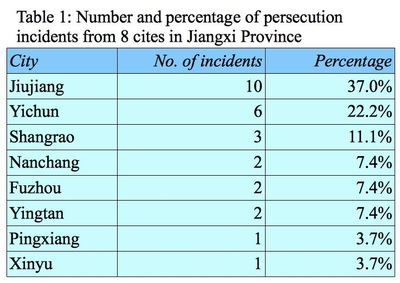 Practitioners Arrested, Tried, Watched, Followed, Held in Brainwashing Centers, and Tortured to Death
Among the thirty-two practitioners who were illegally arrested, five were confirmed released, eight were tried, four were followed and harassed by agents, one was held in a brainwashing center, and one practitioner died from the persecution.
Two incidents involved multiple provinces:
Incident 1:
Officers from the Huangmei Police Department Domestic Security Division in Hubei Province, and the Guanpaijia Police Station in Jiujiang City, Jiangxi Province, barged into the Xintiandi Kindergarten class and arrested kindergarten principal Ms. Xie Jinping on the afternoon of April 10, 2014. Ms. Xie was taken to the Mahucun Brainwashing Center in Wuhan City, Hubei Province that evening.
Incident 2:
The Jiujiang Court in Jiangxi Province tried Ms. Ji Shujun from Hebei Province on the morning of April 23, 2014. Two lawyers defended Ms. Ji's innocence. Ms. Ji explained that practicing Falun Gong had benefited her mentally and physically, and how she had been persecuted for upholding her faith over many years. The judge interrupted the lawyer and Ms. Ji many times and in the end announced a recess.
Details of Incidents
Female practitioners, as well as middle-aged and elderly practitioners, comprised a major portion of those persecuted. Details of incidents in various cities are listed as follows: