Deputy Chairman Su Rong, Active in Persecuting Falun Gong, Under Investigation
July 04, 2014 | By a Minghui correspondent
(Minghui.org) An investigation of Su Rong, deputy chairman of the National Political Consultative Conference of the Chinese Communist Party (CCP), was announced on June 14, 2014.
Four days prior Su Rong was still in good standing in the Party. No one could have imagined that within only four days such a high ranking member would be put under investigation.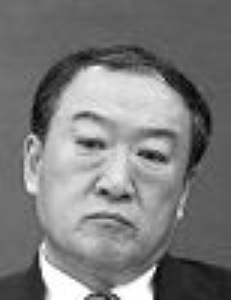 Su Rong
Fled from Zambia
Su Rong was the Party secretary of Gansu Province ten years ago. During his reign he actively participated in persecuting Falun Gong practitioners. When he visited Zambia, he was sued by local Falun Gong practitioners. When he was placed on trial, he became frightened and panicked. He hid for ten days before fleeing back to China.
Su Rong and his delegation arrived in Zambia on November 4, 2004. Falun Gong practitioners in Zambia filed suit against him for his brutal persecution of Falun Gong practitioners in Jilin Qinghai and Gansu Provinces. He had to leave the delegation and was stranded in Lusaka waiting for his court date.
He failed to appear in court on November 8, as scheduled, and was charged with contempt of court., He also failed to appear in the High Court of Zambia on November 13.
The Zambian police then issued an arrest warrant for Su Rong, but they could not find him in the hotel where he was staying.
Su Rong crossed the border and fled to Zimbabwe, then to South Africa. He hid and then fled back to China on November 15.
Su Rong Personally Involved in Persecuting Falun Gong
Su Rong actively followed the CCP's policy of persecuting Falun Gong. He was in charge of brainwashing practitioners.
Su Rong went to Chaoyanggou Forced Labor Camp on April 5, 2002, and brainwashed Falun Gong practitioners there. Four practitioners died as a result of brutal torture, three of them at Su Rong's hands.
Su Rong became the Party secretary of Gansu Province in August 2003. He ordered the police to arbitrarily monitor, track, arrest, sentence, and torture Falun Gong practitioners.
Threatening Mr. Gao Qinghai
Mr. Gao Qinghai was a well known philosopher and doctoral tutor. He was highly regarded in the field of philosophy and by universities. Prior to practicing Falun Gong, he had heart disease, sciatica, and other health problems and had to be hospitalized every year. In 1993, he began practicing Falun Gong and became healthy and spiritual.
However, Mr. Gao's reputation made him the focus of persecution in Jilin Province, and his life changed forever in 1999.
Su Rong threatened Mr. Gao every day to force him to give up his belief in Falun Gong.
Mr. Gao and his family were under such great stress that he could not continue practicing Falun Gong. Within six months his ailments returned. He passed away in October 2004.