New Brainwashing Center Set Up in a Middle School
(Minghui.org) The 610 Office in Meihekou City, Jilin Province, set up a brainwashing center in the Shuangxing Middle School in Hailong Town. They began arresting Falun Gong practitioners on June 12, 2014. Police officers from Hailong Town are persecuting practitioners in the brainwashing center.
Wang Guangren from the Domestic Security Division in Meihekou Police Department is the director of the brainwashing center and has persecuted practitioners relentlessly. The center found two former Falun Gong practitioners and have brought them in and ordered them to try to brainwash practitioners.
Lan Qinghong, the deputy mayor of Shancheng City, and two others arrested Ms. Zhao Juan from Xigang, Shancheng Town. Officers from the Tiebei Police Station in Meihekou arrested Ms. Gao Yujie at home. Mr. Hou Shiquan was arrested at his home in Hailong Rural Area. They are all being detained at the Shuangxing Brainwashing Center.
About 10 practitioners altogether, including Ms. Fan Shihong, Ms. Liang Shumei, and Mr. Liu Quanwu, were arrested and taken to the brainwashing center.
The Meihekou Domestic Security Division and Xinghua Police Station arrested Mr. Liu Quanwu, almost 70, a resident of Xinghua Town, Meihekou City, on Monday, November 10, 2013, and took him to the police station. His family has demanded his release numerous times, but the Domestic Security Division will not agree. The Procuratorate authorized his arrest. His wife is seriously ill at home and being fed intravenously.
CCP Interferes with Legal Defense
Mr. Liu's family had no access to appeal so they hired an attorney from Beijing to defend him. The attorney followed legal procedures, but the Meihekou Court created obstacles and prevented him from appearing in court. They tried to force the family to dismiss him, and even went to the lawyer's office in Beijing to interfere with his defense. After the lawyer refused to knuckle under, they sent people to try to brainwash Mr. Liu in the detention center. The court convened in June 2014 without notifying Mr. Liu's attorney. Mr. Liu is now being persecuted at the brainwashing center.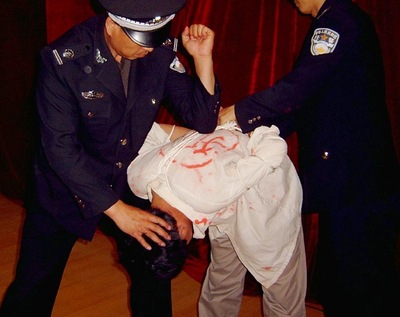 Torture re-enactment: Beating
Falun Gong practitioners Ms. Zhang Yan, Mr. Sun Hongcai, Ms. Liang Shumei, and Ms. Fan Shihong from Meihekou were arrested in Xinhe Town for distributing material about Falun Gong and the persecution on the evening of December 27, 2013. Some are being detained in the brainwashing center; the location of the others is not known.
Ms. Zhang was beaten in the detention center. Meihekou Detention Center won't let her meet with her attorney. They threatened her family that if she retains an attorney her sentence will be more severe. The situation is urgent. We call on righteous people throughout the world to please pay close attention to this.
Parties Involved in Persecuting Them:
Meihekou Police DepartmentWang Guangren (王广仁), director of the brainwashing center, Domestic Security Division: +86-435-4308643(Office), +86-13944578065(Cell)Cai Chunyang (蔡春阳), director and secretary of the Chinese Communist Party Committee, director of supervision and investigation: +86-435-4308601(Office), +86-13904454346(Cell)Xu Wenguang (徐文广), director of Domestic Security Division: +86-435-4308615(Office), +86-13732881777(Cell)Li Jun (李军), director of court: +86-435-4369201(Office), +86-15114396789(Cell)Li Zhigang (李志刚), chief procurator: +86-435-4330001(Office), +86-14544599999(Cell)Luo zhi (罗致), deputy Party secretary, director of 610 Office: +86-435-4246897, +86-13844563385(Cell)