After Six Years in Prison, Barber Shop Owner Facing Illegal Trial Again
June 07, 2014 | By a Minghui correspondent in Hunan Province, China
(Minghui.org) A fifty-year-old barber shop owner in China's Hunan Province was arrested on March 29 and sent to a detention center, where shackles dug into and caused bleeding in her feet, among other serious injuries. She now walks with a limp. The Changsha County Public Security Bureau issued an arrest warrant against her on April 29. She faces another illegal trial.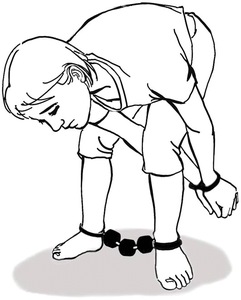 Torture Re-enactment: Handcuffed and Shackled
Ms. Yan Hong's family learned of her arrest when police ransacked her home in the afternoon of March 29. They were denied visitation and information about the case in April. The local police only informed her family that the arrest was ordered by higher authorities, who would also decide the case's judicial outcome.
Ms. Yan had previously been imprisoned for six years for practicing Falun Gong. During her imprisonment, authorities tortured her using electric batons, force-feeding, and beatings in numerous attempts to force her to give up her belief. Now, she faces another round of torture in the Changsha City No. 1 Detention Center.
From Congressional Representative to Prisoner of Conscience
Ms. Yan was formerly the director of the Banbianjie Resident Committee in Langli Town. Interacting with many local residents, she was well-known in the community. She also served as a representative in the local People's Congress and the member of the People's Congress Committee.
She started to practice Falun Gong in 1996. Within a month, her migraines and Meniere's Disease disappeared. She actively promoted Falun Gong in her community because of the health benefits she enjoyed from the practice.
After the Chinese regime launched the nationwide persecution of Falun Gong in July 1999, Ms. Yan traveled to Beijing to petition the government and tell officials her own positive experience with Falun Gong, contrary to the stories told in the propaganda.
She was arrested in Beijing and sent back to Changsha, where police demanded that she sign a "guarantee statement" stating that she would no longer practice Falun Gong. Because Ms. Yan refused to give up her belief, she was arrested that night in front of her crying daughter and sent to a detention center.
After several more arrests and detentions, Ms. Yan was left with no choice but to leave home. On June 19, 2001, she was arrested outside her hometown. During the subsequent interrogation, several guards held her on the ground to obtain her fingerprint by force on a prepared confession. At the Changsha County Detention Center, she was not allowed to sleep for three nights.
The Changsha County Court tried Ms. Yan on December 27, 2001 and sentenced her to six years in prison. She appealed the decision, but the intermediate court upheld her conviction without an investigation. She was sent to Hunan Women's Prison on April 9, 2002.
Violent Brainwashing
For Ms. Yan Hong, each day within the prison's walls was filled with blood and tears. Two months into her imprisonment, two other inmates were assigned to watch her at all times. Motivated by bonuses and promotions to "transform" Falun Gong practitioners, several guards came daily to demand that she give up her beliefs.
When a guard found Ms. Yan doing Falun Gong exercises, he ordered her to stand for a long time as punishment. When she refused to cooperate, the guard ordered other inmates to handcuff her hands behind her back–one hand over her shoulder and the other around her waist.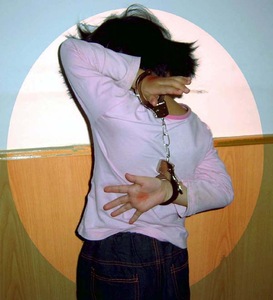 Torture Re-enactment: Handcuffed from the Back
Three inmates immobilized her on the ground with their feet, while two other inmates forcibly pulled and twisted her hands into position behind her, spraining her wrist. Another inmate tightly clutched her head and restricted her breathing. Her struggles triggered more violent beatings, covering her body in bruises. She was handcuffed in this position for three days and was not released even when using the restroom.
Solitary Confinement
Because Ms. Yan protested the prison director's slander against Falun Gong at an assembly, she was put into a small room swarming with mosquitoes and other insects on June 25, 2002. Changsha reaches over 40C (104F) in August, and the room contained one rusty faucet that dispensed water one to three times a day for five minutes at a time.
To protest Ms. Yan's long solitary confinement and cruel treatment, other Falun Gong practitioners in the same prison held a hunger strike. Despite her having gone six days without any food or water, the guards kept her in handcuffs and shackles, under "strict control."
Each morning at 8:00 am, she was taken out of the room, cuffed with her hands behind her back (with one hand reaching over her shoulder) and forced to sit under the sun on a small stool less than a foot high. If she lost her balance and fell, she would not be able to get up on her own.
Each time she lost consciousness and fell onto the scalding concrete floor, guards would pour cold water on her and scold her for "pretending to faint." When the sun went down at around 5:30 pm, she would be returned to solitary confinement, still handcuffed in the torturous position.
Ms. Yan spent 75 days in solitary confinement, one month of which was under "strict control." Swollen bumps covered her darkened skin, and during this time she lost 15 kilograms (33 pounds), a quarter of her body weight.
Further Torture and Vision Loss
In September 2003, nineteen practitioners were punished after refusing to recite prison regulations in an act of defiance. Armed police were called in and forced the practitioners to do high-intensity military drills. The practitioners were also injected with unknown substances. After drinking a cup of water given by an inmate, Ms. Yan could no longer see clearly–a condition that has since become permanent.
Because of her blurred vision, Ms. Yan refused to run in the drills. She was again cuffed in the twisted position with her hands behind her back before being hung up. In this position, she was unable to stretch her back and had difficulty breathing. With her entire weight resting on her wrists, the handcuffs cut deeper and deeper into her flesh when she struggled.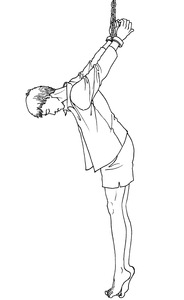 Torture Illustration: Hung and cuffed with both hands in back
In May 2004, prison guard Li Chunhui found Ms. Yan and four other practitioners reciting Falun Gong teachings. Li shocked the practitioners using electric batons before putting them in solitary confinement, where they were subjected to more torture, including being cuffed and hung in the twisted position, as well as force-feeding.
Ms. Yan's term in prison took a heavy toll on her long-term health: she lost most of her vision and sensation in her limbs. She also felt pressure around her chest and often felt suffocated. She also developed a dark brown spot on her lower back, where the flesh below was injured.
Life Under Surveillance
Ms. Yan Hong was released in July 2007. A month later, the Chinese Communist Party held its 17th National Congress, which it regarded as a "sensitive period." On August 5, more than ten police officers from 610 Office and the local police station arrested and detained her for three months. Afterwards, the local authorities continued to harass her at her home.
Ms. Yan's husband supported her household during her six-year imprisonment. After returning, she opened a small barber shop to help the family financially. The business gradually became more successful, and an atmosphere of happiness returned to her home.
Even though she had suffered so much at the hands of the authorities, Ms. Yan still remained calm and did not hold a grudge or hatred. She often talked to her customers about her story and about Falun Gong, moving many to tears. An elderly neighbor cried for her and remarked, "You are such a good person. Why should you have to suffer so much?"
Even after her prison term, local officials continued to keep her under surveillance and control. Visible forms include police coming to her home to harass or even arrest and detain her. Other forms are more hidden, such as being followed by police or being wiretapped.
Parties involved in this case of persecution:
Ren Anliang (任安良), deputy of Changsha City Political and Legal Affairs Committee: +86-731-88667116 (O), +86-13873167497 (C)Hu Yajun (胡亚军), director of Changsha City 610 Office: +86-731-88667548 (O), +86-13787151617 (C)Li Jiede (李介德), head of Changsha City Police Department: +86-731-82587899 (O), +86-18608410059 (C)Yi Hongjun (易红军), head of the Domestic Security Division: +86-731-84015019 (O), +86-731-84015157 (H), +86-13607493164 (C)Yin Zhiliang (尹志良), head of No.1 Changsha Detention Center: +86-731-84625788 (O), +86-731-85491646 (H), +86-13607441199 (C)