The Persecution of Professionals in Dalian (Part 1)
(Minghui.org) The Chinese Communist Party's (CCP) persecution of Falun Gong is severe, and practitioners from all walks of life are targeted – including professionals and public servants. Professionals in a variety of fields have been brutally persecuted over the course of the 15-year persecution of Falun Gong.
In the Dalian region of Liaoning Province alone, at least 19 practitioners died as a result of persecution, and many more were illegally sentenced to imprisonment or forced labor or fired from their jobs. They included military generals, retired officials, public servants, prosecutors, judges, teachers, doctors, engineers, and managers. The following is a summary of the persecution endured by these professionals, with a focus on the persecution in Dalian City.
I. The Persecution of Prosecutors, Lawyers, and Judges
Prior to July 1999, when the persecution started, many people who worked in the public security system, the Procuratorate, and the courts in Dalian, including lawyers, practiced Falun Gong. Many others had read Zhuan Falun. All of them benefited a great deal both physically and mentally. One of the most noticeable effects of the practice was that many of their illnesses disappeared. After the CCP launched the persecution, this group of professionals was brutally targeted.
1. Judge Became a Practitioner after the Persecution Began
Mr. Li Dejun, 60, was the director the Ganjingzi District Court policy office. As part of his job, he sat in on many Falun Gong practitioner trials. His curiosity piqued, he started to learn more about Falun Gong. He read several Falun Gong books, including Zhuan Falun. Mr. Li was so impressed and convinced by the profound inner meaning of Falun Dafa that he took up the practice.
After he became Chief Judge of Hongqi Court, Mr. Li conducted himself according to the principles of Truthfulness-Compassion-Forbearance taught by Falun Gong and endeavored to be a good person. He was illegally arrested on June 21, 2007, and sentenced to three years in prison in December of that year.
When one professor heard about Mr. Li Dejun's sentence he said, "Judges are also practicing Falun Gong, so it must be good. It can't be illegal."
2. Prosecutor Refuses to Give up Falun Gong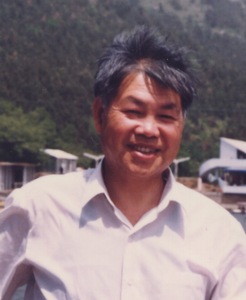 Mr. Li Maoxun
Mr. Li Maoxun, 70, was retired from the Dalian Procuratorate. After he started practicing Falun Gong, he gained good health both physically and mentally. Having worked in the legal system all his life, he started to clarify the facts to his colleagues. He was arrested on August 16, 1999, and detained for two weeks. On June 16, 2000, he was arrested again and sentenced to one year of forced labor in Dalian Forced Labor Camp. His term was extended by two months. The repeated persecution took a toll on his health and he suffered a brain aneurism. Mr. Li passed away on March 31, 2005.
3. One of the "Ten Best Human Rights Lawyers" Given a Heavy Sentence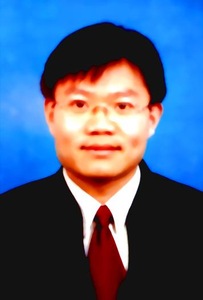 Mr. Wang Yonghang
Attorney Mr. Wang Yonghang, 42, of the Qianjun Law Firm in Dalian was honored as one of the "Ten Best Human Rights Lawyers" in China by human rights institutions in the US.
Mr. Wang offered legal assistance to Falun Gong practitioners many times and published open letters to China's highest authorities in the judiciary and to former leaders Hu Jintao and Wen Jiabao, asking them to amend their mistakes and release all illegally-detained Falun Gong practitioners.
On June 16, 2009, when Mr. Wang entered a plea of innocent on behalf of practitioner Cong Rixu, Zhou Yongkang, former head of the Central Political and Judiciary Committee, ordered his arrest. Mr. Wang was sentenced to seven years in prison on November 27, 2009, and detained in Shenyang No. 1 Prison.
In prison Mr. Wang was subjected to a number of cruel tortures including the Tiger Bench. He became extremely thin and weak and developed symptoms of tuberculosis, hydro-thorax, and ascites. He experienced numbness in his lower body, a sign of paralysis.
II. The Persecution of Retired Military Officers
The Dalian Evening newspaper reported a story of courage on February 21, 1998: Mr. Yuan Hongcun from the Dalian Naval Academy rescued a child who had fallen through the ice in a river. He was awarded a Second Class Merit citation for his action. Mr. Yuan Hongcun had been practicing Falun Gong for two years by then.
It's said that more than 200 people attending the Dalian Naval Academy practiced Falun Gong before 1999. After the persecution started, Falun Gong practitioners in the military suffered a great deal of pain and misery.
1. Death of a General
General Ding Han died at the age of 77. He was the acting director of the political department of the naval base in Lushun, a senior officer with the rank of general. He started practicing Falun Gong in May 1996, and all his illnesses disappeared soon after. Many people witnessed the miraculous effects of Falun Gong from the changes in General Ding.
General Ding studied Marxist theories all his life, and his change from being an atheist to a Falun Gong practitioner had a huge impact in the military service. After the CCP launched the persecution of Falun Gong, three meetings were held at the retirement center in Laohutan, at which the authorities pressured Ding Han to give up practicing Falun Gong. As a direct result of the extreme pressure, General Ding suffered a stroke and passed away that November.
2. Death of a Retired Officer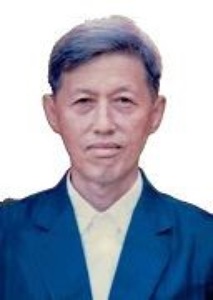 Mr. Yang Yushan
Mr. Yang Yushan, 76, was a retired officer in Dalian. After he started practicing Falun Gong he recovered completely from diabetes. After the persecution started, he and his wife were arrested many times and their house was searched and ransacked.
Mr. Yang was severely abused in detention. Officers from the Guilinjie Police Station once slammed his head against the wall and slapped his face. He fell down, and his nose bled profusely. He was in his 70s at the time. In 2007, during the Davos conference, Mr. Yang was detained for eight days. After he returned home, he often fell and showed signs of absentmindedness. He could not eat or sleep properly and developed hemiplegia. He passed away on September 5, 2008.
3. Military Medical Academy Lecturer Put on Trial
Ms. Wang Weizhen, 65, taught at the Dalian Military Medical Academy, with level-7 technical skill and the status of deputy division officer. She had many illnesses before she practiced Falun Gong, but all her health problems disappeared after she took up the practice. She felt very energetic, as though she were ten years younger.
Torture reenactment: In handcuffs and shackles
Ms. Wang was arrested on May 18, 2012, and her house was searched and ransacked. She was blindfolded, handcuffed, and shackled for an entire day and night and detained for 48 hours. The Zhongshan District Court was preparing to put her on trial on March 19, 2014.
III. The Persecution of Scientists
No matter how capable one is and no matter what extraordinary contributions one has made yo society, as long a person maintains their personal belief, the CCP will persecute them at will until they give in. This is the nature of the CCP.
1. Inventor of a Chinese character input method tortured with Tiger Bench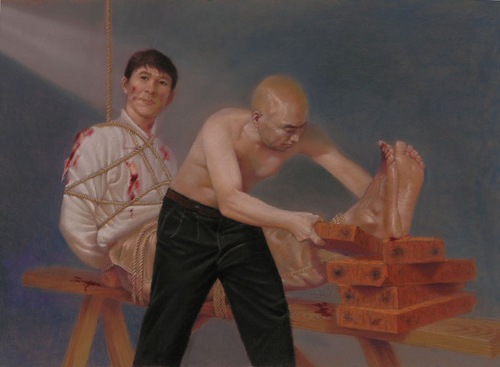 Torture illustration: Tiger Bench
Mr. Liu Changhai, in his 30s, an officer transferred to civilian work, invented a Chinese character input method and was highly regarded. Yet, the Dalian Forced Labor Camp tortured Mr. Liu with six cruel methods on the night of March 22, 2001. They stuffed his mouth with rags to prevent his screams from being heard.
Mr. Liu was tortured with the Tiger Bench first, with his legs tied to the bench with leather belts. The guards then put 24 wooden planks under his feet to cause excruciating pain, until the leather belts broke. Seeing that he still refused to renounce his belief, guard Wang Xiaojun hung Mr. Liu up from the window frame and beat him violently. They then stripped him naked and shocked him with eight electric batons at the same time. They even thrust a baton into his anus to shock him. Four hours later, Mr. Liu was tortured beyond recognition. His skin was a mess, covered with burn marks and blisters. His body was black and blue and he could hardly move his neck.
Mr. Liu was bedridden for over a month due to the torture, and his body was permanently scarred.
2. Senior Engineer Sentenced to Forced Labor
Mr. Lang Dianyong, in his 40s, a senior engineer at the Safety Research Institute of Dalian Petro-Chemical Company, was a postgraduate from Northeast Teachers University. He has made many achievements in scientific research.
Mr. Lang was sentenced to two years of forced labor at the beginning of February, 2001 and was fired by his employer. The research project he was heading (in which the institute had invested 2 million yuan) had to be taken over by someone else.
In November that year, when the project was bogged down with technical difficulties, authorities from his former employer went to visit him in person to ask for help. Mr. Lang was being severely persecuted at the time, and his hands were festering with pain and itchiness and he was extremely weak. Even so, he unselfishly offered his assistance and resolved the problems, with no grievance over his dismissal by the same people who came to him for help. Everyone in the research institute was moved by his kindness, and they witnessed the noble character and upright bearing of Falun Gong practitioners.
IV. The Persecution of an Excellent Public Servant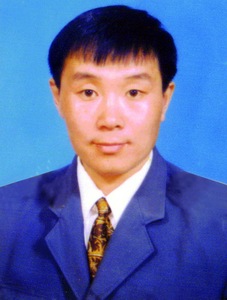 Mr. Gu Qun
Mr. Gu Qun, 50, a public servant, worked at the Xigang District Industry and Commerce Bureau. He was arrested and taken to the Dalian Detention Center on March 17, 2008. He died from torture on April 8 that year. A section head in his work unit had once reported, "There are four Falun Gong practitioners in our bureau. They are all nice people, completely unlike what the propaganda on TV claims."
Mr. Gu went on a hunger strike in the detention center to protest the illegal detention and was cruelly tortured, including being savagely force-fed. When he was taken to the No. 3 Hospital on the morning of April 8, 2008, he was already dead. The detention center took his corpse to the hospital to shirk their responsibility in causing his death. Mr. Gu's family was not informed of his death until the following afternoon.
V. The Persecution of Teachers
Since ancient times, the Chinese have maintained the tradition of showing respect to teachers. Yet, in today's China, good teachers with high morals are persecuted. In Dalian alone, dozens of teachers have suffered persecution. Among them, Mr. Feng Gang, Mr. Chen Jiafu, and Ms. Zhang Chunlan have lost their lives as a result.
1. The Death of Feng Gang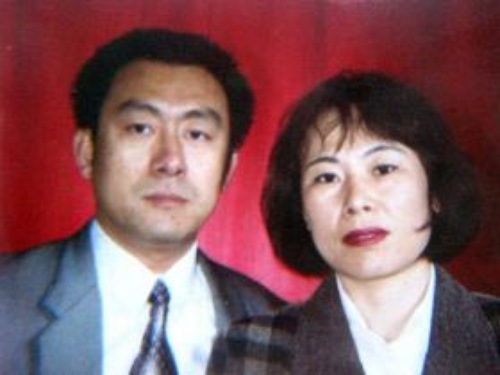 Mr. Feng Gang and his wife
Mr. Feng Gang, 50, was a talented lecturer in fine arts at Dalian Institute of Aquaculture, specializing in painting and sculpture. After he started practicing Falun Gong, he enjoyed good health and experienced constant improvement both spiritually and professionally. He was widely regarded as a rare and gifted talent. Mr. Feng had many ideas and endeavored to create a new kind of art work truly beneficial to society. However, his death left people with deep regrets and an irreplaceable loss.
On July 4, 2009, Mr. Feng and his wife, Ms. Wang Juan, were visiting a friend. They were arrested and taken to Yaojia Detention Center.
In the detention center, Mr. Feng was savagely force-fed, causing his esophagus to rupture and infection to set in. He died on August 14. His body was autopsied by the Shahekou Police Department without the knowledge or consent of his family. It is suspected that his organs were harvested prior to his death.
2. Jailed for Over 10 Years for Speaking Out for Justice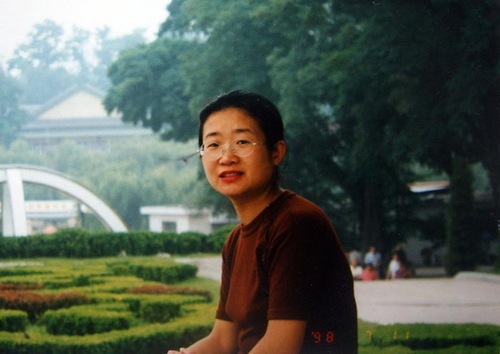 Ms. Liu Ronghua
Ms. Liu Ronghua, 47, was an associate professor in the Dalian Institute of Aquaculture. Her articles were published in the Encyclopedia of China. She once said to a police officer, "People who truly cultivate themselves according to FalunDafa's principles of Truthfulness-Compassion-Forbearance would never commit suicide." This got her fired from her job and sentenced to three years of forced labor.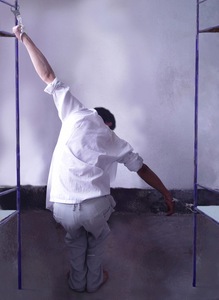 Torture reenactment: Stretching
Regarded as a key target for "transformation" in Masanjia Forced Labor Camp, Ms. Liu was hung up in the water room for 21 days, disabling her left hand. She was tortured many times by stretching and other forms of torture.
In September 2010, three days before Ms. Liu was due for release, she was taken back to Dalian by officers from the Taoyuanjie Police Station and sentenced to another ten years in prison under the same false accusations. Her defense lawyer said, "Liu Ronghua has committed no crime. Those in the police force, the Procuratorate, and the court are the real criminals."
3. Jailed for Eight Years for Helping with a Press Conference
Ms. Liu Dongmei, 46, was a lecturer in English in the Department of Foreign Languages, Dongbei University of Finance and Economics.
After the CCP started to persecute Falun Gong in July 1999, the international media was deceived by lies about Falun Gong. Ms. Liu Dongmei and more than 30 other practitioners risked their lives to hold a press conference in the suburbs of Beijing on October 28, 1999. They wanted to clarify the facts to the world, and offered the international media a genuine understanding of Falun Gong for the first time.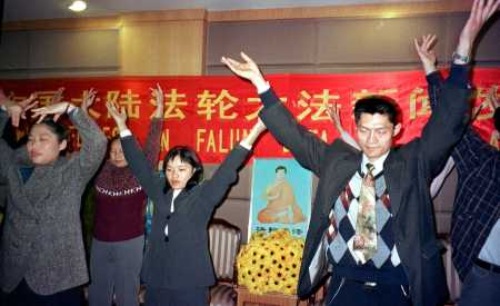 Demonstrating the Falun Gong exercises at a press conference in Beijing, October 28, 1999
Ms. Liu was one of the interpreters at the conference. She was arrested as soon as she returned to Dalian by train. She was twice sentenced to forced labor for five years, as well as three years in prison, and was fired by the university.
4. Persecuted and Sent to a Psychiatric Institution for Doing the Exercises
Ms. Zhu Hang, 38, was an associate professor on the arts faculty of Dalian University of Technology. She was arrested and taken to Yaojia Detention Center on August 30, 1999, after doing the Falun Gong exercises in a park. Her hands and feet were chained to a heavy steel pole, and the guards also instigated inmates to torture her. When she was released, Ms. Zhu's ankles were infected. She started running a high fever and fell unconscious from time to time. Ms. Zhu was no longer able to take care of herself. Local government officials took her to a mental hospital and gave her nerve damaging drugs against her will.
5. Outstanding volunteer sentenced to imprisonment
Mr. Cong Rixu
Mr. Cong Rixu's wife (first from right) calls for his release
Mr. Cong Rixu, around 30, a graduate from the Department of Journalism of Liaoning University of Engineering Technology, worked as assistant to the president of Dalian Wendu Graduate Preparation Institute prior to his arrest. He worked as a volunteer for a year after graduation in the project to support development in western China and was awarded "Outstanding Volunteer" by the state.
On January 13, 2009, Mr. Cong and his wife were arrested for putting up posters to clarify the facts. Mr. Cong was subjected to interrogation with torture. He was punched, kicked and blindfolded, and his head was slammed against the wall. His mouth and nose bled and the right side of his head swelled up. He had constant pain in his lungs and had difficulty breathing. Mr. Cong was sentenced to three years on June 16 the same year.
(To be continued)