Persecution Results in Death of Two Retired Dalian Military Officials
June 16, 2014 | By a Minghui correspondent from Liaoning Province, China
(Minghui.org) Dalian City, Liaoning Province, has a large military base. Before the persecution began on July 20, 1999, many soldiers and military officials practiced Falun Gong. In the Dalian Naval Academy alone, it was said that there were more than 200 Falun Gong practitioners, and many were high ranking officers. Retired military officials and their family members also practiced Falun Gong. Many quickly became healthy and improved their heart and mind character by following Dafa's principles of Truthfulness-Compassion-Forbearance.
The Dalian Daily reported on February 21, 1998, that Falun Gong practitioner Yuan Hongcun from the Dalian Naval Academy dove three meters down into an ice-covered river to rescue a child on February 14, 1998. The Academy honored him with an award. At the time, Mr. Yuan had been practicing Falun Gong for two years. Such actions are very common among Falun Gong practitioners. This is because they act in accordance with Truthfulness-Compassion-Forbearance and always think of others first.
However, after the Chinese Communist regime began to persecute Falun Gong, many practitioners within the military were severely persecuted, sentenced to prison, and some even lost their lives.
General Ding Han
General Ding Han was a corps level official and the acting director of the Political Department of the Navy base in Lushun. Liaoning Province. He started practicing Falun Gong in May 1996. All of his ailments soon disappeared, and many people noticed. Through Ding Han, they saw the beauty and power of Falun Gong, and more than 100 people started to practice as a result.
Mr. Ding had studied Marxist-Leninist theory his entire life. The fact that he became a Falun Gong practitioner after being an atheist had a great influence within and outside of the military. After the persecution began in 1999, the Laohutan Retired Navy Officials' Home in Dalian City held three Party meetings and put intense pressure on Mr. Ding. He experienced symptoms of a stroke and passed away in November 1999. He was 77 years old.
Retired Official Mr. Yang Yushan
Mr. Yang Yushan retired from the First Service Management Center of Dalian Military Retired Officials. He started to practice Falun Gong in July 1994, and his diabetes was cured. He became very healthy. His wife also began to practice Falun Gong, and her postpartum gas, anemia, and hypotension were all cured. They studied the Fa and did the exercises every day and were very happy.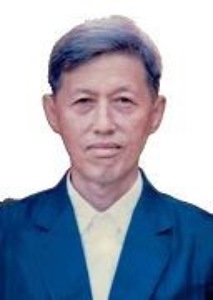 Mr. Yang Yushan
After the Chinese Communist regime began to persecute Falun Gong, Mr. Yang and his wife were arrested and fined many times and their home was ransacked. After one arrest, despite the fact that Mr. Yang was already over 70 years old, officers at the Guilin Street Police Station slammed his head against the wall and slapped his face. He was then beaten to the ground, and his nose bled profusely.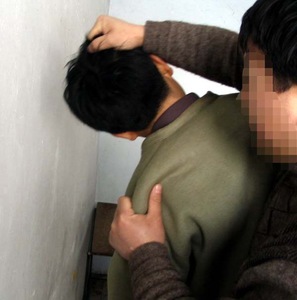 Torture reenactment: Slamming a person's head against a wall
During the World Economic Forum held in Dalian in 2007, Mr. Yang was illegally arrested again and held for eight days. He was not the same after he was released: he was often absentminded and frequently fell down. He could not sleep or eat well and eventually developed hemiplegia (paralysis of one side of the body). Mr. Yang passed away on September 5, 2008.