Mr. Tao Yuan Arrested Again after a Total of 10 Years Incarceration
June 14, 2014 | By a Minghui correspondent in Zhejiang Province, China
(Minghui.org) Mr. Tao Yuan, in his 40s, a Falun Dafa practitioner from Jiaxing City, Zhejiang Province, was arrested on April 29, 2014, and taken to the local detention center. The police ransacked his home and seized a notebook computer, desktop computer, a printer, all of his Dafa books, and pictures of Falun Dafa founder Mr. Li Hongzhi.
The arrest left his 90-year-old father and 70-year-old mother alone at home with no one to take care of them.
A former graduate student at Beijing Teacher's University, he studied Ming Dynasty History. He has already been incarcerated for almost 10 of the past 15 years, ever since 1999, for refusing to give up his faith in Falun Dafa.
First Arrested in Chengdu City
Jitou Police Station officers arrested Mr. Tao and other practitioners in December 1999, assuming that they might go to Beijing and appeal for the right to practice Falun Dafa.
They were taken to a brainwashing center located in the police station and later moved to an abandoned power station. Male and female practitioners were held in a room together without toilets. They were detained for about six months.
Detained in a Forced Labor Camp in Mianyang City
Mr. Tao was arrested in August 2004 for mailing Falun Dafa informational materials to the Jingyang Office and the Hongyun Neighborhood Office.
He started a hunger strike to protest the illegal detention after being taken to the Wuhou District Brainwashing Center. He was force-fed and was in critical condition several times.
He was later taken to the Xinhuan Forced Labor Camp in Mianyang City on November 11, 2004. The guards forced him to squat, stand for a long time, as well as sit on a tiny bench for days at a time.
Jitou Police Gave Family the Runaround
Police in Jitou Township, Chengdu City, arrested Mr. Tao on January 28, 2007. They beat him and took him to the Jinyang Police Station after ransacking his home.
His 80-year-old seriously ill father went to the Jinyang Police Station to find him. The police and the Procuratorate gave him the runaround for about six months.
The court sentenced Mr. Tao to four years in prison without notifying his family of the trial. After the verdict was handed down, the 610 Office refused to issue an official notice to the family, and the prison officials refused to let the family see Mr. Tao on grounds that they did not have a notice.
Tortured in Guangyuan Prison
Mr. Tao was persecuted mentally and physically in Guangyuan Prison, where he was incarcerated in 2009.
He was shocked with multiple electric batons, hung up and beaten for a long time, beaten with spiked batons, deprived of sleep for a week, prohibited from using the restroom, held in solitary confinement, and forbidden to talk to anyone.
Guards retaliated in March 2009 because Mr. Tao reported that a fellow practitioner had been tortured. He was beaten first and then hung from a basketball goal until midnight. He fainted several times. Despite his injuries, he was forced to do hard labor two days later. Unable to carry a heavy concrete post, he fainted, and the post fell on him. Six vertebrae were fractured, and he was bruised and bleeding. Despite his life being in peril, the prison officials refused to release him for medical treatment.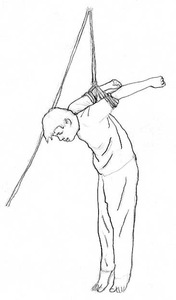 Torture illustration: Hanging
Earlier reports:Mr. Tao Yuan about to Complete a Four-year Unjust Prison Term; Mother Still Detained at Brainwashing Center (Photo)Mr. Tao Yuan Illegally Detained, His Attorney Beaten and Injured, His Mother Monitored and HarassedChengdu City Practitioner Mr. Tao Yuan is Illegally Sentenced to Forced Labor, Leaving His Seventy-six-year-old Father Home Alone