Canada: Provincial and City Level Leaders Recognize Practitioners' Contributions and Celebrate World Falun Dafa Day
(Minghui.org) More provincial and city level public officials in Canada have joined the celebration of the 22nd anniversary of Falun Dafa and World Falun Dafa Day by recognizing Truthfulness-Compassion-Forbearance, the key principles of Falun Dafa, and practitioners' contributions to their local communities.
"Diversity makes Nova Scotia stronger and the tenets of Falun Dafa – truthfulness, compassion and forbearance – are principles that we should all hold dear," Jamie Baillie, Leader of the Opposition of Nova Scotia Province, wrote in his letter extending best wishes for the Falun Dafa anniversary celebration.
Taking pride in Saskatchewan Province as "friendly and community-oriented," Gordon S. Wyant, Minister of Justice and Attorney General, wrote to practitioners in his province: "By promoting the practice of these values [Truthfulness-Compassion-Forbearance], you are also promoting peaceful solutions to conflict, which in turn builds safe communities. I commend the Falun Dafa Association of Canada for the work that is being done to bring peace here at home and around the globe."
"Falun Gong has received worldwide recognition for promoting acceptance, kindness and unity. The people of Saskatchewan identify with your values and share your efforts to encourage the general public to find peaceful solutions to conflict," wrote Bill Boyd, Minister of the Economy of Saskatchewan, as he congratulated practitioners and supporters of Falun Dafa on the occasion of the 22nd anniversary.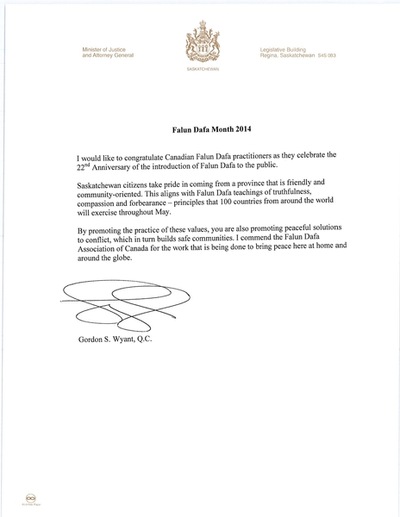 Congratulatory letter from Gordon S. Wyant, Minister of Justice and Attorney General of Saskatchewan, Canada
Congratulatory letter from Don Morgan, Minister of Education of Saskatchewan, Canada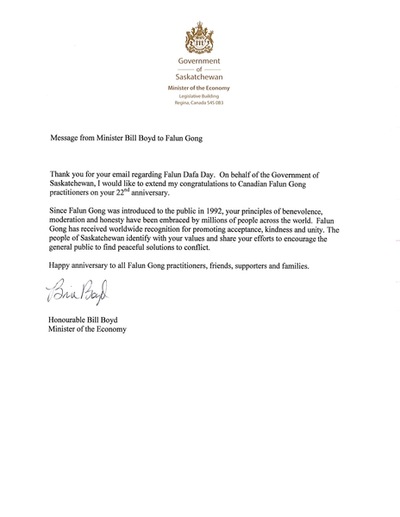 Congratulatory letter from Bill Boyd, Minister of the Economy of Saskatchewan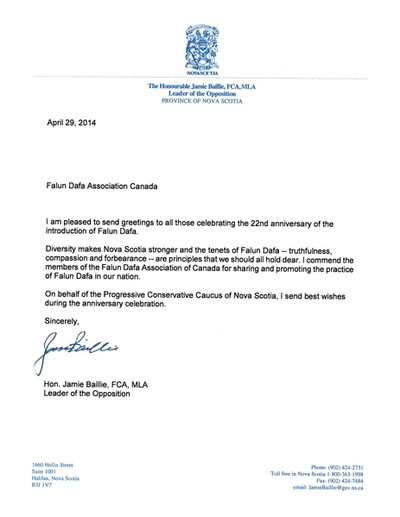 Congratulatory letter from Jamie Baillie, Leader of the Opposition, Nova Scotia
The cities of Prince Albert in Saskatchewan and Hantsport in Nova Scotia proclaimed May 13, 2014, as their local "Falun Dafa Day."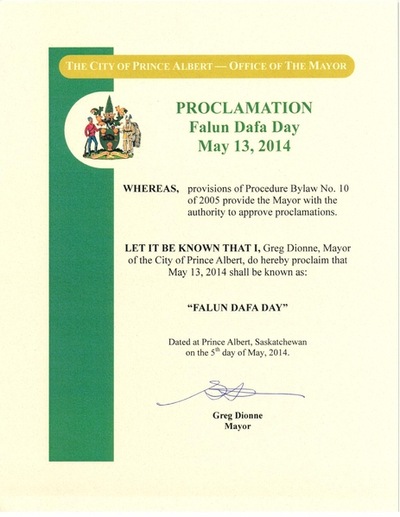 "Falun Dafa Day" proclamation issued by Greg Dionne, Mayor of Prince Albert, Saskatchewan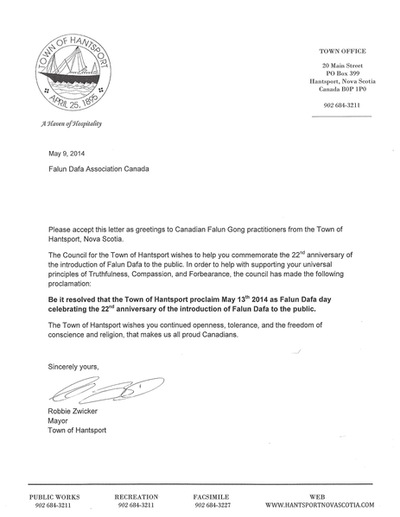 "Falun Dafa Day" proclamation issued by Robbie Zwicker, Mayor of Hantsport, Nova Scotia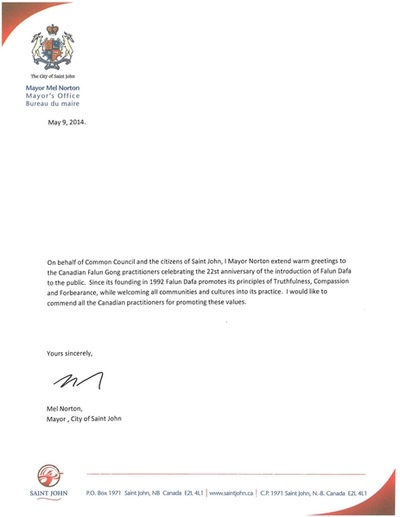 Congratulatory letter from Mayor Mel Norton of Saint John, New Brunswick, Canada