Shen Yun 2014 World Tour Ends, Gratitude Remains
May 22, 2014 | By Minghui correspondent He Yu
(Minghui.org) Shen Yun Performing Arts completed its 2014 world tour on May 11. Starting from December 23, 2013, the four Shen Yun companies performed over 400 shows in more than 110 cities across 5 continents.
On its eighth annual tour, Shen Yun provided a brand-new 2014 program while maintaining the mission of reviving five thousand years of Chinese civilization. The ancient values of humanity and richness of the culture displayed in a highly-skilled visual presentation brought joy, positive energy, and purity to audience members from different ethnicities and backgrounds. Many expressed appreciation for the commitment of Shen Yun artists and lauded the significance of the messages and their ability to inspire and amaze.
Former House Speaker: "Better Understanding of Chinese Civilization"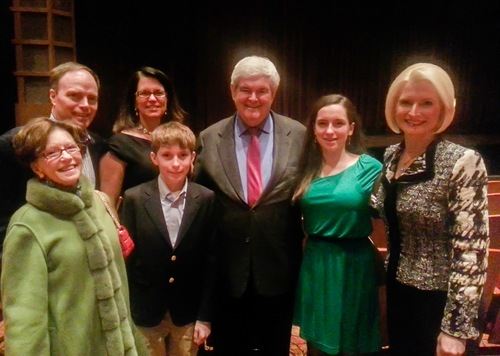 Mr. Gingrich and his family attended Shen Yun in Atlanta, Georgia on December 27
Former Speaker of the House and 2012 Republican presidential candidate Newt Gingrich was amazed by Shen Yun's achievement. He said, "It has been very enjoyable, and I think it introduces thousands of people to a better understanding of Chinese civilization."
Mrs. Gingrich described the collaboration between the dancers and the live orchestra of both classical Western and Chinese instruments, as "a beautiful display of musical artistry," adding, "It's so elegant and so beautifully uniform … very, very impressive."
Congressman: "Incredibly Valuable"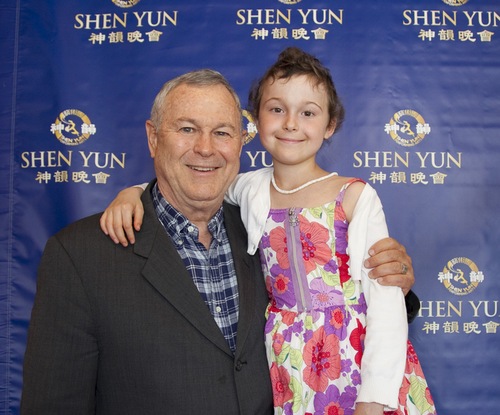 Congressman Rohrabacher with his daughter at the show on March 15
Congressman for the 48th District of California, Dana Rohrabacher, felt "deeply entertained" and also "educated" after seeing the performance. The Congressman said, "This [Shen Yun] is an incredibly valuable thing for people to witness." He also thought it a shame that Shen Yun is not allowed to perform in China.
The congressman acknowledged that Shen Yun is more than Chinese: "I think that what we see here is that the Chinese traditional music is much more sophisticated than what Americans have as our traditional music. One good thing about America is that we actually have taken from all the cultures of the world and we've incorporated them to American culture. So that means this is part of American culture now, not just Chinese culture."
Member of Parliament: Highest Artistic Level with Virtues
Kitchener Centre Member of Parliament Stephen Woodworth tries to attend as many Shen Yun performances as possible. "There is no question that it meets the highest artistic standards. The precision and the coordination and the collaboration and the discipline of the artists is just magnificent," he said.
"What I saw coming clear tonight was really a display of the virtues—beauty and grace, and nobility and heroism, and faith, love, and hope. These are virtues that in our popular culture we don't see very often...The fact is that these performances distill art and ideals that people have developed and acquired over thousands of years. I think it's a sad and sorry culture which would disregard the wisdom of the ages. So I think Shen Yun does us a great service in reminding us of those virtues."
"My heart also goes out to those who are suffering as a result of their simple desire to practice Falun Dafa...It's always been an irony to me that the simplest gentlest people who want nothing more than to pursue their own practices and beliefs are the ones who seem to attract the attention of tyranny and the persecution of dictators. So I for one want to stand in solidarity with those who are persecuted," he said.
Warmth and Hope
Pak Chol-on, former Chief Executive of South Korea, three-term congressman, poet, lawyer, and chief procurator, praised the show: "It's a very great and very well-done world-class performance. Every program is perfect."
"In real life, there are many grievances and conflicts. After we see such a great performance, those worries are completely swept away. The show brings us messages of warmth and purity."
As a renowned Korean poet, Pak Chol-on said that Shen Yun not only inspired his creativity, but also influenced the field of art in South Korea. He said that the performance "represents a brand-new, inspiring, and three-dimensional stage art. It must have a huge impact on Korean artists who have seen Shen Yun."
Minster of Culture for the Czech Republic, Daniel Hermann, believed that Shen Yun contains a message that leads the morality of humankind to rise. It prevents them from being crushed during obstacles. He thought that everyone needs this magnificent message. Otherwise, humankind will lose its existence due to loss of hope.
Outliers in the Theater Field Stunned by Shen Yun's Purity and Perfection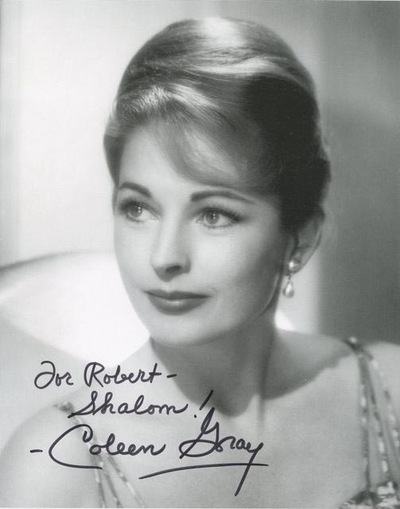 Renowned actress Coleen Gray in the 50s.
Coleen Zeiser, better known as American actress Coleen Gray, with many credits in movies, television, stage and radio spanning five decades, said after seeing the performance at the Fred Kavli Theatre in Thousand Oaks, "Loved it...It's just wonderful, just an evening of beauty, in movement and sight and imagination. It's lovely."
Ms. Zeiser said seeing Shen Yun inspired her to learn more about the history of China: "It makes one curious to delve into Chinese history," she said. "It's very stimulating to the mind as well as the heart, and it's a wonderful thing to know that beauty is all universal."
The visual and spiritual beauty of Shen Yun impressed leaders of the theater field. All sixteen shows in Los Angeles on March 11 to March 30 were sold out. Venues where Shen Yun performed in the Greater Los Angeles Area: clockwise from upper left corner: The Segerstrom Center for the Arts (Costa Mesa), Nokia Theatre (Los Angeles), Granada Theatre (Santa Barbara), and Thousand Oaks Civic Arts Plaza
Academy Award winner and celebrated director and producer Robert Zemeckis and his wife, Leslie Zemeckis, attended the the performance at the Granada Theater in Santa Barbara, "It's very interesting... It's very colorful, very synchronized. It's very good, and the story lines are very interesting."
Glen Keane, recipient of the Disney Legend award, said after watching the performance at the Nokia Theater L.A. LIVE in Los Angeles on March 22, "It's very pure and sweet. There is a childlike quality to it that I really, really enjoyed...I think it's very spiritual and beautiful and seeking our creator, and I found that refreshing and wonderful."
Mr. Keane was responsible for animating some of Disney's most famous characters, such as Aladdin, the Beast from Beauty and the Beast, and Ariel from the Little Mermaid. He was also the executive producer of Tangled.
Sergio Renan, Argentine actor, film director and screenwriter, called Shen Yun "stunning" and commented that the perfect synchronization of Shen Yun dancers is the goal Ballerinas strive to achieve: "I have never seen such perfect performances."
Shen Yun's blending of Western and Eastern music is very "wisely done" and "pleasant." The live orchestra left Mr. Renan with a very deep impression.
"Precisely because it is about the Chinese world, which has many aspects that are far from Western and Christian sensibility, there are aspects that basically belong to the human condition, so one feels close to beings who were supposed to be very distant." Mr. Renan added.
Mexican film and television actor, Rodolfo Jimenez, highly praised the perfection of Shen Yun. He said that it is difficult for professionals in the theater field to laud another show because they will be picky with every detail. But the Shen Yun performance he saw was incredible in that everything was displayed in perfection. He loved how every number was unique and spectacular.
Not only that, Mr. Jimenez was also amazed by the fact that this performance portrays the divine and people's respect for the heavens. He commented that he learned a lot from watching Shen Yun.
Innocent and Meaningful
Annie Gautrat, better known by her stage name Stone, said after seeing Shen Yun's opening performance at the Palais des Congrès in Paris on March 28, "This is purity, precisely. Because this is very far from our Western habits when we see this kind of show. There are no notions of eroticism, things like that. It's all quite restrained, and somewhat innocent. It's beautiful to see, very, very beautiful," Stone said.
Very moved by the show, Stone, as an accomplished professional, said she "appreciated the whole production." Stone also said Shen Yun is very colorful, and also has a happy tone, prompting audiences to view the performance "with the eyes of a child."
Mr. Choi Jong-won, renowned actor and a former Member of the National Assembly, exclaimed after seeing the performance at the Gwacheon Citizens Hall on February 12: "I am deeply touched! The graceful Chinese arts will be reborn through Shen Yun."
Mr. Choi was also amazed at the impact of the Shen Yun programs: "The dance dramas with such profound meanings had a real impact on me. They are so familiar, as if I already knew them and then temporarily forgot them. The waves of memory Shen Yun evokes from the deep sea of my mind shakes my inner world... Doesn't this mean that Shen Yun has the power to uplift anyone and everyone?"
Mr. Choi Woo-Won, Pusan National University's philosophy professor and Director of Asian Philosophical Association commended Shen Yun as "a supreme artistic presentation" and "profoundly meaningful. Such a highly artistic presentation represents the best from the ancient Asian civilization. I believe Asian culture and traditional values will lead mankind to a brilliant future."
Sabotage Attempts by CCP Backfired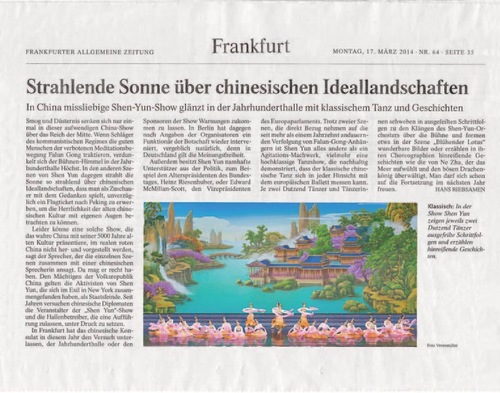 Frankfurter Allgemeine Zeitung (Frankfurt General Newspaper) published an article on March 17, 2014 titled "Radiating Sun above Chinese Ideal Landscape: Disapproved in China, Shen Yun Show Shines in the Frankfurt Jahrhunderthalle with Classical Dance and Stories."
In several cities in Europe, the Chinese communist regime attempted to sabotage the performances of Shen Yun, which is reviving the traditional culture that the regime has been suppressing.
Before Shen Yun's arrival at Brussels, the Chinese embassy pressured the local government to cancel the performance. Failing to make that happen, they instigated local Chinese students and Chinese residents to cover up the Shen Yun posters with Chinese flags. This act was exposed to the entire city and the six performances at the National Theatre were very successful. Hundreds of officials from the European Union, NATO, and other governmental agencies attended the performances.
In Barcelona, Spain, the CCP pressured the Teatre Nacional de Catalunya in Barcelona, Spain to cancel Shen Yun's performances on April 9-12. The theater refused to comply, and the story was reported by Spanish mainstream media, which drew a larger audience because of CCP interference. Consequently, all four shows in Barcelona were sold out.
The CCP launched similar attempts in Australia but faced the same consequence. All four shows at the Sydney Theatre were sold out. One show was added to the original five shows in Perth and blocked off seats were also opened to satisfy the demand.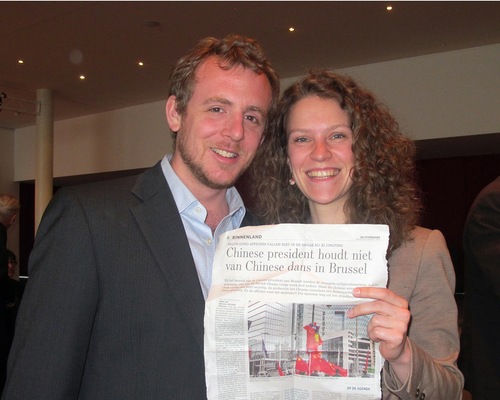 Renowned Belgium conductor, Thomas Moore, attended the performance with girlfriend carrying a news report on the Chinese Communist Party's sabotage.
Commitment of Shen Yun Artists Moved the Audience
Land and Development Manager in Zlote Tarasy, Michal Ptaszynska, and wife Eva Ptaszynska, who is a policy officer for Land Transport and Directorate-General for Mobility and Transport at the European Commission, Brussels, saw the show on the afternoon of April 5 with their two children.
Mrs. Ptaszynska was impressed by the commitment of the performers. She said, "It was touching in the end when you realize, first, how much effort is required of each performer to have achieved all of this, and second, their strong love for this civilization and this culture, that they stay committed to show to people all over the world the essence of the Chinese civilization. So it is all so moving."
Mainland Chinese Audience: Reviving Essence of Chinese Culture with Beauty and Purity
Mainland China, the origin of this highly spiritual and profound civilization, unfortunately does not allow Shen Yun to be performed due to the communist regime, which has been attempting to destroy traditional Chinese culture in decades. Nevertheless, DVDs of Shen Yun have been widely spread in China. Many Chinese people travelled around the world to experience Shen Yun in person.
Visiting scholar to Canada, Hou Wenzhuo, exclaimed after watching the performance at the National Arts Centre in Ottawa, "Shen Yun has done the most perfect artistic expression for the essence of traditional Chinese culture and is spreading it to the entire world. It makes us Chinese people feel proud! That kind of beauty of Shen Yun, all of the details and every movement lets you see the light of love and compassion coming from the hearts of the artists."
"If you can watch it at least once a year and receive the purification of Shen Yun, it will let you remember what pure beauty and true happiness are. This kind of happiness is not uncontrolled following of the trend. It originates from the inside. This pure beauty and compassion of Shen Yun will keep one's heart pure," said Liu, a Chinese student in Japan, who attends Shen Yun performances every year.
Ms. Qin from Dalian said after seeing the show in Taiwan, "I have been wrapped by peace. I hope one day all mainland Chinese can experience this as well."
Speaking of the beauty of Shen Yun, Ms. Qin said, "The entire performance was very peaceful. There was no overt showing off. Every movement and every display was the kind of beauty that comes from the heart. Just that kind of feeling. They were not showing the techniques. No they were not. The content was sincere and came from the heart."
A senior professor in Los Angeles who graduated from Beijing University, paid respect to the designers and performers of Shen Yun, "The values that Shen Yun is promoting is a principle that the entire universe should follow together. Shen Yun is the boutique on the artistic aspect, the highest quality on the cultural aspect, the symbol of the civilization, and the shared spiritual treasure of humanity. Any evil or interference is foolish and fruitless."
Peace and Love
To CEO of the Global Network of Women ICT Decision-Makers, Marcela Themes, Shen Yun's brilliance does not only bring the audience the awe of the mind, but also joy and peace from the bottom of the heart, making it the highest level of art. She believed that Shen Yun has the great power of purifying the society. There is nothing else in the world like Shen Yun that has the ability to display the purest side of the human soul so beautifully.
Ms. Themes would recommend Shen Yun on her own magazine and her husband will share his impression with the audience of his own television station. Ms. Themes said that she is honored to be able to do this.
Dr. Zuzana Peterová, author of Tales of Wounded Souls, who also works in the field of psychotherapy, exclaimed, "I was fascinated, immensely liked it!"
"It's so beautiful, with feeling, with the heart and with such joy. At the same time, I still felt a huge desire for freedom, freedom of spirit, " he continued.
"The whole performance for me is done so astoundingly. The desire for love, understanding and the freedom of spirit and heart," he added.
American priest, Richard Bailey, who is a resident in Perth, Australia, felt a divine power from the performance. He believed that it all comes from the divine inner meaning, the truth, the faith, and the three words, Truthfulness-Compassion-Forbearance.