Ms. Shi Yuhuan Arbitrarily Arrested and Tortured
(Minghui.org) Arbitrary and illegal arrests have been widely used by the Chinese Communist Party (CCP) to torment and wear down Falun Gong practitioners who are steadfast in their faith. Among the victims is Ms. Shi Yuhuan, a 53-year-old textile worker from Chongli County, Zhangjiakou City in Hebei Province. She has been arrested seven times over a 10 year period and force-fed toxic drugs because she practices Falun Gong. Even more disturbing, the authorities used her 11-year-old son as a means to break her faith.
This is Ms. Shi's personal testimony of abuse by the authorities.
Slapped in the Face and Tied to a Tiger Bench
Officers led by Zhang Guisuo and Chen Jianjun, from the Chongli Domestic Security Division, broke into my workshop on the morning of July 3, 2004, and dragged me to their police car. They never showed me any identification. When I shouted out "Falun Dafa is good," Chen slapped me in the face. They then drove me to the Xiwanzi Town Police Station.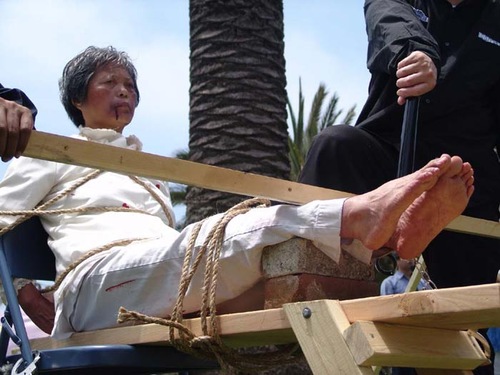 Torture re-enactment: Tiger bench
I was carried into the police station, where Zhang and officer Ren Chunjuan held me down on a bed while they searched for my house keys. They then ransacked my home.
One of my hands was cuffed to a table leg while I was tortured on a tiger bench for 24 hours. Two officers took turns monitoring me throughout the night.
The next day I was taken to the Chongli Detention Center, where I was monitored around the clock. I wanted to sit down, but guard Liu Jianjun forced me to stand and kicked my legs. I went on a huger strike to protest my detention. After one week without eating or drinking, they released me before I showed signs of being seriously ill.
Force Fed Toxic Drugs and 11-Year-Old Son Implicated
Zhang Guisuo and Chen Jianjun forced their way into my workshop again on August 31, 2004, and took me to the Chongli Police Station. Zhang said: "Officials from the municipal government have ordered that you undergo a re-education session at the Shalinzi Brainwashing Center." I immediately asked him for an official notification from the municipal authorities. He said that he did not have it because the order was given over the telephone. I refused to go, as I had to work to support my family. I told him that my husband is working in another city, and that I have to be here to take care of my young son.
They promised that I would be allowed to return home within a week and that I would be paid while I was away. I asked Zhang what law I had broken by practicing Falun Gong, but he didn't answer.
Zhang and Cheng dragged me to a police car in the yard and tried to get me into the car. They were being worn out from the effort of trying to force me in, but I was still standing outside the car. Zhang called the deputy head of the police station, Shi Jinjun, who soon showed up with some handcuffs. I said: "I will not go. My son needs me." Shi said he would bring my son along, too.
They forced my son and myself into the car and took us to the brainwashing center, where I was locked in the yard. They then took my son back home and told him that I had cast off my family so that I could practice Falun Gong.
A female officer named Ma took me to a large room one morning, with three men there. I was handcuffed to the metal bars on the window and my shoes were removed. Meng Xinxin, one of the men, had a gourd of water in one hand and an electric baton in the another. He asked me if I was going to continue practicing Falun Gong, and acted as if he was going to pour the water on my feet and then electrocute me. When I did not answer, he began to punch and kick me. I was left fastened to the window for two hours.
I went on a hunger strike the next day to protest the persecution. Several men came to force-feed me one day, including the head and deputy head of the brainwashing center, along with some doctors. Meng stood beside them with a plastic bag full of white pills. Although I resisted, they force fed me through my nostrils. One of them said: "You will be able to taste them." They stopped only after they had fed me nearly a liter of the milk-like solution. It tasted very bitter.
I could feel the effects of the drugs the next day. I was extremely drowsy and dizzy. I was also so cold that I was trembling. Ma lifted my eyelids to check my vital signs. I asked her: "I have never done anything to you. Why are you doing this to me?" She said, "I was given orders." She was referring to the heads of the brainwashing center, whose last names are Fan and Lu.
Zhang Guisuo and Shi Jinjun came to me several days later with a forced labor notification and a guarantee statement. They tried to get me to sign the documents, and threatened to sentence me if I didn't sign them. I did not sign either of them. They then wrote some words on a piece of paper and forcibly put my fingerprint on it.
I was held for 42 days before being released. I came home in a very feeble condition and was very weak. I had swelling all over my body and I couldn't walk upstairs. I recovered in a few days by doing the Falun Gong exercises.
Arrested Three Times in Three Years
Three years passed before I was arrested again. I was walking down the street with some friends on the evening on April 25, 2007, when we were arrested by a group of officers led by the head of the Chongli Police Station. We were first held at Xiwanzi Town Police Station before being transferred to the Zhangjiakou Shisanli Detention Center. Each of us was forced to pay 1,500 yuan.
The CCP launched a mass arrest of practitioners before the Beijing Olympics in August 2008, to prevent them from appealing for Falun Gong during the Games. Six officers from Chongli Police Station forced their way into my home at around 4 p.m. on July 25, 2008. I had just gotten home and was starting dinner. They ordered me to pack my bags, as they were going to take me to a brainwashing center in Shizuizi Town. When I refused to go with them, they swore that they would take me there by force if I did not cooperate. They then picked me up and carried me out to their car.
I was arrested again when I went to visit an acquaintance one day in 2009. Some of the local police broke in to the place were I was staying and took me to the Shizuizi Brainwashing Center. Zheng Jianguo from Gaojiaying Police Station carried out the arrest along with officers from Shizuizi Police Station.
Blessed by Falun Gong
I began practicing Falun Gong in 1998. Many of the illnesses that had plagued me for many years disappeared soon after I began to practice. Guided by the Fa principles, I realized that I should be a good person and not get carried away wanting more and more material things. I returned all of the cloth that I had taken from the textile factory where I worked. Many people also witnessed the magnificence of Falun Gong by seeing the great improvements in my behavior and attitude.
I used to be a loner and was always in a sour mood. I didn't think about the well-being of others. Life was a weary and tiresome experience. Falun Gong taught me the principles of "Truthfulness-Compassion-Forbearance" and gave me a genuine understanding about the meaning of life. My sullen outlook on life was replaced by one of joy. It was as if I had started life anew.
Falun Gong restored my health and lightened my heart. I feel it is my duty to expose the persecution because the practice has given me so much. I must tell people how the CCP persecuted me and brought great pain to my family and myself.