Hubei Province: Mother Demands Her Son's Release in Front of Brainwashing Center
April 19, 2014 | By a Minghui correspondent from Hubei Province, China
(Minghui.org) "Give my son Chen Song back to me!" Mr. Chen's mother stood outside of the Wuhan Banqiao Brainwashing Center, in silence, wearing a long white gown with the above words written on it in black.
The Banqiao Brainwashing Center, officially known as the "Hubei Province Legal Education Center," is actually a black jail (an illegal detention facility). Police from the 610 Office and the National Security Bureau arrested Mr. Chen Song, an engineer from the Yuandong Chemical Industrial Company, on March 6 and have detained him there ever since.
Mr. Chen's mother worried about her son so much that she couldn't sleep. His company's new, 30 million-yuan assembly line is idle due to his detention. Many employees at the factory are being negatively impacted due to the unexpected halt of the project.
The Dawu County 610 Office and National Security Bureau threatened his family, warning them not to go to the brainwashing center again to ask for Mr. Chen's release.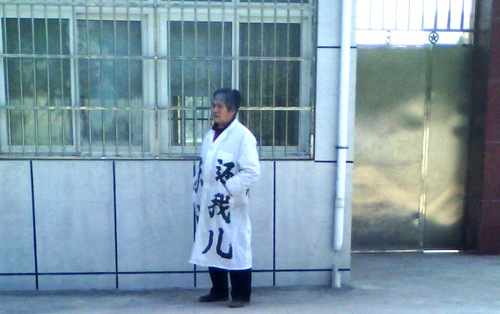 Mr. Chen Song's mother stands in silence outside the Banqiao Brainwashing Center in Wuhan, Hubei Province. The Chinese characters on her gown read, "Give my son Chen Song back to me!"
Family Given the Runaround
The family wasn't notified after Mr. Chen's arrest, so his mother, who is over 60, traveled non-stop from Wuhan to Huanggang City and then to Dawu County in Xiaogan City, where she made inquiries at different police stations, detention centers, police departments, and the domestic security division. None of these agencies acknowledged they were responsible for his arrest and just referred her another agency.
Mr. Chen's mother traveled non-stop from Wuhan to Huanggang (an hour and 40-minute ride with private transportation) and Huanggang to Xiaogan (2 hours and 17 minute with private transportation) to learn where her son was. Source: Google maps; Graph: Minghui.org
The family eventually discovered that Mr. Chen was being held in the Banqiao Brainwashing Center. When his family went there to secure his release, section chief He (badge number 4267010) refused to acknowledge that Mr. Chen was inside and threatened to have the family members arrested.
"Hubei Province Legal Education Center" holds brainwashing sessions specifically targeting Falun Gong practitioners. It was re-located from the Tangsunhu to the Hongshan District in Mahu Village, next to Hubei Women's Prison. The center instills fear in the detainees based on "arbitrary, indefinite imprisonment;" mental torture; and physical violence. Over 1,000 practitioners have been detained and tortured there since its inception.
610 Office "Rewards" Police with Confiscated Belongings
At 11:30 a.m. on March 6, team leader Ms. Wan from Huanggang City National Security Bureau, in a black car with no license plates, was followed by 610 Office staff and almost 20 officers from the Dawu 610 Office, the National Security Bureau, and the Huangzhou District Chencelou Police Station to break into the Yuandong Chemical and Industrial Company.
The officers were in plainclothes and drove unmarked cars. Without producing any documentation, they arrested Mr. Chen Song, an engineer with the company.
They told the other employees that Mr. Chen was a "fugitive." They later admitted that he was arrested because he practices Falun Gong. After the police dragged him away, they forced the employees to point out Mr. Chen's residence.
They searched his residence repeatedly, even turning over the garbage bins. They confiscated three laptops, two cameras, at least six cell phones, mobile hardware, MP3 and MP4 players, DVDs, several USBs, GPSs, speakers, bank cards, and cash. The total value of what they took was over 13,000 yuan. They also confiscated all kinds of valuables, documents, receipts, and the keys to the company.
The group Wan was in charge of also searched Mr. Chen's private car. A colleague of Mr. Chen stopped the police when they tried to drive the car away.
After the search, an old man with the Xiaogan City 610 Office told the officers from the Chencelou Police Station, "You have worked very hard to arrest Chen Song. You can deal with this stuff [cash and other valuables] yourselves. We are only interested in the computer and documents…" They rewarded the police with Chen's property.
After arresting Mr. Chen, Wan and several others tried to arrest two of his male colleagues in the same dormitory. They failed, but Wan and her followers yelled at and threatened the employees and interrogated two of his female colleagues.
The women did not practice Falun Gong, but Wan threatened them with detention anyway, which really shocked and upset them. The other colleagues present dared not say anything. To avoid persecution, the two male colleagues were forced to leave their homes and their jobs.
A Dedicated Supervisor and Technical Mainstay
Mr. Chen Song is one of the supervisors and also the technical mainstay of his company. He lives by Truthfulness-Compassion-Forbearance. He is honest and diligent, often working late into the evening. He is very modest, sincere, and kind. He often used his own car to pick up customers and staff and run errands for colleagues. When it was raining or dark, he would offer to drive his colleagues home.
Before the production lines were installed, in order to protect the property valued at over 20 million yuan, Mr. Chen and his two male colleagues mentioned above stayed in his car out in the cold for several weeks, taking turns guarding the building after working a full day. When the company was short of funds and manpower, Mr. Chen took the lead to do manual labor, moving things and getting dirty. Over the course of many days, he cleaned the production line with a pressure washer.
Mr. Chen continued to take night shifts at the workshop until he was arrested. Whenever he went out on business, Mr. Chen always considered the good of the company and tried to reduce his daily expenditures.
Mr. Chen's arrest dealt the company and several families a huge blow. The production lines that the Yuandong Company had invested over 30 million yuan in have been down ever since, and his two colleagues were forced to leave. The documents that were confiscated by the police included very important information belonging to the company. Because of the hold up, many workers have lost their jobs.