Mr. Li Min Imprisoned Multiple Times, His Family Destroyed
April 15, 2014 | By a Minghui correspondent in Jilin Province, China
(Minghui.org) Mr. Li Min was illegally sentenced to five and a half years in prison on September 23, 2013, after having spent six months in a detention center. He was admitted to Hulan Prison on January 22, 2014.
It was not the first time he was in this prison. He was previously incarcerated there for five years and was released in 2010.
Mr. Li has been repeatedly detained and sent to labor camps and prison after the persecution of Falun Gong started in 1999.
He was beaten and tortured with the "Big Hang Up" – hung up by his arms for a prolonged period of time. At one point he was bound with shackles weighing 18kg for 16 days. In the summer, he was exposed to the sun for a whole day.
His father could not bear the fact that his innocent son was subjected to forced labor. He became very sick and passed away. His mother also fell ill and was bedridden. His wife left him.
Most Recent Arrest
Police officers Zhang Shiguo and Liu Peimin broke into Mr. Li's home and arrested him on March 12, 2013. They ransacked his home and took many personal items as well as 25,000 yuan in cash. The police tortured him with the "Big Hang Up" to try to force him to give them information on other practitioners. He suffered severe pain in his chest and his ears were bleeding.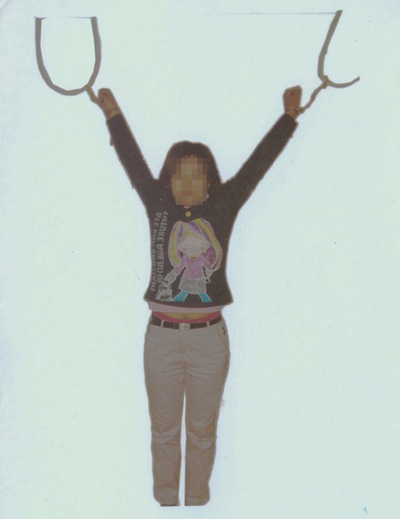 Torture re-enactment: "Big Hang Up"
Two weeks later Mr. Li was taken to Tonghe Detention Center and held for about 6 months. He developed an anal fistula due to the torture.
On September 23, 2013, Mr. Li was sentenced to five and a half years in prison. He appealed but his appeal was dismissed. On January 22, he was sent to Hulan Prison.
Previous Persecution
After the persecution of Falun Gong started, Mr. Li was monitored and harassed by the local Chinese Communist Party (CCP) agents. His family's once peaceful life was constantly disrupted.
Arrested for Holding a Banner in 2000
Mr. Li went to Beijing to appeal for Falun Gong in the fall of 2000. Plainclothes officers waited outside the appeals office to arrest practitioners.
Mr. Li then decided to go to Tiananmen Square to hold banners that said "Truthfulness-Compassion-Forbearance Is Good" and "Falun Dafa Is Good." He was arrested afterwards.
Mr. Li was sent back to the Tonghe police station by officer Ma Debo, who beat Mr. Li.
Mr. Li was released after 2000 yuan was extorted from him.
Bound with Shackles Weighing 18 kg at Detention Center from 2000 to 2001
Mr. Li worked at the Nonghe Chopsticks Factory in the winter of 2000. He worked hard and got good comments from his boss, who told Mr. Li, "Please refer more Falun Gong practitioners to my factory. I can relax with workers like you."
On January 23, 2001, the CCP staged the "Tiananmen Square Self-immolation" and started to persecute Falun Gong more severely.
On March 31, 2001, Meng Fanwen, head of Fulin police station, and officer Liu Bo arrested Mr. Li at his home. They beat him in front of his 9-year-old daughter. The girl cried and begged them to stop beating her father but they ignored her.
Mr. Li was taken to the detention center. The former chief of the Nonghe police station saw him and beat him again brutally. Mr. Li's nose bled profusely.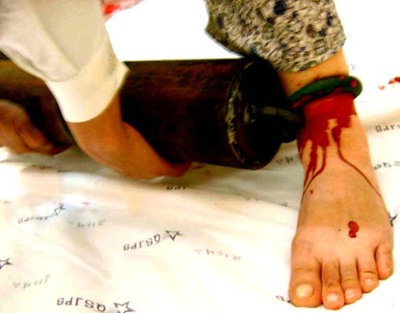 Torture re-enactment: Shackled
At the detention center, Mr. Li was bound with shackles weighing 18 kg for 16 days. The guard told two prisoners to beat him frequently. Once, guard Ma Jun told prisoner Miao Chaojun to beat him with a hard plastic tube. Afterwards, his entire body was black and blue with bruises. He was also often deprived of sleep.
Father Passes Away, Family Destroyed
After his son was detained, Mr. Li's father became very sick. He missed his son very much and wanted to see him but was not allowed to.
Mr. Li was sent to Changlinzi Forced Labor Camp in Harbin in July 2001. Overcome by stress and grief, Mr. Li's father passed away.
Under the weight of these two disasters, Mr. Li's mother collapsed and became very ill. She was bedridden and could not look after herself. Unable to endure this, Mr. Li's wife left their once happy home and divorced him. Their 9-year-old daughter and a sick grandmother were left on their own.
Five Years in Prison from 2005 to 2010
After Mr. Li was released, he made a living as a taxi driver. On July 20, 2005, he was arrested and taken to Tonghe Detention Center. The police accused him of producing Falun Gong informational materials.
On January 17, 2006, Mr. Li was sentenced to five years in Hulan Prison after being detained for 9 months.
Mr. Li was tortured severely at Hulan Prison. His teeth were all knocked out. During the hot summer months, he was tied to a pole and exposed to the sun for the entire day. He was released on July 19, 2010.
Mr. Li was arrested again less than two years after he was released. He stated during his trial, "There is no law in China that says it is illegal to produce and distribute Falun Gong materials."
Background
Mr. Li Min, 44, lives in Tonghe County. He started practicing Falun Gong in 1997.
Mr. Li lives according to Truthfulness-Compassion-Forbearance. After practicing, he became very kind and is well regarded by others.
He benefited physically from Falun Gong. His kidney diseases and neck problem disappeared soon after he began practicing. His life was happy before the persecution began.
Parties Involved in Persecuti ng Mr. Li:
Zhang Yue (张越), head of Tonghe County 610 Office: +86-18946015499 Chi Haibo (池海波), head of Tonghe County Domestic Security Division: +86-451-57428425 Liu Peimin (刘培敏), head of Tonghe Police Department: +86-451-57423246 Please refer to the original Chinese article for more people and offices involved in the persecution.