Mr. Wang Shusen Imprisoned for 12 Years for Broadcasting Information About Falun Gong—Health Declining Due to Torture
March 23, 2014 | By a Minghui correspondent from China
(Minghui.org) Mr. Wang Shusen is in extremely poor condition after 12 years of imprisonment and torture. Sentenced to 18 years for speaking out for Falun Gong, Mr. Wang has been beaten to near-death and hospitalized on numerous occasions. Nearly 6 feet tall, he now weighs only 99 pounds. Some of his teeth have fallen out due to torture, and he is seriously humpbacked. Although he is only 48 years old, he now looks like an old man.
Hundreds Arrested After Falun Gong TV Broadcast
On April 20, 2002, Mr. Wang Shusen and four other Falun Gong practitioners from Hegang City, Heilongjiang Province, successfully tapped into the state's cable network to broadcast TV programs that exposed the truth about the "Self-Immolation" Hoax on Tiananmen Square .
On the following day, the local police department dispatched 300 armed officers to search the area and block off all the street entrances. Li Daoxiang, head of the Xinjian Road Police Station, led a gang of officers to break into Mr. Wang's apartment and illegally arrest him. He was sent to the No. 2 Detention Center and later transferred to the No. 1 Detention Center.
Six to seven hundred practitioners were arrested that day. This included Zhang Yueming, sentenced to 19 years of imprisonment, Guo Zhongquan, sentenced to 13 years of imprisonment, and Guo Xingguo who was sentenced to 15 years and eventually died resulting from torture in Hulan Prison.
Severe Torture and Hospitalization
Guards tortured Mr. Wang using multiple methods, attempting to force him to renounce his faith. The tortures included hanging, beatings with sticks, blowing cold air on him, shackling him to the floor, and the iron chair torture. His body turned black and blue, and he often passed out and vomited blood. Mr. Wang also suffered a ruptured ear drum.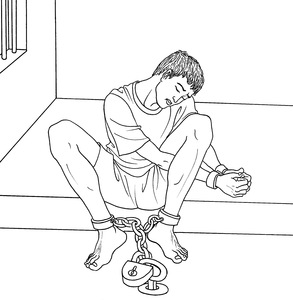 Torture illustration: Shackling to the floor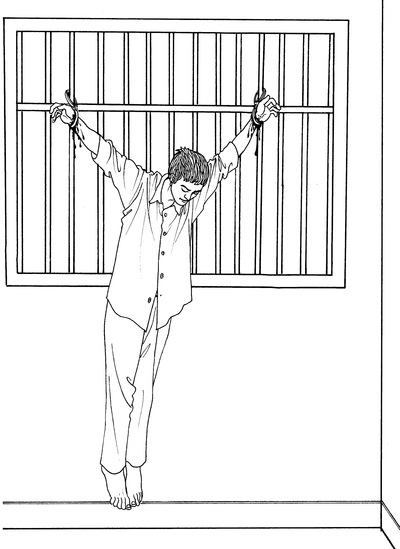 Torture illustration: Hanging from handcuffs
Mr. Wang was initially sentenced to 18 years of imprisonment by the Gongnong District Court in Hegang City in October 2002. He was then transferred to the No. 3 Prison in Harbin City two months later, where he was tortured with forced standing, hard labor, and sleep deprivation.
Mr. Wang was transferred to Daqing Prison in July 2004, where he was beaten, force-fed, locked in solitary confinement, and forbidden to have family visitation. As a result of the ongoing torture, Mr. Wang often lost consciousness, and he had to be hospitalized on numerous occasions.
He was monitored by inmates around the clock starting in August 2004, and forbidden from talking or even walking out of the cell.
Mr. Wang's wife took their teenage son to the Daqing Prison to visit in August 2007. But Yang Youlong, head of the 10th Ward, forbid them from meeting. They waited for three days, but had no choice but to leave without seeing him.
Guard Yang Youlong made two wooden hammers in May 2008, which were used to beat practitioners in the prison. They often dumped dirty water on practitioners while they were sleeping, and then beat them. This torture continued until they either extorted money from the practitioners, or forced them to write the three statements renouncing their faith.
On another occasion, the guards took turns beating Mr. Wang until he was on the verge of death. Even then, the prison still refused to allow family members to take him home.
Mr. Wang passed out after a severe beating on September 29, 2009, and was hospitalized at the Daqing No. 4 Hospital. He was unconscious for a week, but was sent back to the prison when he regained consciousness.
He was hospitalized again in March 2012 and diagnosed with myocardial ischemia. He was returned to the prison without proper treatment. The same symptoms resurfaced on December 9, 2012 and January 1, 2014, but prison authorities still refused to release him.
Before and After the Persecution Began
Wang Shusen was born in the Jiefang Village, Minle Township, Qing'an County, Heilongjiang Province on November 18, 1966. He graduated from the Fuxin Mining College in 1990 and began working at the Geography Mapping Division of the Xing'an Mine in Hegang City, Heilongjiang Province.
He had suffered from serious illnesses, including tuberculosis pleuritis, parapneumonic effusion, and heart disease. However, after he learned Falun Gong in 1996, his symptoms disappeared, and he became very healthy and energetic.
After the persecution of Falun Gong began in 1999, Wang Guoqi, head of the Xinjian Road Police Station in Xing'an District, Hegang City, repeatedly directed officers to harass Mr. Wang and his family.
Mr. Wang went to Beijing to appeal to higher governmental levels. Zhang Sixia, head of the Xinjian Road Residential Committee, went to Beijing to arrest him. Mr. Wang was returned to Hegang City and jailed at the Hegang City Detention Center for two weeks.
Before Zhang Sixia went to Beijing, he tried to extort 1,000 yuan from Mr. Wang's family and workplace for travel expenses, but they couldn't afford the money. Zhang then made an unsuccessful attempt to impose a wage garnishment from Mr. Wang's workplace. He finally colluded with Meng Gang, head of the Political and Legal Affairs Committee in Xing'an District, to extort the money from Mr. Wang's wife.
In an attempt to prevent Mr. Wang from going go to Beijing to appeal again, Wang Guoqi, head of the Xinjian Police Station, arrested him on January 6, 2000, and jailed him at the Hegang City Detention Center, the Mining Area Detention Center, the No. 1 Detention Center, and other unidentified facilities, where he was tortured.
Due to Mr. Wang's declining health from abuse, he was released on medical parole and left with family members.
Upon returning home, he was notified by his company that he had been dismissed from his job. He was still harassed and monitored by local police officers and officials from the Mining Area Police Station, the Security Section, the District Government, and the 610 Office.
Mr. Wang's Wife Also Persecuted
Just two days after Mr. Wang's arrest in 2002, his wife Ms. Li Xiaofeng was arrested at her workplace by officers from Hegang City State Security Bureau. She was jailed at the Hegang City Detention Center.
The guards at the Detention Center grabbed her by the hair and knocked her head against the wall. The Gongnong District Court illegally sentenced her to two years of imprisonment, with the criminal charge being that she "shielded" a Falun Gong practitioner.
She became seriously ill as a result of the persecution and was hospitalized for over a year. She was later returned to the No. 1 Detention Center for further persecution, until her two-year term ended in 2004.
Two months prior to her release, she was notified that she had been fired by her employer.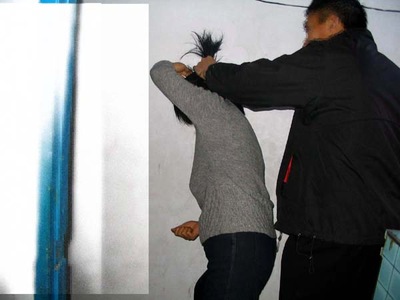 Torture reenactment: Knocking the head against the wall
Ms. Li Xiaofeng's life was very hard, as she was forced to raise their son by herself. The son was nine years old when her husband was sent to prison, and was traumatized by the persecution. He exhibited symptoms of Tourette's Syndrome, but the family could not afford treatment for him.
Ms. Li repeatedly went to the district government to ask for her job back, and was denied every time. When Mr. Wang and his wife were both in prison, the boy was fostered by his aunt. During this period, he often cried secretly under a blanket, and was prone to sudden fits of hysterical crying late at night.
Partial List of Persons Responsible for the Persecution: Zhang Wencai (张文财), head of the Daqing Prison: +86-13604897999 Guo Chuntang (郭春堂), head of the Third Division: +86-13039882277 Fu Xuelin (付学林), Daqing Prison staff: +86-13045390999 (For more perpetrators' contact information, please refer to the original Chinese article)