Mr. Jiang Guobo Returns Home after Five Years in Prison
March 02, 2014
|
By a Minghui correspondent in Shandong Province
(Minghui.org) Mr. Jiang Guobo, a Falun Gong practitioner and former county official from Weifang City, Shandong Province, returned home on February 26, 2014 after five years of illegal imprisonment in Shandong Prison. However, local 610 Office personnel didn't let it happen without a last effort of harassment.
When family members arrived outside the prison a little after 7 a.m. and eagerly waited for Mr. Jiang, they saw several officials from the Weifang City 610 Office also there. One plainclothes policeman took pictures of Mr. Jiang's family members. He also read off their license plate numbers in the parking lot as a means of letting the family know that he was observing their vehicle.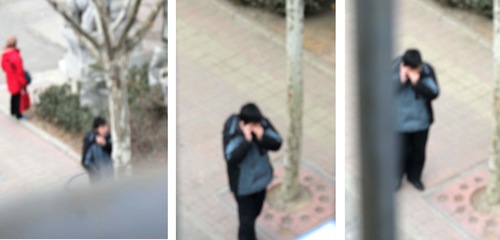 A plainclothes policeman emerged from a vehicle with plate number Lu V-SK970. (Lu is the acronym for Shandong Province. Lu V indicates that the car was registered in Weifang City, Shandong Province.)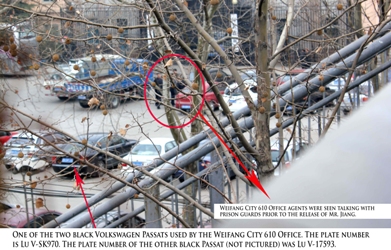 Mr. Jiang was transferred to Shandong Prison in Jinan at the end of February 2010. He protested the persecution there with a hunger strike and was brutally force-fed and tortured in retaliation.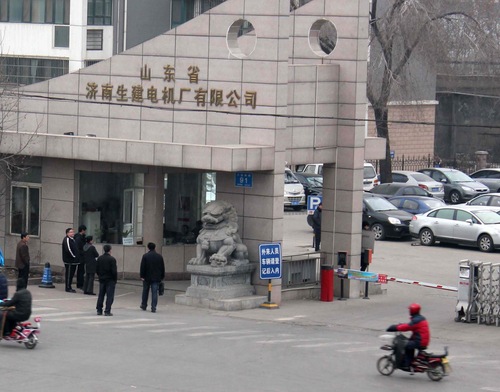 Entrance of Shandong Prison. The sign says "Shandong Jinan Shengjian Motor Factory." The public name of Shandong Prison is Shandong Qilu Motor Manufacturing Ltd. The institution has two factories: Shandong Jinan Power Equipment Factory and Shandong Jinan Shengjian Motor Factory. All prisoners are in the motor factory, which has about 3,000 prisoners, including male Falun Gong practitioners. The power equipment factory assembles generators. The motor factory handles the machining of generator parts.
Most Recent Arrest and Torture
Over the course of the nearly 15-year persecution of Falun Gong, Mr. Jiang has been unlawfully arrested and detained 13 times and sent to forced labor camps three times. The most recent arrest was in February 2009. He was subsequently sentenced to five years in prison. He suffered various tortures in the Weifang City Detention Center, Changle Detention Center and Shandong Prison.
Mr. Jiang was at work at 9 a.m. on February 27, 2009, when Weifang City state security agents and police from the Domestic Security Division of the Weifang Police Station abducted him by covering his head with a black bag and dragging him out to a car. He was taken to the Changle Detention Center, where he was detained and deprived of visitation rights. More than 10 police officers interrogated Mr. Jiang in shifts for over 10 hours. He was tortured and deprived of sleep. As a result, he developed high blood pressure.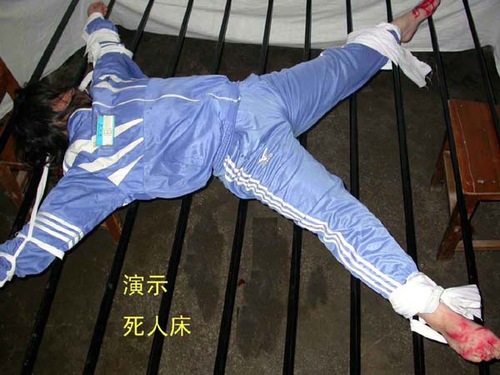 Torture reenactment: Death bed
Mr. Jiang started a hunger strike in April 2009 to protest the persecution. Guards in the Changle Detention Center tied him to a death bed – a painful restraining torture used on death-row inmates – and force-fed him brutally. He could not move as his hands and legs were shackled to the bed. The forced-feeding caused him to vomit, and was stopped only when he spat up blood. A hole was cut in the bed to allow Mr. Jiang to urinate and defecate into a bucket underneath. He was tortured until he was in critical condition.
Jiang Guobo remained steadfast in his belief in Falun Gong and firmly protested the persecution during his five years of imprisonment. He filed complaints against the Weifang Police Station, the Kuiwen Court, and Procuratorate for their unlawful arrest and sentencing, and against Shandong Prison concerning the unlawful imprisonment and torture.
In order to intimidate Mr. Jiang and thwart possible legal action against them, the police abducted his wife Zhou Ling in August 2012 and held her at the Weifang Brainwashing Center for over a month.
Mr. Jiang, born in March 1963, started practicing Falun Gong in 1995 and recovered from liver and kidney complex syndrome. He was known as an honest and upright official. He followed Falun Gong's principles of Truth-Compassion-Forbearance in his daily life and was an excellent county official, appreciated by the local citizenry for his hard work and consideration of people. He helped villagers in Qingzhou, Weifang drill wells and build roads during his tenure there.
Related Article:
Falun Gong Practitioner Jiang Guobo Due to Be Released from Prison after Hunger Strike to Protest the Persecution