Schoolteacher Song Yanqun in Critical Condition Due to Torture
March 02, 2014 | By a Minghui correspondent from Jilin Province
(Minghui.org) Ms. Song Yanqun from Shulan City, Jilin Province was released from Jilin Women's Prison on medical parole on January 20, 2014, almost at the end of her 12-year sentence. Prior to that, the prison extorted 7,000 yuan from her family. Her term was officially over in January, but had been extended to April because she refused to renounce Falun Gong.
Ms. Song weighs only about 66 pounds, and many of her organs are malfunctioning as a result of torture. She is in critical condition.
Ms. Song told her mom during their meeting on April 12, 2012 at the Jilin Women's Prison that four inmates stripped and beat her under the direction of the prison guard. They also stomped on her body, legs and feet. She was bruised all over. Another inmate slapped her every day.
Ms. Song's parents are over 70 years old. They have suffered a lot during the past decade and had to cope with the death of Song Bing, their daughter and Song Yanqun's younger sister. Ms. Song Bing died on July 30, 2009 as a result of torture similar to the kind that Ms. Song Yanqun has been subjected to.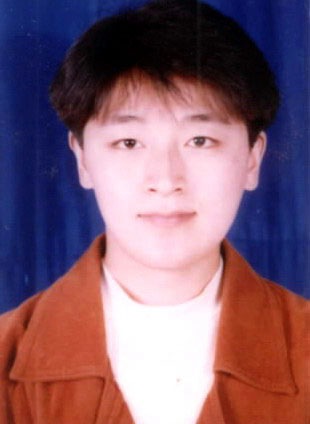 Ms. Song Yanqun, before the persecution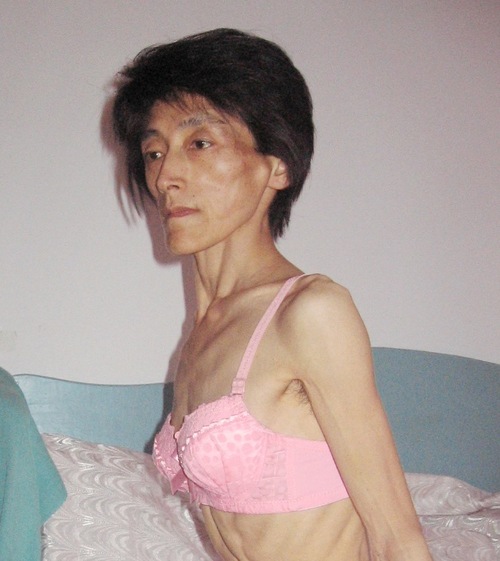 Ms. Song Yanqun, after the persecution
Stretch Torture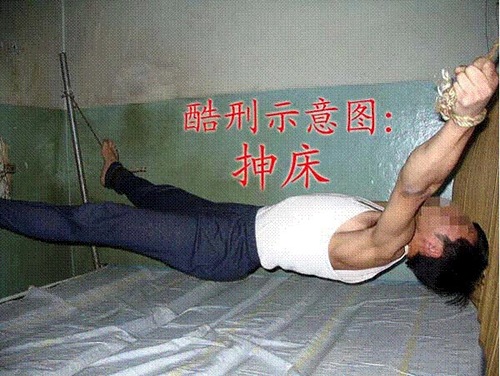 Torture re-enactment: Suspended in the air above a bed or "stretching" torture
"Stretching" is a commonly used torture method in Jilin Women's Prison. There, Ms. Song was subject to this torture method for a month. She was stripped, had her hands and feet bound, and was then hung up with ropes until she was suspended in the air. The limbs bear the whole weight of the body, causing extreme pain. Many become handicapped after being suspended for long hours.
Ms. Song described the torture she suffered,
"... my hands shook uncontrollably and I was unable to write. My limbs were always cold and numb. I had difficulty walking. The flesh around my ankles and wrists was covered with cuts and bruises. I hurt all over. My brain became slow and unresponsive. It's hard to imagine how much pain a person endures under such intense torture."
Force-feeding
In Jilin Women's Prison, the guard ordered inmates to monitor and torture Ms. Song. In the winter they took away her cotton-padded clothes and shoes, sprinkled water on the ground, and opened the window so that she would freeze. Inmates Pan Ping, Zhang Fan, and Sun Li beat her in the restroom.
When Ms. Song went on a hunger strike to protest the persecution, inmates Wang Qiushuang and Yang Shuaibing force fed her. During force feeding she was given unknown drugs while several inmates held her. When inmate Yan Xiaojie was force feeding her, her throat was injured and bled.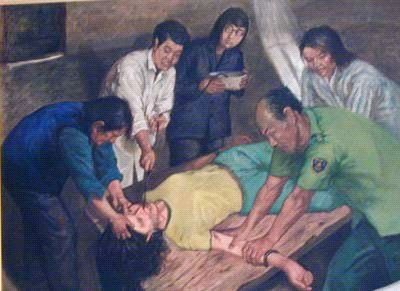 Torture illustration: Force-feeding
They pushed her down and dragged her upstairs by her legs. Prison guards beat her up too.
Ms. Song Yanqun, 43, graduated from the Department of International Trade at the College of Commerce in Changchun City. She was an English teacher at the Dade Japanese Language School in Harbin City and personally helped finance over 10 students for their studies.
Earlier Reports:
Ms. Song Yanqun's Family Request She Be Released on Medical Parole; No Response from Authorities Despite Her Being in Critical Condition
English Teacher on Hunger Strike to Protest Imprisonment and Torture, Family Fears for Her Life
English Teacher Ms. Song Yanqun from Jilin Province Tells Her Persecution Story
Ms. Song Yanqun Weak from Torture and Hunger Strike, Heizuizi Women's Prison Blocks Family Visits