Arrested a Year Ago for Exercising in the Park, Thirteen Practitioners Face Illegal Trial in Shenyang City
March 17, 2014 | By Minghui correspondent in Liaoning Province
(Minghui.org) Dadong District Court in Shenyang City scheduled a trial for 13 illegally detained Falun Gong practitioners at 8:30 a.m. on March 18, 2014. These practitioners, ranging in age from 48 to 73 years old, were arrested for participating in morning exercises almost a year ago. They were severely tortured while in police custody.
Arrested
Several of the practitioners were arrested in the early morning on March 21, 2013, while doing the Falun Gong exercises in Xiafang Park, Dadong District, Shenyang. Four others were arrested on March 28.
Most of these practitioners are from cities in Heilongjiang Province and Inner Mongolia. They have been held in Shenyang Detention Center for almost a year.
Tortured
The practitioners were beaten and tortured severely while in police custody. Ms. Zhao Shuyun appeared to be mentally disoriented. The police shocked Ms. Fu Hui's thighs and private areas with electric batons, and her blood pressure was over 200. Ms. Wu Qiuyan suffered high blood pressure of 170/100. Seventy-two-year-old Ms. Ren Xiuying was extremely weak and suffered from leg pain. Several practitioners were disfigured from beatings.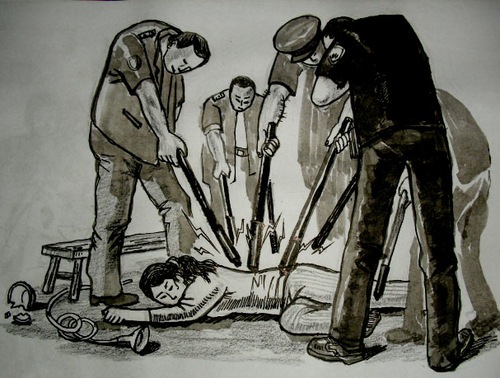 Torture re-enactment: Shocked with electric batons
The 13 practitioners are: Mr. Liu Zhanhai, 48, from Harbin, Heilongjiang Province Ms. Zhao Shuyun, in her 60s, from Tongliao City, Inner Mongolia Autonomous Region Ms. Li Yuping, 54, from Shenyang, Liaoning Province Ms. Fu Hui, 43, from Harbin, Heilongjiang Ms. Liu Jinxia, in her 60s, from Harbin, Heilongjiang Ms. Zang Yuzhen, in her 60s, from Daqing City, Heilongjiang Ms. Xu Xiaoyan, from Benxi, Liaoning Ms. Ren Xiuying, 73, from Harbin, Heilongjiang Ms. Gao Xiufen, 60, from Daqing, Heilongjiang Ms. Liu Yarong, from Shenyang, Liaoning Mr. Wang Honglin, in her 60s, from Benxi, Heilongjiang Mr. Zhao Hongxing, in her 60s, from Harbin, Heilongjiang Ms. Wu Qiuyan, 58, from Harbin, Heilongjiang
For details of the arrest and torture the practitioners were subjected to, please read: Police Round Up Practitioners Doing Morning Exercises and Obstruct Families' Attempts to Find Justice