Mr. Wei Haiwen Missing for Eleven Years, His Household Registration Secretly Taken
March 12, 2014 | By a Minghui correspondent from Hebei Province, China
(Minghui.org) Mr. Wei Haiwen, a Falun Gong practitioner, has been missing for eleven years. In spring, 2003, he did not return from shopping in a market in the Chaoyang district of Langfang City, Hebei Province.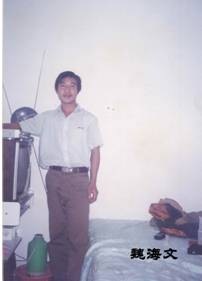 Mr. Wei Haiwen
Later his household registration card was taken from his hometown in Gansu Province by two unidentified people.
A witness told his mother that one day three black cars came to the village. He said that two people wearing suits and black glasses got out of the cars. They gave two cartons of expensive cigarettes to a village accountant for a letter of certification and took Mr. Wei's household registration card.
The County Domestic Security Division officers told one of his relatives, "Tell his mother not to look into this issue again, or she will be arrested."
Mr. Wei was illegally arrested when he was delivering truth clarification materials in the Langfang Economic and Technical Development Zone in 2002. He was sent to the Langfang Detention Center for nine months. After he was released at the end of 2002, Mr. Wei was being watched and followed.
Since he went missing during the peak period of live organ harvesting from Falun Gong practitioners, it is believed he may be one of 65,000 practitioners subjected to organ harvesting.
Mr. Wei was born in Wujiawan Village, Gaozhuang Township, Congxin County, Gansu Province in 1983. He started to practice Falun Gong in 1998. As a practitioner, he always worked hard and was often praised by his boss.
Persecuted Before He Went Missing
Mr. Wei went to Beijing to appeal with his brother on July 22, 1999. After they were arrested and sent back to Langfang, they were brutally beaten. He was not yet sixteen years old.
Mr. Wei and his brother were arrested again and sent back to their hometown in May 2000. They were put in a detention center for six months and tortured. The local 610 Office forced them to make a statement on TV. If they refused to say that they "Would not practice Falun Gong anymore," they would be brutally beaten.
They were released after their uncle paid 4,000 yuan in bribe money.
His brother successfully got away after being arrested in the spring of 2001. The police arrested Mr. Wei who was almost 18 years old and working in a supermarket. He was beaten cruelly by the policemen.
When he was released with his boss' help, his bloody clothes stuck to his body.