Official Harasses Villagers Who Signed Petition Demanding Release of Falun Gong Practitioner (Photo)
December 22, 2014 | By a Minghui correspondent from Jilin Province, China
(Minghui.org) "You signed the petition for Han Fu--that's a crime, like harboring a criminal. You will be held accountable," Xiao Yong, the top Chinese Communist Party (CCP) official of a town in northeastern China, told the people in his village.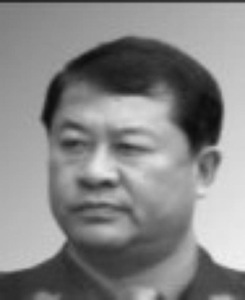 Village Party Secretary Xiao Yong
Mr. Han Fu (韩福) lives in Xihe Town, Shulan City, Jilin Province. He was arrested on September 9, 2014 for practicing Falun Gong. Residents of Sanxing Village and Kongtun Village started a petition on November 6 demanding his unconditional release. Within two weeks, over 400 people had signed the petition.
Party Secretary Xiao Yong and other government officials harassed the petitioners and demanded that they retract their signatures. They went to the villagers' homes and threatened to arrest them, revoke their rights to farmland (which officially belongs to the government), and deny their children schooling. These threats instilled fear in villagers not familiar with the law.
Xiao Yong was the head of the Domestic Security Division of Shulan Police Department in the late 1990s through 2004. After the Communist Party launched its persecution of Falun Gong in 1999, he arrested over 100 practitioners, who were sent to prisons and forced labor camps.