Ms. Xu Locked in Small Cell During the Day and Tied to a Wooden Board at Night
December 16, 2014 | By a Minghui correspondent from Liaoning Province, China
(Minghui.org) According to an eye witness, Falun Gong practitioner Ms. Xu Yajuan is being tortured at the Jinzhou Detention Center. She is being held in a small cell during the day and taken back to the shared cell at night where her limbs are tied to a wooden board on the bed. Besides, she is given only one meal a day.
When "tying four limbs to a board," the victim, i.e., practitioner, is tied to a wooden board and unable to move or turn.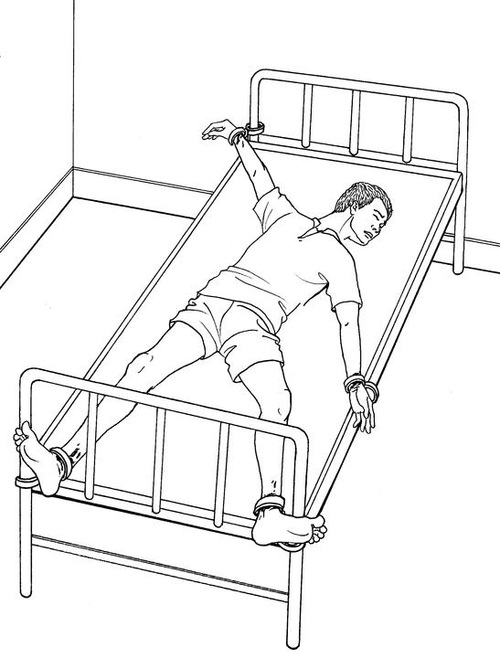 Torture illustration: Tying to a wooden board
Ms. Xu was returned to the cell after 5:00 p.m. on November 6, 2014. She didn't answer guard Shi Hong's roll call. Therefore, inmate Shi Yaqin hit the back of her head many times with a stool while the guard looked on.
When the inmate was tired the guard decided to hang her up.
Shi and another inmate cuffed her hands behind her back and hung her up by the handcuff.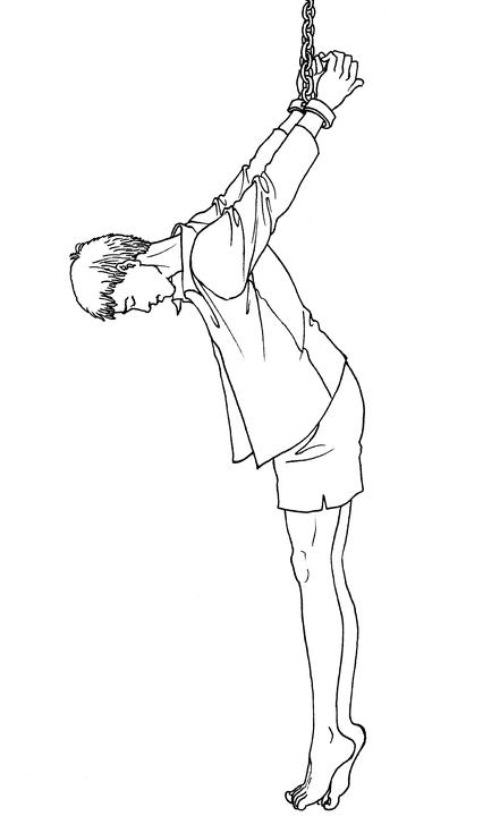 Torture illustration: Hung up with hands cuffed behind the back
Ms. Xu suffered shortness of breath after half an hour. She was released after two hours, but she couldn't stand even with the support of two people.
Detainees Forced to Do Hard Labor
The detainees at the Jinzhou Detention Center have been forced to do up to 15 hours of hard labor daily since 2010. Some practitioners were tortured for refusing to do forced labor. Some became critically ill, some died. The abuses have been ongoing and no one has been able to stop it, despite reporting many incidents on the Minghui website.
Parties involved in the persecution of Ms. Xu:Wu Yan (吴燕), director of the Jinzhou Detention Center: +86-416-3708079Shi Hong (石红), deputy director of the Jinzhou Detention Center: +86-416-3708085