Painter of "Kind, Happy Horses" Shares Her Secret
November 07, 2014 | By Minghui reporter Chen Xinning from Brisbane, Australia
(Minghui.org) In a small Australian town eight hours west of Brisbane, lives an artist who is known for her paintings of "kind, happy horses." People say her artwork makes them feel happy. She says the happiness originates from her belief in Truthfulness-Compassion-Forbearance.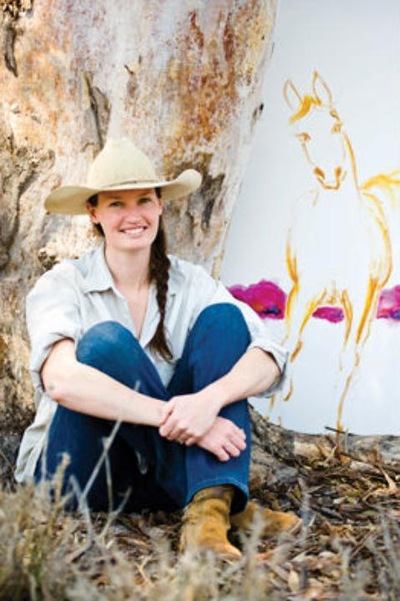 Artist Laura Douglas with some of her artwork
Australian graphic designer and horse and landscape artist Laura Douglas is 34 years old and a mother of two. Although she led a full life with family and social gatherings, Laura said she had always felt she was waiting for something. In 2007, she began to practice Falun Dafa (aka Falun Gong), and realized that this was that "something."
Path Found
Laura was a Christian, and she always looked for the true meaning of life. She used to look at the sky and say, "I want to know more. I must know more. There are so many things in the universe that I don't know."
Laura met two Falun Dafa practitioners in 2003 and it was the first time she had heard of the practice. Four years later she ran into them again. She asked them many questions. The practitioners told her, "You should read the book, Zhuan Falun, and all your questions will be answered." Taking their advice, she read the book and felt an immediate, strong connection with Dafa, like she was returning home.
The first time Laura did the exercises, she couldn't help but cry. She said that deep in her heart, she knew this was what she had been waiting for, and that this was the right thing.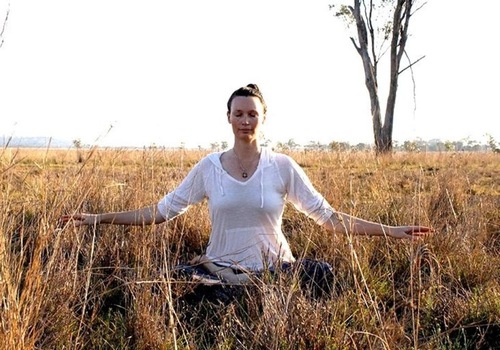 Laura practices the sitting meditation
While reading Zhuan Falun Laura felt her memory was being awakened. She said she is moved to tears every time she reads, "When one's Buddha-nature emerges, it will shake 'the world of ten directions.'" (Lecture One in Zhuan Falun) "I know I'm a kind person. But only after reading Zhuan Falun, did I understand how to eliminate attachments and truly be a good person," said Laura.
Giving Up Alcohol
When Laura read in Zhuan Falun that drinking wasn't good for a cultivator, she thought, "I'd like to try to quit drinking." She was just about to attend a party. She said to herself, "OK, this is the last time I'll drink. I'll quit drinking after the party." She got drunk at the party. She lost some of her expensive personal items, and she almost had a fight with someone.
Laura said the incident made her truly understand what's written in the book, that drinking alcohol can make one irrational. Recalling the incident, Laura said, "It was a terrible experience. The next day I decided to never drink again. I think it was a good arrangement. It seemed extreme, but it made me realize drinking alcohol is a disgusting habit. I don't want to go near it. I haven't touched alcohol since."
Painting Horses
Laura seemed to have a special relationship with horses. She's liked horses since she was a child, but didn't think about painting them. One day, when she went outside to paint, a horse came and stopped in front of her. Since the horse blocked her view of the landscape she was painting, she moved her board and continued painting. However, the horse also moved, and again blocked her view. She moved three or four times. The horse followed and insisted on standing in front of her. Laura thought, "Alright, I will paint you!" That was the first time she painted a horse.
Her work soon attracted the attention of a gallery in Sydney where she was invited to exhibit. Because of her paintings of horses, she met many people and attended several horse races. She always tells her new friends about Falun Dafa and how important Truthfulness-Compassion-Forbearance is to her art.
Laura's work was selected for an exhibition in Brisbane. One gentleman told her, "I've always disliked horses and I'm afraid of them. But I don't know why I feel very happy when I see your paintings of horses." Laura told him, "Perhaps because I was very happy when I was painting them so the message is inside the paintings. Because I practice Falun Dafa I know that every art creation carries energy and feeling. When I paint, I pay attention to bringing happiness and positive energy to my work."
The man asked, "What if you're in a bad mood?" Laura answered, "Then I look inward and find out why I'm in a bad mood. I adjust my mood before I work. I do not paint with negative feelings." Laura often tells people that in traditional Chinese culture, calligraphers, dancers, and other artists would calm their thoughts before creating their art. They worked on their hearts.
Asked what is the biggest change in her artwork after she began cultivating, Laura said, "In the past, my main consciousness was not very predominant when I painted. It was somewhat random. Since cultivating, I create my art knowingly and I'm clear-minded. My landscapes must be beautiful and the eyes of the horses I paint must be kind."
Exposing Persecution Through Art
The first time she heard about the persecution of Falun Gong in China, Laura was shocked, and said, "I must do something to stop it!" She used her artistic skills to expose the persecution. She participated in the preparations for the "Art of Zhen, Shan, Ren (Truthfulness-Compassion-Forbearance) International Exhibition.
Laura's husband in the beginning did not understand why she was participating in the exhibition when she was already very busy. Laura told him, "I have benefited from Falun Dafa so much. It's changed my life. Imagine, if I was in China today, I would be persecuted and my organs might be harvested. How can I not do something?" Her husband's response was, "What can I do to help you?"
Laura wishes to use art to stop these atrocities, help people to find their conscience and kindness, and let the world be filled with Truthfulness-Compassion-Forbearance.