Teacher in Shandong Province Sentenced to Prison
November 22, 2014 | By a Minghui correspondent from Shandong Province, China
(Minghui.org)
Ms. Yi Shuling, a Falun Gong practitioner from Mengyin County, Shandong Province, was put on trial on September 29, 2014, in the Mengyin County Court, which is controlled by the Mengyin City 610 Office. A few days later she was sentenced to three and half years in prison. She is now in the 11th prison district of the Shandong Province Women's Prison.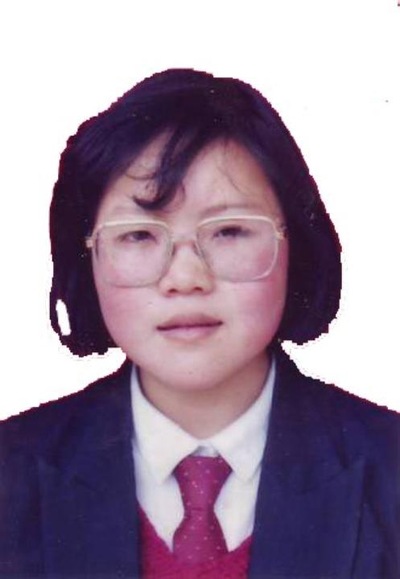 Yi Shuling
Ms. Yi, about 45, was an outstanding teacher at the Mengyin Experimental Middle School. She has been repeatedly arrested and held in detention centers, brainwashing sessions, and mental hospitals over the past 15 years. She has been sent to forced labor camps twice and deprived of sleep, food, water, and going to the restroom. Her mouth has been sealed with tape, she has been hung up and, force-fed, and her food and water have been poisoned. She was fired from her job, and her salary of over 100,000 yuan was withheld. Her family fell apart, and she had no fixed place to live.
On July 18, 2014, Ms. Yi went back home to visit her father, who is over 80. Passing through Taizhuang Village, Changlu Town, she handed out information about the persecution of Falun Dafa. Someone reported her to the police, and the Changlu Town 610 Office personnel came to arrest her, but she had already gone.
The 610 Office then called the Changlu Town Police Station. A dozen officers tracked her down and arrested her. They also arrested practitioner Ms. Gong Huadong. The two practitioners were detained at the Linyi City Detention Center that afternoon.
In the detention center, Ms. Yi went on a hunger strike to protest the persecution and shouted "Falun Dafa is good!" She was locked in a confinement room and forcibly injected with unknown drugs.
On September 29 she was tried. A few days later, the CCP court sentenced her to three and half years in prison.
While she was detained, her father and sister tried to visit her, but the detention center guards refused to let them see her. When her family came back again, they were informed that she had already been sentenced and imprisoned.
On September 29, her father and sister went to the Shandong Province Women's Prison and asked to visit her. The prison authorities refused to let them see her and told them to come back in a month.
Ms. Gong Huadong was also secretly sentenced to three years in prison. Her family has requested an appeal.
Parties Who Participated in the Persecution of Ms. Yi and Ms. Gong
Owner of the Lijun Oil Shop in Taizhuang Village, Changlu Town, Mengyin County, who reported the practitioners to the police: 86-15969967315 (Cell)Wang Zaien (王在恩), former head of the Mengyin County 610 Office and deputy chief of the Mengyin County Police DepartmentQiao Shenghua (乔胜华), CCP Party secretary of Liuguanzhuang Village: 86-13583931589(Cell)
Related Articles:
Middle School Teacher from Mengyin County, Shandong Province Sent to Forced Labor Camp Again (Photos)
Mengyin County Authorities Persecute an Outstanding Teacher in Shandong Province
Shandong Province: High School Teacher Held in Solitary Confinement, Injected with Unidentified Drugs