Courage and Wisdom Come from Cultivation in Dafa (Part 1)
November 19, 2014 | By Minghui Correspondent Ziyun
(Minghui.org) Anne Hakosalo lives in Gothenburg, Sweden. She has practiced Falun Gong for nearly 20 years. She is a confident and intelligent woman with a professional and elegant demeanor. Before she began practicing Falun Gong, she was shy and withdrawn. All her life, she looked for the deeper meanings to life and traveled to different places searching for peace for her soul. She then found Falun Gong.
Anne credits all the positive changes in her to Falun Gong, "It is Falun Gong that helped me gain courage, wisdom and good health. It has changed me from an intimidated and fragile young girl into a healthy and competent woman."
1. Finding the Genuine Faith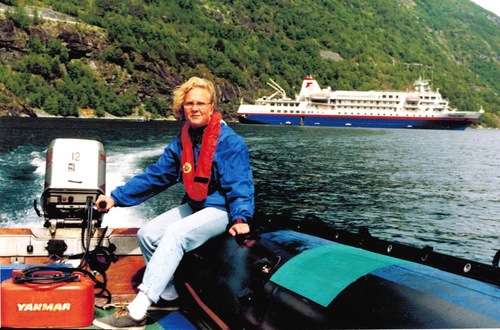 Anne Hakosalo in the 1990s
Anne had gone to churches. However, she felt that there was something in life she couldn't find–a faith that could answer all the questions she had. She worked at various jobs, and it was her job on a cruise ship that gave her the opportunity to travel to Asia, where she was exposed to the religions on the other side of the world.
She knew that she didn't want to become a nun, even though she was not against Eastern religions. She believed that all religions were destinies for people's souls, and as such should be respected regardless of their origins.
She met a young man in Thailand in 1993 who introduced her to Buddhism.
They went to Japan together, but she found it confusing to see so many temples, "How do I know which one is real that can truly guide me to elevate to higher levels?" she asked.
He told her, "I think your Teacher decides everything for you, but you ought to knock on the right door."
She said, "There are so many temples in this forest. How do I know which door is the right one for me?"
"Once you come to the right one, it'll open for you," he answered.
Without quite comprehending what he meant, she continued practicing Tai Chi after she returned home. However, one day, the Tai Chi teacher was absent, and soon after she was told that there would be a Falun Gong class. The words "Falun Gong" electrified her brain, and she felt as if someone was telling her, "It's time now."
Mr. Li Hongzhi, the founder of Falun Gong, taught the seven-day class in Gothenburg, Sweden from April 14 to April 20, 1995.
Anne met Teacher Li for the first time. Through simultaneous interpretations, she learned what Falun Gong was, what it meant to be a cultivator, what the relationship is between man and the universe, and more. She was deeply absorbed by the teachings and happy to learn that Falun Gong practitioners cultivate in the secular world.
She was delighted and thought, "This is what I have been searching for. Falun Gong is the perfect cultivation method for me. This is magnificent!"
It appeared that every participant in the class was deeply fascinated by what Teacher Li taught them during those seven days. He answered all of their questions and purified their bodies for them.
"I had previously hurt my knee, I had migraine headaches, and couldn't move around freely. It was difficult for me to do the first and second exercises since my shoulders were stiff. However, I could feel that Teacher was correcting the defects in my body. The acupuncture points and energy flows were opened up when I did the exercises, and the energy traveled through my neck, shoulders, knees and head. My injured knee could bend as a result, which allowed me to cross my legs to do the sitting exercise."
During those seven days, the migraines that she had suffered since the age of fifteen disappeared.
"On my way home after class, I felt like I was flying even though I was riding my bicycle uphill."
It seemed that her voice had just been unlocked, and she could talk in front of people.
"I had lots of questions for Teacher, and he answered them all." Anne added, "Teacher opened my heart, and I finally felt at ease. It was so comfortable to be enclosed in the field of positive energy. I did not know whether I should call Teacher 'Master,' 'Teacher' or even 'Father' because I could feel the profound kindness from him."
The Falun Gong class in Gothenburg was the only one of the kind held in Europe. It laid the foundation for Falun Gong to be promulgated throughout Europe. The local practitioners have been practicing the exercises together on the hill behind the lecture hall ever since.
Teacher Li said, "In the past, the Tao School held that a master selects a disciple instead of a disciple choosing a master." (Lecture One in Zhuan Falun )
The practitioners in Sweden knew that Teacher had brought the great cultivation way right to their door.
2. A Happy Trip to China
Anne went to Beijing with more than a dozen Swedish practitioners in December 1995. They studied Teacher's teachings, practiced the exercises and shared with practitioners in China.
Teacher came to see them on New Year's Day and brought them the English version of Falun Gong. As soon as Anne held the book in her hand, a thought arose in her mind that she should translate it into Swedish.
Anne returned to China on October 25, 1996 to attend the First International Falun Dafa Experience Sharing Conference in Beijing.
She talked with other practitioners and practiced the exercises with them. She did not have any difficulties communicating anymore, since Dafa had unblocked her heart and opened up her mind. She says she deeply felt the environment of Falun Gong cultivation to be a pure land.
Practitioners ate together after the conference. Anne suddenly felt a gust of powerful energy approaching them. She turned around and saw Teacher, who gave them a lecture that day. That lecture was later published as "Teaching the Fa at the International Experience-Sharing Conference in Beijing."
After meeting Teacher Li several times and reading his teachings again and again, she earnestly wished to read all of his teachings in Chinese. She began to learn the language and returned to Beijing for the second time in 1996.
"During my stay in China, I was with fellow practitioners. We practiced the sitting exercise in the morning. We did the standing exercises and studied the books in the evenings. They took me to a group of practitioners who spoke English and helped me to stay with a Chinese family. I spent the most beautiful days there."
(To be continued)