High School Teacher Unlawfully Tried for Her Belief in Falun Gong
October 30, 2014 | By a Minghui correspondent from Shandong Province
(Minghui.org) Falun Gong practitioner Ms. Wang Xiuping, a teacher at the Affiliated High School of Shandong Agriculture University, was tried on October 10. Two human rights lawyers pleaded not guilty on her behalf. The trial adjourned in one hour and 45 minutes, with no verdict rendered.
The only evidence provided by the prosecutor was a short video showing a woman putting up flyers. The woman's face could not be positively identified, neither was the content of the flyers visible.
Ms. Wang's lawyers argued that practicing Falun Gong is not a crime according to the Chinese constitution, as well as Chinese and international law. They rebutted the "evidence" against Ms. Wang, asserting that she should be released unconditionally even if she distributed Falun Gong materials as alleged.
The attorneys also pointed out that the prosecutors broke Article 251 of the Criminal Law by "illegally depriving citizens of the freedom of belief."
Ms. Wang spoke in her own defense, asking: "Is it wrong to follow the principles of Truthfulness-Compassion-Forbearance to be a good person?" The judge and prosecutor had no response.
About 20 staff members from the Political and Legal Affairs Committee, the 610 Office, and the Procuratorate were present. Two of Ms. Wang's family members and eight Falun Gong practitioners observed the trial.
Relentlessly Persecuted
For her belief in Falun Gong, 51-year-old Wang Xiuping was sent to one year of "re-education through forced labor" and three and a half years in Shandong Women's Prison. She was forced to do hard labor, beaten, and starved. Other torture she was subjected to include being drenched in frigid water in cold weather, and being stabbed in the fingers with a pen.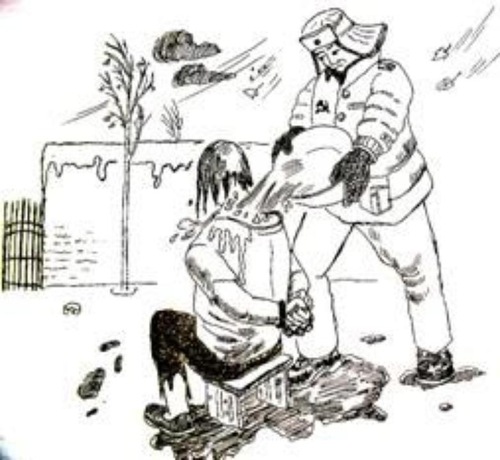 Torture Illustration: Drenched in cold water
After she was released on October 17, 2012, her school refused to reinstate her teaching position. She visited the school twice, but the principal, Wen Fujiang, pretended not to know her and called security to take her away. The third time Ms. Wang went to the school, she was not allowed to enter.
Soon after, on July 15, 2014, local police appeared at her home and arrested her. Her case was quickly transferred to the Procuratorate and the court.
Ms. Wang's family is struggling financially. Her husband lost his job, and her son has not been able to find a job since graduating from university. The family had been relying on Ms. Wang's meager income from tutoring elementary school students.
Personnel involved in persecuting Ms. Wang Xiuping:
Liu Guofeng (刘国锋), president of the Taishan District CourtWang Wencheng (王文成), vice president of the Taishan District CourtWang Haifeng (王海峰), presiding judge of the Taishan District Court, +86-538-8625170Zhang Li (张莉), judge of the Taishan District Court, +86-538-8625173Wang Zengai (王增爱), general attorney of the Taishan District ProcuratorateYi Xuang (尹序昂), deputy general attorney of the Taishan District ProcuratorateQian Shoujun (钱守军), prosecutor of the Taishan District Court ProcuratorateLiu Yufeng (刘羽丰), prosecutor of the Taishan District Court Procuratorate