Rally in Downtown San Francisco Condemns Persecution in China
October 16, 2014 | By Minghui correspondent Wang Ying
(Minghui.org) Issues surrounding the persecution of Falun Gong in China were brought to center stage at the Sue Bierman Park near San Francisco's financial district on October 15, 2014. Speakers condemned the persecution of Falun Gong, and in particular, the state-sanctioned forced organ harvesting from living Falun Gong practitioners.
The tuidang (quit-the-CCP) movement, in which over 180 million Chinese have chosen to renounce their memberships in Chinese Communist Party (CCP) organizations, was also celebrated.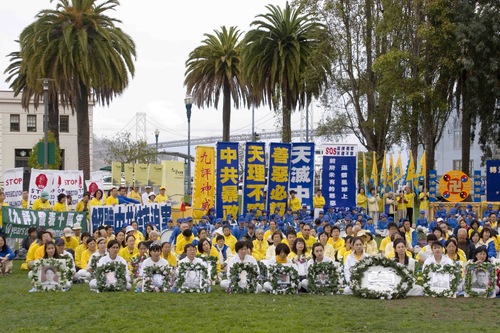 Rally at Sue Bierman Park
The World Organization to Investigate the Persecution of Falun Gong (WOIPFG) shared at the rally its latest findings: An investigative call last month revealed that Jiang Zemin, the former head of the Chinese Communist Party (CCP), ordered organ harvesting from Falun Gong practitioners.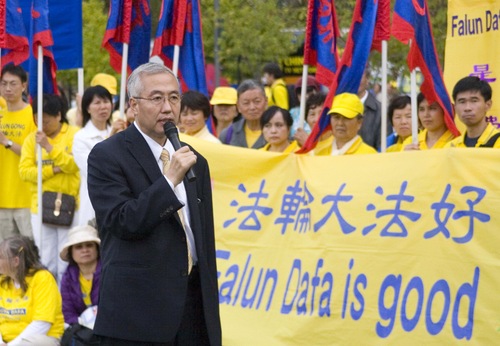 Mr. Wang Zhiyuan, representative of the World Organization to Investigate the Persecution of Falun Gong (WOIPFG)
"This has been an amazing year. Things are really starting to come together, very serious pressure on the Chinese regime – we will look at this and stop this," said Dr. Dana Churchill, representative from DAFOH (Doctors against Forced Organ Harvesting.
He told the rally attendees that a pending U.S. congressional resolution condemning organ harvesting in China has 219 co-sponsors. The European Union parliament also passed a similar resolution in December 2013. DAFOH collected 1.5 million signatures worldwide and delivered them to the United Nations Human Rights Commission at the end of 2013. It is continuing the effort with an updated version of a UN petition on the same subject.
"We will bring the perpetrators to justice. We will not stop until the perpetrators go to the world court and be prosecuted for these crimes," he concluded.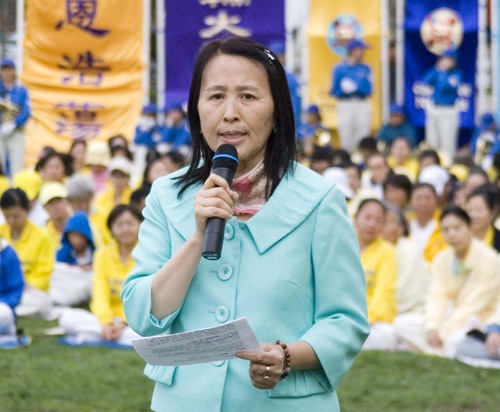 Ms. Yi Rong, representative of the Global Service Center for Quitting the CCP, spoke at the rally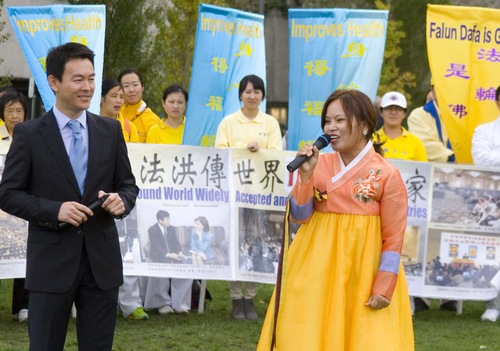 A Korean Falun Gong practitioner shares her story of helping Chinese renounce their communist organization memberships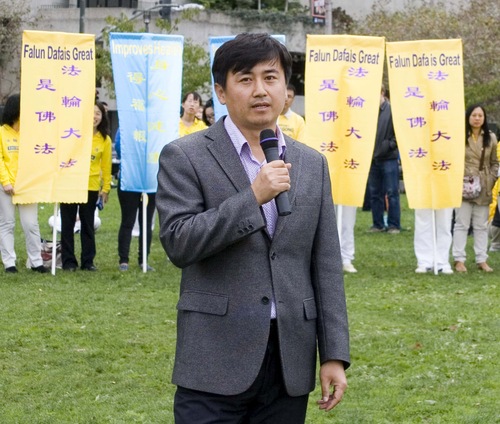 Mr. Wang Yunbo (王允波) shared his personal account of the persecution that he was subjected to in China. He managed to escape China and arrived in San Francisco not long ago.
San Francisco residents spoke against organ harvesting. Law student Saba Maher said that the United Nations should work on ending the atrocities immediately. She knew about the persecution of Falun Gong, and that the CCP persecutes many other groups as well, such as underground Christians. "The persecution must end," she said.
Joyce cried upon knowing the facts of organ harvesting in China, "This is too sad. More people should know about this. It's horrific. I didn't know that this kind of violence is out there. It's simply shocking."
Chrisell has worked in Thailand and helped refugees there, including some Falun Gong practitioners. She said, "I'm glad to see your activities in San Francisco. It's great that you are helping more people know about this. The rights of Falun Gong practitioners are severely violated in China. We will do all we can here to support them."
About 2,000 Falun Gong practitioners attended the rally.